BREAKING COVID-19 News! COVID-19 Positivity Test Rates Hits 40% In Spain! Country facing A Deluge Of Respiratory Infections Amidst Media Blackout!
COVID-19 News
: Exactly 7 weeks ago I had predicted that Spain would face a terrible COVID-19 surge similar to Japan but many so called 'experts' from Spain on twitter (now stupidly called X) merely dismissed my warnings without providing any supporting data.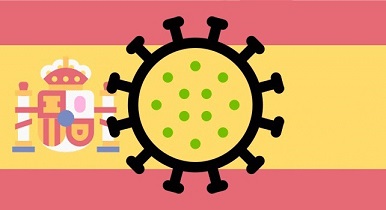 Now, Spain is facing the worse ever COVID-19 crisis with latest data from Spanish health authorities is showing alarming indicators. Along with COVID-19 infections, influenza, RSV and other respiratory infections are also rising in the country, complicating the situation and bring the public healthcare infrastructure to a near collapse!
Hospitalizations for all types of respiratory infections including COVID-19 are rising exponentially with data showing that in primary care facilities, the overall hospitalization rate in week 35/2023 is 338.2 cases per 100,000 inhabitants, increasing since week 28/2023 i.e. 232.7 cases per 100,000 inhabitants.
https://www.isciii.es/QueHacemos/Servicios/VigilanciaSaludPublicaRENAVE/EnfermedadesTransmisibles/Documents/GRIPE/Informes%20semanales/Temporada_2022-23/Informe%20semanal_SiVIRA_352023.pdf
https://www.isciii.es/QueHacemos/Servicios/VigilanciaSaludPublicaRENAVE/EnfermedadesTransmisibles/Paginas/Temporada_Gripe_2022-23.aspx
In terms of just COVID-19 hospitalizations alone, the hospitalization rate in primary care facilities for week 35/2023 are 137.3 cases per 100,000 inhabitants, with an increase since week 26/2023 (30 cases per 100,000 inhabitants). The highest rates are observed in the age group under 4 years (253.62 cases per 100,000 inhabitants).
This indicate that infants and young children are being badly affected by the current COVID-19 surge in Spain.
The aged especially those over 79 years of age are also badly affected by the current COVId-19 surge in Spain with many not only ending up being hospitalized but also dying!
More shockingly, the current COVID-19 positivity test rates are at 40.6%.
According to Spanish health authorities and local
COVID-19 News
coverages, the predominant SARS-CoV-2 variants in the country are XBB.1.5 (25%) and XBB.1.5-like+F456L (25%).
The EG.5.1 and its spawns have yet to wreak havoc yet and so has the BA.2.86 but they are expected to become predominant by late Autumn or early Winter along with other newer more worrisome sub-lineages including the new FLip lineages.
https://www.thailandmedical.news/news/covid-19-news-researchers-warn-that-sars-cov-2-evolving-with-emergence-of-the-flip-lineages-that-are-superbly-immune-evasive
&l t;br />
Positivity test rates for influenza are at 0.6%.
Influenza Type A has been more prevalent (84.3%), with 63% being A(H3) and 37% A(H1) among the subtypes.
RSV infection are also increasing in the country and again mainly affecting children under the age of 5 years.
Experts are warning that children are facing the brunt of the current surge this time as it is possible that their innate immune systems have been destroyed by previous exposure to the SARS-CoV-2 virus.
Interestingly however, no mainstream media in Spain or in Europe is covering about the COVID-19 crisis in Spain and there seems to be some kind of media blackout on COVID-19 in the country and also about rising respiratory infections!
The situation for the rest of Europe is no better with countries like France, Germany, Italy, the Netherland, Belgium, Poland, Romania etc all facing increases in COVID-19 infections and hospitalizations while their own media are not reporting about the situation.
The United Kingdom is believed to the worst affected country in the whole of Europe in terms of COVID-19 infections.
On the bright side, most Western countries rolled out the new COVID-19 monovalent vaccine boosters containing the XBB.1.5 spike protein yesterday and the rest of the world should watch the fun in these countries first. They should actually make these new vaccines mandatory for all politicians, government workers, uniformed personnel especially the police, doctors and all healthcare professionals, all researchers and scientists, senior academic personnel at various Universities, all owners and staff of mainstream media outlets and also social medial platforms and also all owners and staff of fintech firms etc. It will be fun to watch the aftermath of the new vaccine program including how it influences the evolution of the SARS-CoV-2 virus.
For the latest
COVID-19 News
, keep on logging to Thailand Medical News.