BREAKING BA.2.86 News! Media In Israel Reports That BA.2.86 Accounts For 16% Of All COVID-19 Cases In The Country!
BA.2.86 News
: Leading Israeli media, The Jerusalem Post has reported that the Samson Assuta Ashdod University Hospital announced on Monday that the BA.2.86 variant accounted for over 16% of cases in Israel as of Sunday night based on Health Ministry data.
https://www.jpost.com/health-and-wellness/coronavirus/article-757546
(Note that there was some earlier online arguments that the journalist concerned could have mixed up the data on the BA.2.86 prevalence with that of the test-positivity rates but the Jerusalem Post has insisted that the data is correct.)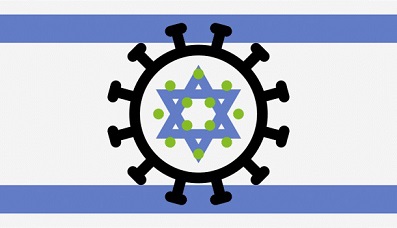 This new alarming announcement indicates that the BA.2.86 is more rampant than what is being reported by so called variant hunters, biostatisticians and virologists with close ties to the WHO and ECDC and in fact shows that data from the GISAID platform and also other platforms on SARS-CoV-2 variants and sub-lineages may no longer be credible and reliable for a very simple reason….many countries are no longer sharing their genomic sequencing data! It is not the issue that countries are doing little or no genomic sequencing but rather they are not willing to share the data anymore..which makes sense…as it might backfire on their countries economic issues and furthermore, it does not really benefit them as certain European countries might take advantage of the data.
Already, even the Americas…which constitutes Canada, The United States, Mexico and many other Southern American countries have stopped reporting all COVID-19 data to the WHO which is basically controlled by a few European countries.
https://www.thailandmedical.news/news/breaking-news-world-health-organization-reports-that-countries-in-the-americas-region-has-stopped-sharing-covid-19-data-usa-behind-initiative
According to other emerging
BA.2.86 News
reports and updates, more sequences of the BA.2.86 have been found in the United Kingdom, France and Denmark.
https://twitter.com/JosetteSchoenma/status/1698052696568221823
But once again, it should be noted that none of this data is truly reliable and in reality, the BA.2.86 variant could be far more rampant that is being reported.
Coming back to Israel, It was also reported that Israel which has a most highly vaccinated population is also witnessing a 30% spike rise in COVID-19 cases and the current test positivity rates for COVID-19 is about 16.7 percent!
It was said that last week, 136 new cases were reported on average each day, compared to 104 new cases each day two weeks earlier, according to data from the Health Ministry. Meanwhile, the number of hospitalized patients with COVID-19 decreased in recent days, with 42 patients in serious condition and 20 in moderate condition as of Sunday.
Local Israeli media also said that the Israeli gover nment is bringing back compulsory PC testing of all reported COVID-19 cases in all hospital across the country due to rise in COVID-19 cases.
https://twitter.com/Meir_Marciano/status/1698666995510583601
According to the Israeli Health Ministry, most of the cases in Israel are being tested with home tests or non-lab tests, making it harder for officials to track infection rates. The decision to require PCR tests in hospitals will allow health officials to more effectively track the infection rates.
As far as the BA.2.86 virus is concerned, it is hard to assess at the moment as to whether the virus causes disease severity or not as there are conflicting reports from various sources. While some claim that most of the sequences are arising from hospitalized patients, many are still claiming that the virus does not causes disease severity. (Why are the individuals hospitalized is anyone's guess!)
No detailed studies on the BA.2.86 pathogenesis, transmissibility or immune evasiveness has been published in any peer reviewed journal as of yet!
There were a lot of fake news peddled on the social media site that is now famous for the fake and distorted news ie the X platform that claimed the U.S. CDC said that the BA.2.86 is likely to infect the vaccinated more than the unvaccinated. This is not true and the U.S. CDC never made such claims in its initial preliminary assessment.
Based on the mutations found on the genome of the BA.2.86, initial reports had shown that it was more immune evasive.
However once again, there are a lot of preliminary lab reports emerging… claiming on the X platform that serum from individuals previously infected with the XBB.1.5 or XBB.1.16 variant is able to neutralize the BA.2.86 variant. These reports lack any credibility as there are emerging from labs with close ties with the vaccine manufacturers and it seems to be a manipulated strategy to install confidence in the new vaccine boosters that contain the XBB.1.5 spike protein that is being introduced for the coming Fall vaccination initiatives in many Western countries.
For the latest
BA.2.86 News
, keep on logging to Thailand Medical News.