BREAKING! Indian Researchers Warn That Emerging Mutations On XBB Sublineages In India Could Totally Undermine All Immunity Protections!
Indian scientists discovered new mutations like A27S and T747I along with mutations like T981S, I1998V, T323I, 306 G252V, A653V on circulating and emerging XBB sub-lineages in India with clinical evaluations confirming that multiple booster doses or a history of SARS-CoV-2 previous infection in the pre-Omicron era did not protect from these currently circulating recombinant sub-lineages and disease severity and morbidity were rather related to an individual's age, underlying comorbidities and genetic factors.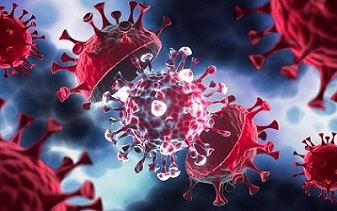 COVID-19 News
: As the global vaccination efforts against COVID-19 continue, the emergence of new variants has raised concerns about their potential impact on vaccine efficacy. The recent identification of novel mutations in the XBB variant of SARS-CoV-2 has been linked to high rates of morbidity among COVID-19 patients in South India
A new study lead by scientists from the Directorate of Public Health and Preventive Medicine - State Public Health Laboratory-India and the Central University of Tamil Nadu-India investigated the mutational patterns of the XBB Omicron sub-variant and the possible association between the rise in cases, disease severity and mortality and these novel mutations in the southern state of Tamil Nadu, India.
Despite India's high vaccination rates, breakthrough infections and the spread of the B.1.1.529 Omicron variant have become increasingly common. With the emergence of the recombinant XBB variant, there remains a significant lack of information on its role in community transmission.
The study team collected nasopharyngeal and oropharyngeal swabs from symptomatic and asymptomatic COVID-19 patients (n=98), which were subjected to commercial RT-PCR tests followed by Next Generation Sequencing (NGS) to identify mutations in the virus.
The study identified 43 mutations in the S gene across 98 sequences, including two novel mutations (A27S and T747I) not previously reported in XBB sub-variants. Additionally, the XBB sequences exhibited more significant mutations than the Omicron B.1.1.529 variant. Phylogenetic analysis revealed convergent evolution of XBB among the cohort, with disease outcomes more closely associated with age and comorbidities than vaccination status or prior exposure.
Many vaccinated individuals experienced breakthrough infections with XBB.3 as the predominant variant in the study population.
The various emerging XBB sub-lineages' ability to evade current vaccines raises concerns about their potential to become the next predominant variant, possibly overwhelming the active Omicron variants.
Previous research on the mutational epidemiology of XBB variants in India has been limited, but this study offers a comprehensive analysis of the different mutational and epidemiological aspects of the emerging XBB sub-variant of Omicron in southern India.
The study showed that despite multiple booster doses of vaccines or prior SARS-CoV-2 infection, protection against the currently circulating recombinant variants remains elusive.
However, disease severity and morbidity are primarily influenced by individual age and underlying comorbidities.
The study's findings highlight the importance of continued su rveillance of viral mutations to develop effective vaccination and treatment strategies.
The Omicron variant and its many sub-variants have been characterized by a significantly high number of mutations in the spike protein (S protein), leading to concerns about increased transmissibility and evasion of vaccine-mediated or infection-induced immune responses. Early clinical findings with the Omicron variant showed mild symptoms, but the emergence of variants like BA.1.1, BA.2, and BA.3 has demonstrated their ability to evade immunity generated by vaccination or prior infection.
Nicknamed the 'stealth Omicron,' the BA.2 lineage contrasts with standard Omicron lineages by not having the SGTF-causing deletion (H69del and V70del).
The recent discovery of Omicron sub-lineages with increased resistance to vaccine-induced neutralization suggests that these novel sub-lineages could become the predominant lineage in circulation.
These reports and past
COVID-19 News
coverages align with the findings of the current study that the XBB variant may have the upper hand in infectivity compared to the other strains mainly due to the accumulation of mutations from the two parental strains BA.2.10.1 and BA.2.75 and due to novel mutations in the strain.
However, whether the new XBB variant can cause significant loss of life cannot be effectively deduced with at this time due to limited data.
But current data shows that there is an increased disease burden even among the vaccinated and or prior infected population.
In conclusion, the study's observations indicate the identification of highly immune evasive virulent sub-lineages of the XBB variant. Previous infection or vaccination does not guarantee protection due to the high frequency of mutations in its genome. Vaccination remains the most practical option for protecting the population at large by conferring herd immunity, especially for vulnerable populations. The findings underscore the importance of understanding viral evolution in relation to disease transmission and the need to revamp current treatment options in response to the continuous evolution of viral strains.
The study findings also advocate for the development of bivalent or multivalent booster vaccinations to protect the entire population from emerging variants of concern (VOCs).
The emergence of the new XBB sub-lineages, with their novel mutations and ability to evade current vaccines, underscores the need for continuous monitoring and research on new variants. This will aid in the timely development of improved vaccines and treatment strategies that can effectively combat these evolving threats. Moreover, it is crucial for governments and healthcare systems to remain vigilant and responsive to the changing landscape of COVID-19.
Public health measures, such as wearing masks, maintaining social distancing, and practicing good hygiene, remain essential tools in curbing the spread of the virus. As new variants continue to emerge, it is crucial to maintain these preventative measures to minimize the risk of transmission and further mutation of the virus.
Collaborative efforts between researchers, healthcare providers, and governments worldwide are essential in sharing information and resources to better understand and combat the emerging XBB sub-lineages and other future variants. Ensuring equitable access to vaccines and treatments, regardless of geographical location or economic status, will be key to controlling the spread of COVID-19 and ultimately overcoming the pandemic.
In summary, the identification of novel mutations in the emerging XBB sub-lineages in India and their potential to evade current vaccines is a cause for concern. The study highlights the need for continued surveillance of viral mutations, development of more effective vaccines and treatments, and sustained public health measures to combat emerging variants. With a collaborative and adaptive approach, the global community can successfully navigate the ever-changing landscape of COVID-19 and protect the population from the threats posed by emerging VOCs.
The study findings were published on a preprint server and are currently being peer reviewed.
https://papers.ssrn.com/sol3/papers.cfm?abstract_id=4409337
Besides scientists from Directorate of Public Health and Preventive Medicine - State Public Health Laboratory-India and the Central University of Tamil Nadu-India, the study also comprised of researchers from:
-Xiamen University - Laboratory Centre, China
-Universiti Malaya - Department of Medical Microbiology, Malaysia
-Royal College of Medicine Perak - Preclinical Department, Malaysia
-Government Theni Medical College - Department of Microbiology, India
-Indian Council of Medical Research (ICMR) - National Institute of Epidemiology, India
-University Putra Malaysia - Department of Medical Microbiology and Parasitology, Malaysia
-Emory University - Department of Pathology, USA
-Linkoping University - Department of Biomedicine and Clinical Sciences, Sweden
-University of Missouri at Columbia - Bond Life Science Center, USA
University of Nebraska at Omaha - Department of Pharmacology and Experimental Neuroscience,USA
For the latest
COVID-19 News
keep on logging to Thailand Medical News.
Read Also:
https://www.thailandmedical.news/news/who-sounds-alarm-about-xbb-1-16-that-seems-to-be-mutating-rapidly-and-spawning-newer-sub-lineages-as-its-starts-its-global-ravage
https://www.thailandmedical.news/news/covid-19-news-is-sars-cov-2-evolving-to-evade-t-cell-immunity-and-also-destroy-t-cells-with-the-debut-of-xbb-1-16,-eg-1,-eu-1-1-and-fd-1-1-variants
https://www.thailandmedical.news/news/india-reports-more-than-5,335-new-covid-19-infections-in-the-last-few-hours-with-hospitalizations-now-increasing-and-doctors-are-getting-infected-too