Japanese Researchers Warn That COVID-19 Infections Can Cause Gastrointestinal Disorders That Can Lead To Deaths!
COVID-19 News
: In a startling discovery, Japanese researchers from Sapporo Medical University have uncovered a potentially fatal consequence of COVID-19 infections. While respiratory symptoms have been widely acknowledged as a primary manifestation of the disease, the team's findings indicate that severe gastrointestinal (GI) disorders can also arise, leading to dire consequences.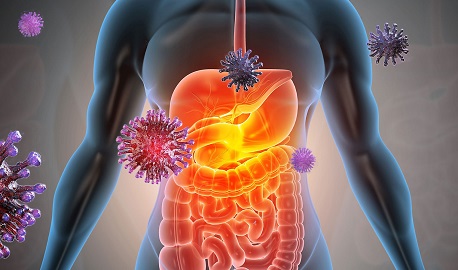 Past
COVID-19 News
reports by TMN have already sounded warnings about the rise of gastrointestinal complications both during acute infection phase and also post-COVID.
https://www.thailandmedical.news/news/alarming-new-study-data-validates-that-sars-cov-2-spike-proteins-damages-not-just-lung-cells-but-also-intestinal-cells-many-are-dying-slowly-and-silen
https://www.thailandmedical.news/news/warning-sars-cov-2-infections-causes-intestinal-ischemia-increases-disease-severity-and-risk-of-mortality
https://www.thailandmedical.news/news/long-covid-study-shows-that-post-covid-individuals-are-at-an-increased-risk-of-developing-gastrointestinal-disorders
https://www.thailandmedical.news/news/case-reports-documenting-covid-19-patients-developing-mesenteric-panniculitis-and-acute-abdominal-pain-as-infection-progresses
https://www.thailandmedical.news/news/breaking-news-study-reveals-sars-cov-2-causes-gastrointestinal-lesions-of-various-kinds-and-also-gastrointestinal-bleeding
https://www.thailandmedical.news/news/breaking-autopsy-studies-by-king-s-college-london-reveal-that-covid-19-is-causing-severe-gastrointestinal-damage-especially-on-the-ileal-peyers-s-patc
https://www.thailandmedical.news/news/covid-19-news-emerging-studies-shows-sars-cov-2-attacks-the-digestive-tract-especially-the-intestines-directly,-reported-case-of-bowel-perforation
(please use search function on Thailand Medical News we bsite as we have more than 47 additional articles that shows how the SARS-CoV-2 virus causes various gastrointestinal issues.)
The Japanese study team presented three heart-wrenching cases that shed light on this alarming connection, urging further investigation to deepen our understanding of these fatal GI disorders associated with COVID-19.
The Silent Threat
Since the emergence of the pandemic, the world has been primarily focused on the respiratory aspects of COVID-19. With respiratory failure being the leading cause of death, it is no surprise that the virus's impact on the lungs has garnered the most attention. However, this myopic perspective has left the door open for an overlooked danger - the devastating impact on the gastrointestinal system.
Unveiling the Cases
The researchers present three chilling cases that highlight the grave consequences of GI disorders caused by COVID-19. These cases, which tragically ended in fatalities, provide crucial insights into this lesser-known aspect of the disease. The patients initially experienced severe pneumonia, necessitating mechanical ventilation and extracorporeal membrane oxygenation (ECMO) support. Although their respiratory conditions showed signs of improvement, a new and unexpected challenge emerged - severe watery diarrhea.
A Connection to GI-GVHD
Further examination of the patients' cases revealed striking similarities to gastrointestinal graft-versus-host disease (GI-GVHD), a condition where the transplanted immune cells attack the recipient's organs. In this instance, COVID-19 appeared to trigger a cascade of events resembling the characteristics of GI-GVHD, leading to the eventual breakdown of the intestinal mucosa and multiple organ failure.
A Grim Reality
The implications of these findings are deeply troubling. With over 3.8 million infections and 20,000 deaths in Japan alone, the impact of COVID-19 cannot be understated. Fever and respiratory symptoms have been widely recognized, but gastrointestinal symptoms have been less discussed, affecting 16-50% of cases. However, severe GI disorders resulting in fatality have remained largely unreported until now.
Unraveling the Mysteries
To better comprehend the fatal GI disorders caused by COVID-19, researchers are calling for further investigation. By delving into the underlying mechanisms and similarities with GI-GVHD, medical professionals hope to gain a comprehensive understanding of this alarming phenomenon. Early diagnosis and treatment are deemed critical, as delays in intervention may contribute to the ineffectiveness of current therapeutic measures.
A Link to Multisystem Inflammatory Syndrome
Intriguingly, the researchers suggest that these GI disorders may be related to multisystem inflammatory syndrome in children and adults (MIS-C/MIS-A), a hyperinflammatory condition occurring weeks after the initial SARS-CoV-2 infection.
This implies that the GI disorders observed in these cases may stem from post-infection immune dysregulation, warranting their consideration under the MIS-A umbrella. This revelation sheds new light on the complexity of COVID-19 and its long-term effects on various bodily systems.
Conclusion
The revelation of fatal GI disorders caused by COVID-19 presents a somber reminder of the virus's devastating impact. With respiratory symptoms dominating the narrative, the silent threat to the gastrointestinal system has remained hidden until now. These findings urge medical professionals and researchers worldwide to broaden their understanding of the disease and explore avenues for early detection and effective treatment. By shedding light on this alarming connection, the hope is to save lives and mitigate the long-term consequences of this gastrointestinal complication.
The study findings were published in the journal: Cureus.
https://www.cureus.com/articles/137800-fatal-gastrointestinal-disorders-due-to-covid-19-a-case-series#!/
For the latest
COVID-19 News
, keep on logging to Thailand Medical News.
Read Also:
https://www.thailandmedical.news/news/flavonoids-epigallocatechin,-baicalin,-hesperetin,-luteolin-and-quercetin-helps-prevent-covid-19-induced-gastrointestinal-inflammation-and-diarrhea