Dengue News: As Dengue Rises In Various Locations In India, Doctors Are Concerned As To Why Dengue Patients Are Taking Longer Time To Recover!
Dengue News
: Dengue fever, a mosquito-borne viral disease, has been wreaking havoc in various regions of India, with a concerning surge in cases that has left authorities grappling with the challenges of prolonged recovery times and regional hotspots. As the dengue season continues to pose a significant health threat, it is imperative to explore the latest developments and concerns surrounding this viral outbreak.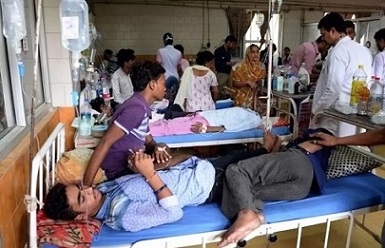 Rapid Surge in Dengue Cases in Bihar
In Bihar, the daily tally of dengue cases remains alarmingly high, with 358 new cases reported recently, bringing the total number of cases to 8,137 for the year.
Patna, the state capital, is the hardest-hit city, followed closely by Saran, Bhagalpur, Muzaffarpur, and Begusarai.
What is particularly troubling this year is the extended recovery time for dengue patients. Unlike previous years when patients typically recuperated within three to seven days, many are now taking up to two weeks to recover fully. Even the post dengue problems like headache and body ache, coupled with weakness, are existing for quite a long duration.
AIIMS Patna director Dr Gopal Krushna said apart from late recovery, even mortality rate was a bit higher this time. He told
Dengue News
reporters from TMN, "Dengue patients are taking ten to 14 days to recover now. Our hospital also had three deaths so far."
Dr Krushna also raised concerns about the mortality rate, which has seen a slight increase this year. He attributes this to a possible mutant strain of the dengue virus that appears to prolong the recovery process. Furthermore, individuals with pre-existing medical conditions such as diabetes, hypertension, or cardiac issues are at a higher risk of developing critical conditions or succumbing to the disease.
As of now, Bihar has 281 dengue patients undergoing treatment in various government hospitals across the state, with the highest number admitted to Jawaharlal Nehru Medical College and Hospital in Bhagalpur, followed closely by other healthcare facilities in the region.
Daily Fluctuating Dengue Numbers in Bihar
While there seems to be some variation in daily dengue cases, the situation remains grave. Yesterday, Bihar reported 286 new cases, slightly lower than the 322 cases reported the previous day. However, the overall tally of 8,745 cases in the state so far this year is a cause for concern. Patna alone recorded 153 new cases on a single day, highlighting the urgent need for effective control measures.
Kolkata's Ongoing Struggle with Dengue
Moving east to Kolkata, the city has witnessed a sharp spike in dengue cases, with 1,270 new cases reported in the last week of September alone. This surge has brought the total count of dengue cases in the city to over 6,000, a significant increase from the previous year.
The Kolkata Municipal Corporation's vector control wing is facing immense challenges in containing the outbreak, particularly in areas like New Alipore, Lake Gardens, Dhakuria, Golf Green, Jadavpur, Bansdroni, Baghajatin, Kasba, and Garfa. These regions have been identified as dengue hotspots and are contributing to the rising numbers.
Mayor Firhad Hakim has urged the health and solid waste management departments to address the issue of garbage dumps, which are believed to be contributing to the spread of dengue. Notices are being issued to owners of vacant land and abandoned houses in dengue-prone areas, mandating the cleanup of garbage within three days, with penalties for non-compliance.
Uttarakhand's Battle Against Dengue
In the northern state of Uttarakhand, the dengue outbreak has crossed the 3,000-case mark. Dehradun has reported over 1,000 cases, while Pauri district has seen 736 cases. The state recorded 59 new cases in one day, with other high-incidence areas including Haridwar, Nainital, and Udham Singh Nagar.
However, health officials expect the number of cases to decrease as the season progresses and temperatures decrease. The virus tends to become less fatal under cooler conditions. Nevertheless, authorities are cautioning the public to remain vigilant until the official end of the dengue season.
This year's dengue numbers in Uttarakhand are the highest since 2019 when over 10,000 cases were reported. The state's health department had anticipated elevated numbers this year and implemented strategies such as micro containment zones and source segregation to manage the outbreak effectively.
Dengue in Lucknow: A Persistent Challenge
In Lucknow, the capital of Uttar Pradesh, the city witnessed 31 new dengue cases in a recent report, marking a slight decline from the previous day. While this drop in cases is encouraging, health experts stress that it should not lead to complacency among authorities.
Dr Sheetal Verma, a senior faculty member at King George's Medical University, emphasized the importance of continued vigilance. Health authorities are urged to maintain close monitoring, encourage citizens to exercise caution, and adopt preventive measures to tackle this post-monsoon health challenge effectively.'
As part of these efforts, residents experiencing fever or difficulties accessing medical assistance are encouraged to contact designated control centers.
Ayushman Cards Surge in Lucknow
In a separate development in Lucknow, there has been a remarkable surge in the issuance of Ayushman cards, with 63,799 cards produced in just one week. This includes 4,365 cards generated during an Ayushman Mela held at various healthcare centers across the district.
These cards are vital for ensuring access to healthcare services, and the surge in their issuance reflects the growing awareness of the importance of health insurance among the population.
In conclusion, the surge in dengue cases across various regions in India presents a significant public health challenge. The prolonged recovery times, the resurgence of cases in some areas, and the challenges faced by healthcare authorities emphasize the need for coordinated efforts in prevention, control, and healthcare infrastructure development. As the dengue season continues, it is crucial for both authorities and the public to remain vigilant and proactive in combating this viral threat.
For the latest
Dengue News
updates, keep on logging to Thailand Medical News.