BREAKING! U.S. Medical News: Terrifying
U.S. Medical News
: In a chilling revelation, scientists have issued a dire warning of a horrifying surge in gruesome "flesh-eating" infections set to invade parts of the United States, all thanks to the relentless march of climate change. The potentially fatal Vibrio vulnificus bacteria, known to thrive in warm shallow coastal waters, are poised to unleash a tidal wave of terror along the U.S. coastlines, infecting cuts and insect bites upon contact with seawater. Researchers at the esteemed University of East Anglia (UEA) have unveiled a harrowing study which reveals a staggering increase in V. vulnificus infections on the East Coast of the U.S., soaring from a mere 10 to an alarming 80 cases per year over the past three decades.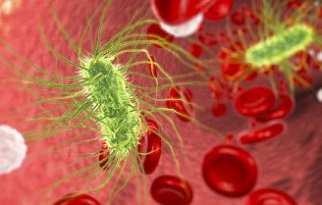 But the nightmare doesn't end there! With each passing year, the terrifying infections creep further north, no longer confining themselves to the Gulf of Mexico and the southern Atlantic coast as they did in the late 1980s. Today, these insidious bacteria have infiltrated as far north as Philadelphia, and researchers predict that major population centers like New York will be engulfed by the terrifying epidemic by 2041-2060. The growing and aging population of the U.S. will only serve to fuel the fire, making the elderly more susceptible to infection and potentially causing annual case numbers to double.
Under medium-to-high future emissions and warming scenarios, the gruesome "flesh-eating" infections could spread like wildfire, engulfing every Eastern U.S. state by 2081-2100. The shocking findings, published today (March 23, 2023) in the prestigious journal Scientific Reports, underscore the urgency of the situation, as those infected with V. vulnificus face a bone-chilling one-in-five chance of meeting a grim fate.
https://www.nature.com/articles/s41598-023-28247-2
To make matters worse, according to hospitals and past
U.S. Medical News
reports, the ferocious bacteria are also the most expensive marine pathogens to treat in the United States.
The terrifying infections peak during the sweltering summer months, causing the bacteria to multiply rapidly and voraciously consume human flesh. Many survivors are left with no choice but to have limbs amputated in a desperate bid to save their lives. Dr Elizabeth Archer, lead author of the study and a postgraduate researcher at UEA's School of Environmental Sciences, implores the public to take immediate action, stating, "The projected expansion of infections highlights the need for increased individual and public health awareness in the areas affected. This is crucial, as prompt action when symptoms occur is necessary to prevent major health consequences."
The cataclysmic effects of human-induced greenhouse gas emissions are reshaping our climate, and the devastating consequences are particularly acute along the world's coastlines. The researchers ominously predict that by the end of the 21st century, 140-200 V. vulnificus infections will be reported annually, with the extent of the outbreak hinging upon future emissions levels.
The research team suggests the implementation of real-time early warning systems to aler t individuals and health authorities about particularly perilous environmental conditions, as well as active control measures such as awareness programs and coastal signage during high-risk periods. This groundbreaking study not only exposes the alarming connection between climate change and disease, but also serves as a stark reminder of the urgent need for action to prevent the environmental spread of this exceptionally lethal bacterial pathogen.
Vibrio Vulnificus: The Menacing, Lethal Bacteria Lurking In The Coastal Waters In The United States, Mexico, South America And Asia Including India, Thailand, Indonesia.
Vibrio vulnificus, a menacing Gram-negative, motile, curved rod-shaped (bacillus) bacterium, is a deadly pathogen belonging to the Vibrio genus. Often found lurking in marine environments such as estuaries, brackish ponds, and coastal areas, this sinister bacterium is a close relative of V. cholerae, the notorious causative agent of cholera. At least one strain of V. vulnificus is even capable of bioluminescence.
Infections caused by V. vulnificus can rapidly escalate into dangerous cellulitis or sepsis, and the bacterium was first identified as a disease-causing agent in 1976. V. vulnificus is alarmingly adept at causing three distinct types of infections:
Acute gastroenteritis from consuming raw or undercooked shellfish: Consuming seafood, particularly raw or undercooked oysters, can lead to V. vulnificus infections, which are often accompanied by vomiting, diarrhea, and abdominal pain. The sinister bacterium does not affect the appearance, taste, or odor of oysters.
Necrotizing wound infections can result from injured skin exposed to contaminated marine water. V. vulnificus bacteria can infiltrate the body through open wounds when swimming or wading in infected waters, or via puncture wounds inflicted by fish spines, such as those of stingrays. Victims may develop a blistering dermatitis that can be easily mistaken for pemphigus or pemphigoid.
Invasive sepsis can occur after ingesting raw or undercooked shellfish, particularly oysters. V. vulnificus is an astounding 80 times more likely to spread into the bloodstream of individuals with compromised immune systems, especially those suffering from chronic liver disease. When this happens, the infection can trigger severe symptoms, including blistering skin lesions and septic shock, which can sometimes prove fatal. This severe infection may arise regardless of whether the infection originated from contaminated food or an open wound.
While healthy individuals may experience vomiting, diarrhea, and abdominal pain upon ingesting V. vulnificus, those with compromised immune systems are at a heightened risk of developing life-threatening illnesses characterized by fever, chills, septic shock, and blistering skin lesions. Men are particularly susceptible to V. vulnificus infections compared to women; however, individuals with co-morbidities such as alcoholic cirrhosis and endocrine system-related diseases (e.g., diabetes, rheumatoid arthritis) are at a much higher risk of developing infections from this treacherous bacterium.
The most harmful strains of V. vulnificus have been observed to possess three distinct forms. The first involves an anti-phagocytic polysaccharide capsule, which shields the bacteria from phagocytosis and opsonization, allowing it to thrive within its host. The second form involves the toxins produced by the bacterium, which can lead to secondary infections in the gastrointestinal tract and eventually systemic infection. Lastly, V. vulnificus has been shown to inflict more harm on patients with elevated iron levels.
Wound infections caused by Vibrio vulnificus carry a staggering mortality rate of around 25%. When the infection progresses into sepsis, typically following ingestion, the mortality rate jumps to an alarming 50%, with most victims succumbing within the first 48 hours of infection. Although optimal treatment remains elusive, one retrospective study involving 93 patients in Taiwan found that using a combination of a third-generation cephalosporin and a tetracycline (e.g., ceftriaxone and doxycycline, respectively) was associated with improved outcomes. Prospective clinical trials are needed to validate this finding, but in vitro data supports the notion that this combination exhibits synergistic activity against V. vulnificus.
The American Medical Association and the Centers for Disease Control and Prevention (CDC) also recommend treating patients with a quinolone or intravenous doxycycline combined with ceftazidime.
The first documented successful treatment of fulminant V. vulnificus sepsis occurred in 1995. The treatment involved ceftazidime, intravenous (IV) ciprofloxacin, and IV doxycycline, which proved effective.
Prevention of secondary infections resulting from respiratory failure and acute renal failure is essential. Early recognition of bullae in immunocompromised individuals with liver cirrhosis and recent oyster ingestion, along with the physician's prompt request for STAT Gram staining and blood cultures for V. vulnificus, is key to diagnosis and treatment.
Vibrio vulnificus often causes large, disfiguring ulcers requiring extensive debridement or even amputation. It is the leading cause of death related to seafood consumption in the United States, accounting for over 95% of such fatalities. Timely treatment with tetracycline or other cephalosporin antibiotics, when initiated at the onset of symptoms and followed through the full course, can help patients avoid long-term effects.
The prognosis is worst for those who arrive at the hospital in a state of shock. The overall mortality rate for treated patients (both ingestion and wound-related cases) is around 33%. Individuals at heightened risk include those with liver disease (especially cirrhosis and hepatitis) or immunocompromised states (such as cancer, bone marrow suppression, HIV, diabetes, etc.). For these individuals, V. vulnificus typically enters the bloodstream, causing fever, chills, septic shock, and blistering skin lesions; about half of those who contract blood infections ultimately die.
Vibrio vulnificus infections disproportionately affect males, with 85% of those developing endotoxic shock from the bacteria being male. Women who have had an oophorectomy experience increased mortality rates, as estrogen has been shown experimentally to have a protective effect against V. vulnificus. This lethal bacterium's presence in our coastal waters serves as a stark reminder of the importance of awareness, prevention, and timely intervention in the face of this insidious threat.
For the latest
U.S. Medical News
, keep on logging to Thailand Medical News.