AI News: ChatGPT Versus Google Bard - A Comprehensive Comparison Of The Two AI Chatbots
AI News
: As Google unrolled its AI chatbox called Google Bard to more users in the United States and the United Kingdom in the last few hours, the world of AI chatbots is witnessing a fierce competition between tech giants Google and Microsoft-backed OpenAI that is behind the chatbot ChatGPT.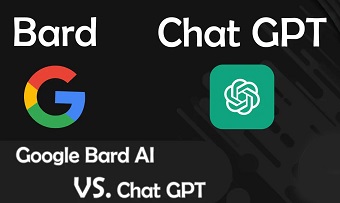 Both Google Bard and ChatGPT are chatbot tools designed to provide human-like responses to user queries, but they differ in various aspects, including conversation retention, knowledge base limits, coding capabilities, and language support. In this article, we delve deeper into the key differences between the two chatbots and explore why ChatGPT currently holds the upper hand.
According to latest
AI News
coverages, ChatGPT now has gained more than 280 million users worldwide in the last few weeks and is still growing at a rapid phase and has deployed lots of resources to keep on upgrading its platform and services.
Google Bard: A Brief Overview
Google Bard, available only to a select group of beta testers in the U.S. and the U.K., runs on Google's large learning model, LaMDA (Language Model for Dialogue Applications).
With its own standalone website, Bard aims to help users with tasks such as planning a birthday party, understanding complex topics, and creating pros and cons lists for decision-making. Although Google has plans to update LaMDA with new information over time, Bard's current limitations put it at a disadvantage compared to ChatGPT.
ChatGPT: The AI Chatbot Powerhouse
Released in November 2022, ChatGPT is an AI-powered chatbot capable of answering questions and solving unique problems, such as writing college-level essays or drafting contracts between artists and producers.
Its ability to create and debug complex code has already demonstrated its prowess, as evidenced by a research paper published in arXiv.
https://arxiv.org/abs/2301.08653
Researchers from Johannes Gutenberg University Mainz and University College London found that ChatGPT outperformed standard automated program repair techniques and was competitive with common deep learning approaches.
ChatGPT's stellar performances and its knowledge based has been witnessed in studies where it has even passed MBA exams and Medical exams!
https://www.nbcnews.com/tech/tech-news/chatgpt-passes-mba-exam-wharton-professor-rcna67036
https://www.thailandmedical.news/news/revolutionizing-healthcare-with-chatgpt-unveiling-its-potential-and-future-prospects
Key Differences Between ChatGPT and Google Bard
-Coding: ChatGPT's ability to create and debug complex code sets it apart from G oogle Bard, which is "still learning code" and does not currently offer this feature.
-Conversation Retention: ChatGPT can remember up to 3,000 words from previous conversations, albeit without using them to form responses. In contrast, Bard's ability to retain context is limited for now, with Google promising improvements over time.
-Responses: Bard's LaMDA can draw responses from the internet and provide direct links to websites, ensuring up-to-date answers. ChatGPT, however, relies on its GPT-4 knowledge base, which has a cutoff date in September 2021, limiting its access to newer information and research.
-Language: ChatGPT supports multiple languages, including Spanish, French, Arabic, Mandarin, Italian, Japanese, and Korean, although its proficiency varies by language, with English being its primary language. Bard, on the other hand, is only available and capable of communicating in English.
-Drafts: Bard creates several drafts for each prompt, allowing users to pick the best response. This feature was implemented to avoid a "sense of authoritativeness" when providing only one response, according to Jack Krawczyk, a senior product director at Google. In comparison, ChatGPT generates a single response to questions.
-Availability and Access: While ChatGPT is currently available to the public with both free and paid versions (ChatGPT Plus), Google Bard is restricted to a limited number of users in the U.S. and the U.K., with broader access expected in the future.
-Integration: ChatGPT has already been integrated into Microsoft's Bing search engine, Teams communication tool, and Edge browser, with plans for integration into the Opera browser. Google Bard, on the other hand, is expected to be integrated into the Chrome browser, Chromium derivatives, and third-party applications, as well as serve as an automated support tool for businesses.
Conclusion
Though Google Bard shows promise as an AI chat bot, it currently lags behind ChatGPT in several key areas. The latter's advanced coding capabilities, conversation retention, multilingual support, and broader accessibility give it a competitive edge in the market. However, Bard's potential for improvement, especially with Google's backing and future LaMDA updates, should not be underestimated.
As the AI landscape evolves, it is crucial for users and developers to stay informed about advancements and improvements in both ChatGPT and Google Bard. While ChatGPT maintains a strong position in the market, Bard has the potential to become a formidable rival as it continues to learn and grow.
Ultimately, the choice between ChatGPT and Google Bard may come down to personal preferences and specific use cases. For those seeking advanced coding assistance, multilingual support, and immediate availability, ChatGPT is the clear winner. However, for users who prefer an AI chatbot with the ability to draw responses from the internet and generate multiple drafts, Google Bard may be a more suitable option once it becomes widely available and improves its current limitations.
In the future, the competition between ChatGPT and Google Bard may drive both companies to innovate further, enhancing their respective chatbots' capabilities and offering users even more sophisticated AI assistance. As the race between Google and Microsoft-backed OpenAI continues, it will be interesting to see how these chatbots evolve and how they impact the AI industry as a whole.
For the latest
AI News
, keep on logging to Thailand Medical News.
(Note; Thailand Medical News and its parent company are beta-testers of Google Bard and also of other new AI platforms being developed. We have in collaboration with other international agencies now set up a new AI based unit to assist healthcare professionals and entities to use AI in various applications. We are also shortly launching
www.ThailandAi.news
which is a news site all about AI developments globally with all contents generated by AI only in collaboration with ChatGPT and eleven other AI platforms. For detaills email us.)