Pharma News: U.S. FDA Approves Bristol Myers Squibb's Reblozyl As First-Line Treatment For Anemia In Adults With Lower-Risk Myelodysplastic Syndromes
Pharma News
: In a significant breakthrough for the treatment of lower-risk myelodysplastic syndromes (MDS), the U.S. Food and Drug Administration (FDA) has granted approval for Reblozyl® (luspatercept-aamt), developed by Bristol Myers Squibb. This approval marks a turning point in addressing chronic anemia in adult patients with very low- to intermediate-risk MDS who may require regular red blood cell (RBC) transfusions. Reblozyl's expanded indication to the first-line setting comes after the successful results from the pivotal Phase 3 COMMANDS trial, demonstrating its superiority over erythropoiesis stimulating agents (ESAs) and its ability to provide concurrent transfusion independence and hemoglobin (Hb) increase.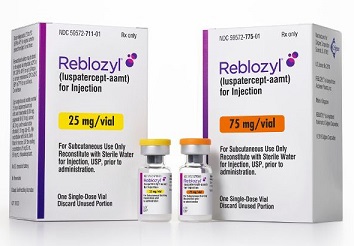 Myelodysplastic syndromes (MDS) encompass a group of closely related blood cancers characterized by ineffective production of healthy blood cells, including red blood cells, white blood cells, and platelets. Anemia is a common manifestation of MDS, leading to a reliance on frequent blood transfusions to counteract low hemoglobin levels. However, chronic transfusion dependence is associated with numerous complications, including iron overload and increased susceptibility to infections.
The COMMANDS trial, a Phase 3, open-label, randomized study, compared the efficacy and safety of Reblozyl against the erythropoiesis stimulating agent epoetin alfa in MDS patients who were red blood cell (RBC) transfusion-dependent and previously ESA-naïve. The primary endpoint was the achievement of RBC transfusion independence (RBC-TI) for 12 weeks, coupled with a mean hemoglobin increase of at least 1.5 g/dL. Results from the trial were presented at the American Society of Clinical Oncology (ASCO) Annual Meeting and the European Hematology Association (EHA) Congress, while The Lancet concurrently published the findings.
https://www.thelancet.com/journals/lancet/article/PIIS0140-6736(23)00874-7/fulltext
The pivotal trial's results are nothing short of remarkable. Among patients treated with Reblozyl, an impressive 58.5% achieved the primary endpoint of RBC-TI for at least 12 weeks, alongside a mean Hb increase of over 1.5 g/dL within the first 24 weeks. In contrast, the percentage of patients achieving the same endpoint with epoetin alfa was significantly lower at 31.2%. This discrepancy in results underscores Reblozyl's superior efficacy and establishes its potential to transform the treatment landscape for lower-risk MDS patients.
Importantly, the benefits of Reblozyl extend beyond its efficacy. The therapy's safety profile is well-established, with the most common adverse reactions including diarrhea, fatigue, hypertension, peripheral edema, nausea, and dyspnea. Reblozyl's positive safety and efficacy profile lends further credibility to its potential to revolutionize the management of lower-risk MDS-related anemia.
The significance of this approval resonates with healthcare professionals and organizations dedicated to improving the lives of MDS patients. Dr Guillermo Garcia-Manero, M.D., Chief of the Section of Myelodysplastic Syndromes at The University of Texas MD Anderson Cancer Center, told
quot;>Pharma News
reporters that the approval represents a monumental advancement for patients with lower-risk MDS. Patients grappling with lower-risk MDS often face limited treatment options, and Reblozyl's approval opens the door to a new era of effective and targeted therapy.
The broader implications of this approval are also noteworthy. The MDS Foundation, which advocates for individuals with myelodysplastic syndromes, expressed the significance of Reblozyl's approval in bringing transfusion independence within reach for more patients. By offering a viable and durable treatment option, Reblozyl has the potential to alleviate the burden of chronic transfusion dependence and its associated complications, thereby improving the overall quality of life for individuals living with MDS.
The approval of Reblozyl underscores Bristol Myers Squibb's commitment to advancing medical science and developing innovative therapies that address unmet medical needs. Reblozyl, a first-in-class therapeutic option, operates by promoting late-stage red blood cell maturation. Developed in collaboration with Merck, the therapy's effectiveness lies in its unique mechanism of action and the clinical evidence of its superiority over existing treatment options.
Furthermore, Reblozyl's approval represents a significant milestone in the journey toward personalized medicine. By expanding the indications for Reblozyl to ESA-naïve patients, irrespective of ring sideroblast status, the therapy's potential patient population widens, and more individuals can benefit from this groundbreaking treatment.
The implications of Reblozyl's approval extend beyond its clinical benefits. The therapy's administration offers a more convenient and less frequent treatment schedule, enhancing patients' adherence to their treatment regimens and reducing the disruptions caused by frequent hospital visits for transfusions. This convenience not only improves patients' quality of life but also contributes to the overall efficiency of healthcare delivery.
Bristol Myers Squibb's dedication to cancer care goes beyond providing effective treatments. The company's commitment to transforming lives through science is evident in its comprehensive approach to addressing all aspects of cancer care, from diagnosis to survivorship. By leveraging deep scientific expertise and innovative digital platforms, Bristol Myers Squibb is making data-driven insights that enable better patient outcomes and a more holistic approach to cancer care.
The approval of Reblozyl is not just a step forward in the field of MDS treatment; it is a testament to the relentless pursuit of scientific advancements that can translate into meaningful improvements in patients' lives. As healthcare continues to evolve, innovative therapies like Reblozyl serve as beacons of hope, illuminating the path toward a better future for individuals facing complex and challenging medical conditions. With this milestone, Bristol Myers Squibb continues to shape the landscape of cancer care, offering hope and empowerment to those who need it most.
For the latest
Pharma News
, keep on logging to Thailand Medical News.