Outbreak News: Scrub Typhus Infections Rising In Bharat (India) With 5 Deaths So Far!
Outbreak News
: Scrub typhus, a bacterial infection caused by the Orientia tsutsugamushi bacterium, sometimes referred to as bush typhus, is currently on the rise in Bharat (India…kindly note that Bharat is the new name of India as fortunately the Modi government as designated reverting back to the original Hindu name of the country and doing away with any influences left behind by the British colonists or the Islamic invaders.)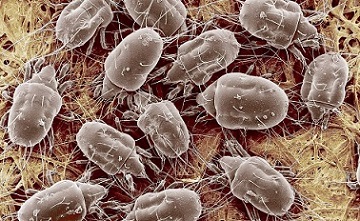 Chiggers are tiny, six-legged wingless larvae that mature to become a type of mite.
Chiggers are typically found in tall grass, weeds and the edges of woodlands.
Their bite causes severe itching and red pimple-like bumps or hives. Chigger
bites can transmit the bacteria Orientia tsutsugamushi, which causes scrub typhus
The monsoon season in India brings not only relief from oppressive heat but also a variety of illnesses, including bacterial infections and waterborne diseases. Recently, a new bacterial infection named scrub typhus has emerged in the states of Rajasthan and Himachal Pradesh, with over 1105 reported cases and at least 5 tragic deaths according to local
Outbreak News
updates.
https://firstindianews.com/news/engue-attack-highest-number-of-dengue-deaths-in-rajasthan-how-to-increase-platelets-in-dengue
https://www.dnaindia.com/health/report-what-is-scrub-typhus-a-bacterial-infection-rising-in-india-know-symptoms-preventions-3059194
According to experts at Indira Gandhi Medical College (IGMC), five people in Shimla's Solan district in Himachal Pradesh have died from scrub typhus infections, with four of the fatalities being women. This alarming trend has raised concerns among health authorities and the public alike.
Understanding Scrub Typhus
Scrub typhus, also known as bush typhus, is a disease caused by the bacterium Orientia tsutsugamushi. It is primarily transmitted to humans through bites from infected chiggers, which are larval mites. The disease does not spread from person to person.
Common symptoms of scrub typhus include:
-Fever with Chills
-Headache
-Muscle Aches and Pains
-Formation of a Black, Scab-Like Area Where a Chigger Has Bitten (Known as an Eschar)
-Mental Changes Ranging from Confusion to Coma
-Enlarged Lymph Nodes
-Rash
In severe cases, scrub typhus can lead to bleeding and organ failure, which can be fatal if not treated promptly.
Treatment and Prevention
Scrub typhus is a tropical rickettsial infection, and if left untreated, it can have fatal consequences. The primary treatment for scrub typhus is the administration of dox ycycline, typically starting with 200 mg orally followed by 100 mg twice a day in adults. Treatment should continue until the patient improves, remains afebrile for 48 hours, and has received treatment for at least 7 days.
Preventing scrub typhus can be challenging because there is currently no vaccine available. However, individuals can reduce their risk by avoiding contact with infected chiggers. When visiting areas where scrub typhus is prevalent, it is advisable to stay away from densely forested and brushy areas where chiggers may be present.
The Growing Concern in Bharat
The potential for considerable morbidity and, in some cases, fatality from scrub typhus makes it a disease of concern in Bharat. Prompt identification and treatment are crucial in managing and mitigating its impact.
Scrub typhus is a growing health concern in India. With over 1105 reported cases and a rising death toll, it is imperative for individuals to recognize the symptoms, seek timely treatment, and take preventive measures such as avoiding contact with infected chiggers.
While there is no vaccine available at present, staying informed and vigilant can help reduce the risk of contracting scrub typhus. The healthcare system in India must also be prepared to respond effectively to this emerging health threat, ensuring that proper diagnosis and treatment are readily available to those in need. As the monsoon season continues, vigilance and awareness are key to combating the spread of scrub typhus and protecting public health.
For the latest
Outbreak News
, keep on logging to Thailand Medical News.