BREAKING COVID-19 NEWS! Greek Researchers Warn That Mild COVID-19 Infections Can Cause Hepatitis B Virus (HBV) Reactivation!
More reported cases of Hepatitis B activation in COVID-19 patients and Post COVID individuals are raising alarms!
COVID-19 News
: The COVID-19 pandemic that emerged in late 2019 has proven to be a global public health crisis, affecting millions of people worldwide. While the primary impact of the virus is on the respiratory system, researchers have also observed its effect on other organs, including the liver. In this context, Greek researchers have uncovered a concerning link between mild COVID-19 infections and the reactivation of the Hepatitis B virus (HBV) without the use of immunosuppressive therapies.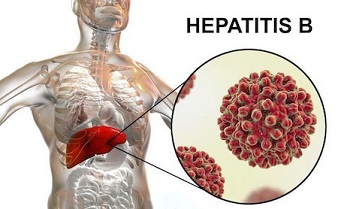 The researchers presented an intriguing case of a patient who experienced HBV reactivation following a mild COVID-19 infection, shedding light on the need for close monitoring of patients with chronic HBV infections during the pandemic.
Already
COVID-19 News
reports based on studies and cases reports have already warned that SARS-CoV-2 infections could reactivate dormant herpes and EBV.
https://www.thailandmedical.news/news/covid-19-news-spanish-researchers-warn-that-sars-cov-2-infections-and-vaccinations-trigger-reactivation-of-all-kinds-of-herpesviridae-viruses
https://www.thailandmedical.news/news/reactivation-of-herpes-hhv-6-and-ebv-is-associated-with-myalgic-encephalomyelitis-chronic-fatigue-syndrome-implications-for-long-covid
https://www.thailandmedical.news/news/new-study-shows-that-epstein-barr-virus-reactivation-and-low-cortisol-levels-are-common-in-many-long-covid-patients
https://www.thailandmedical.news/news/can-sars-cov-2-especially-the-omicron-variant-cause-hpv-and-oncogenic-hpv-reactivation-urgent-studies-warranted-based-on-growing-incidences
https://www.thailandmedical.news/news/various-studies-are-showing-that-reactivation-of-dormant-epstein-barr-virus-could-be-what-is-responsible-for-covid-severity-as-well-as-long-covid
It should also be noted that as early as July 2020, medical researchers from UAE had also sounded similar warnings about hepatitis B reactivation due to COVID-19 infections.
t;https://www.thailandmedical.news/news/breaking-hepatitis-b-uae-covid-19-case-study-indicates-that-covid-19-could-induce-hepatitis-b-virus-reactivation">https://www.thailandmedical.news/news/breaking-hepatitis-b-uae-covid-19-case-study-indicates-that-covid-19-could-induce-hepatitis-b-virus-reactivation
Understanding Hepatitis B and HBV Reactivation
Hepatitis B virus (HBV) belongs to the Hepadnaviridae family and is responsible for millions of chronic hepatitis infections globally. The progression of HBV infection can lead to chronic hepatitis B, which involves various phases characterized by HBeAg seropositivity, serum levels of HBV DNA, and alanine aminotransferase (ALT). Patients with chronic HBV infections carry the covalently closed circular DNA (cccDNA) in the hepatocyte nucleus, which can lead to HBV reactivation (HBVr) under conditions of immunosuppression.
The Link Between COVID-19 and Liver Injury
COVID-19, caused by the severe acute respiratory syndrome coronavirus 2 (SARS-CoV-2), primarily affects the respiratory system. However, numerous studies have shown that the virus can cause liver injury, as evidenced by abnormal liver biochemistry. Liver dysfunction has been associated with severe clinical manifestations of COVID-19, and liver injury is often attributed to various mechanisms, including direct cytopathic effects, inflammation, hypoxia, drug toxicity, and coagulopathy.
Coinfection and the Case Report
Given that both HBV and SARS-CoV-2 can cause liver injury, researchers have investigated coinfection cases to understand the interplay between the two viruses. The study presents a case of HBV reactivation in a 49-year-old immunocompetent female with a 20-year history of chronic HBeAg-negative HBV infection. The patient experienced HBV reactivation after contracting a mild COVID-19 infection, without receiving systemic immunosuppressive medication.
Analyzing the Case
The patient's medical history revealed no prior health issues, and she had not undergone long-term medical treatments or surgeries affecting her immune system. Following a mild COVID-19 infection, during which she was treated with low-dose inhaled corticosteroids (ICS), the patient developed elevated AST and ALT levels and increased HBV DNA levels. Other causes of abnormal liver biochemistries were ruled out, leading to the diagnosis of HBV reactivation. Treatment with entecavir normalized the liver enzymes and decreased HBV DNA levels.
Investigating the Pathophysiology
The case raised questions about the pathophysiology of HBV reactivation 20 years after the initial diagnosis. While immunosuppressive therapies are known to induce HBVr, the ICS dose and duration used in this case were found to carry a very low risk (<1%) for reactivation. A review of the literature also revealed other cases where COVID-19 was considered the trigger for HBVr, even without concurrent immunosuppressive treatment.
Conclusion and Implications
The study concludes that, based on the low risk of HBVr posed by ICS and the exclusion of other causes, the patient's HBV reactivation was likely due to the recent COVID-19 infection. This highlights the importance of closely monitoring patients with chronic HBV infections who contract COVID-19, especially if they exhibit abnormal liver chemistries. Additionally, more research is needed to understand the pathophysiological pathways behind HBV reactivation triggered by non-hepatotropic viruses like SARS-CoV-2. As the COVID-19 pandemic continues, this information becomes crucial in providing better care for patients with underlying chronic conditions, such as HBV infection.
The study findings were published in the peer reviewed journal: Livers
https://www.mdpi.com/2673-4389/3/3/26
For the latest
COVID-19 News
, keep on logging to Thailand Medical News.
Read Also:
https://www.thailandmedical.news/news/covid-19-news-can-sars-cov-2-cause-reactivation-of-the-latent-sexually-transmitted-htlv-1-virus-that-causes-t-cell-leukemia-lymphoma-atl