BREAKING! H5N1 News: Bolivia Reports That A Dozen People Could Be Possibly Infected With H5N1 Avian Flu Virus!
H5N1 News
: Bolivian government authorities have announced that about a dozen people could be possibly infected with the H5N1 Avian Flu virus as a result of handling infected birds and poultry.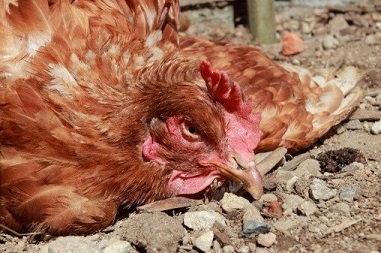 Health officials from the Eastern province of Nor Chichas in Bolivia reported than about a dozen individuals from the town of Cotagaitilla in the Potosi District were possibly infected with the H5N1 bird flu virus.
https://elpotosi.net/local/20230306_gripe-aviar-aisla-a-comunidad-que-tuvo-contacto-con-aves.html
Some of the individuals had presented with slight symptoms of chills and body pains along with nausea.
The Head of epidemiology of the Departmental Health Service at the Bolivian Ministry Of health, Dr Huáscar Alarcón said that samples have been taken from the suspected infected individuals and have been sent to laboratories at La Paz, the capital for testing.
He added that at this stage there are no signs of human-to-human transmission as all suspected infected individuals had been in direct contact with either infected birds or poultry or were involved in disposing dead infected carcasses.
All of the individuals have been placed into a 10-day quarantine and are being observed while test results are expected to be disclosed with the next 36 hours.
Health authorities have also issued warnings to all locals in the town of Cotagaitilla to take extra safety precautions including masking, washing hands and to avoid touching dead birds, chickens or any other animals.
The health authorities have arranged a special task force to handle the disposal of any dead or suspected animals that could be infected with the virus.
Local provincial authorities have confirmed that H5N1 Avian Flu infections had been confirmed in 15 incidences in the town of Cotagaitilla involving backyard raised chickens and most have already been culled.
Among the possibly infected individuals was a male who was involved with transporting chickens from an infected chicken farms to local markets, his mother and two children. Another six individuals were workers on the farm.
The general director of the National Agricultural Health and Food Safety Service (Senasag), Javier Suarez, issued an order the last few hours prohibiting the transportations of chickens across Bolivia warning that anyone caught would be severely penalized.
https://www.eldiario.net/portal/2023/03/06/prohiben-transporte-de-todo-tipo-de-aves-dentro-del-pais/
According to local
H5N1 News
coverages, numerous provinces and towns across Bolivia have been having birds and poultry being infected by the H5N1 bird flu virus.
Many other South American countries like Peru, Chile, Argentina, Brazil etc have also been badly affected by the H5N1, in some cases involving the culling of millions of chickens. At the same time many mamma ls including hundreds of sea lions have been infected and killed by the virus in these same countries.
With the various respiratory disease now affecting various countries including H3N2 in India and SARS-CoV-2 in various parts of the world, the possibility of a lethal reassortant variant arising in coming weeks is very likely along with an evolved H5N1 strain that is able to cause human-to-human transmissions more effectively.
https://www.thailandmedical.news/news/breaking-india-facing-serious-influenza-a-h3n2-outbreak-with-many-requiring-hospitalization-and-supplemental-oxygen
The second half of 2023 is expected to be a 'fun time'!
For the latest
H5N1 News
, keep on logging to Thailand Medical News.
Read Also:
https://www.thailandmedical.news/news/h5n1-news-suspected-outbreak-of-h5n1-avian-flu-virus-among-humans-being-investigated-in-south-kalimantan,-indonesia
https://www.thailandmedical.news/news/h5n1-avian-flu-news-woman-in-jiangsu-province,-china-found-infected-with-h1n5-bird-flu
https://www.thailandmedical.news/news/h5n1-avian-flu-news-coverup-of-h5n1-avian-flu-human-to-human-infections-involving-military-cadets-in-chile-s-valparaiso-region
https://www.thailandmedical.news/news/h5n1-avian-flu-news-unknown-to-many,-studies-have-shown-that-h5n1-bird-flu-virus-can-be-transmitted-by-houseflies,-mosquitoes-and-other-insects
https://www.thailandmedical.news/news/h5n1-avian-flu-news-researchers-are-concerned-that-a-lethal-reassortant-strain-involving-sars-cov-2-and-h5n1-avian-flu-virus-is-likely-to-emerge-soon
https://www.thailandmedical.news/news/h5n1-avian-flu-news-snippets-and-updates-of-the-h5n1-avian-flu-threat
https://www.thailandmedical.news/news/breaking-news-h5n1-avian-flu-news-thailand-s-department-of-disease-control-ddc-issues-bird-flu-alert
https://www.thailandmedical.news/news/breaking-h5n1-avian-flu-news-12-more-individuals-infected-with-h5n1-bird-flu-in-cambodia-human-to-human-transmissions-now-possible
https://www.thailandmedical.news/news/breaking-h5n1-avian-flu-news-11-year-old-girl-dies-from-h5n1-avian-flu-virus-in-cambodia-s-prey-veng-province
https://www.thailandmedical.news/news/health-news-we-are-living-in-dark-times-governments-and-health-agencies-around-the-world-are-not-telling-us-the-truths-of-what-are-really-brewing
https://www.thailandmedical.news/news/h5n1-avian-flu-news-preparing-for-an-imminent-outbreak-what-prophylactics,-drugs-and-supplements-work-part-1