Cannabis News: Legalization of Recreational Cannabis Markets In America Tied to Alarming Surge in Traffic Fatalities – Thailand Beware!
Cannabis News
: A groundbreaking study conducted by the University of Illinois, Chicago has revealed shocking connections between the legalization of recreational cannabis markets and a dramatic increase in traffic fatalities. This captivating research delved into death certificate data to unravel the truth about mortality rates in states with recreational cannabis dispensaries compared to those that only provide access to medical cannabis.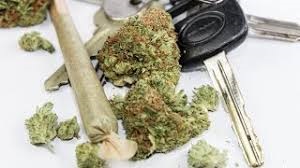 The thrilling findings unveiled a significant spike in car crash fatalities in four out of the seven states examined in the study where recreational cannabis markets were legalized. Astonishingly, the presence of recreational markets was associated with a staggering 10% increase in fatalities from motor vehicle accidents on average.
Samantha Marinello, the study's first author, expressed deep concern over these findings and suggested that states with legal recreational cannabis should urgently invest in policies and public health initiatives to mitigate this potential harm. Additionally, she emphasized the importance of raising awareness about the perils of driving under the influence.
"To witness a 10% surge in motor vehicle accident deaths linked to recreational markets is truly alarming. Prior research has already established that cannabis impairs driving ability and that driving while high is quite prevalent among regular cannabis users," said Marinello, a postdoctoral research associate with the division of health policy and administration at the UIC School of Public Health.
For this eye-opening analysis, Marinello and Lisa Powell, UIC distinguished professor and director of the division, zeroed in on seven states that implemented legal recreational cannabis markets: Alaska, California, Colorado, Massachusetts, Nevada, Oregon, and Washington. They meticulously collected data from death certificates between 2009-2019, focusing on deaths in three key areas that have been linked to cannabis use but still remain poorly understood: motor vehicle accidents, suicide, and opioid overdose.
In their quest for the truth, the researchers compared trends in deaths in states with legal markets to those in states that had comprehensive medical cannabis programs and similar trends in death rates prior to implementing markets.
"We were determined to avoid comparing states with vastly different mortality trends or social ideologies. We scrutinized each state and outcome, pinpointing comparison states with existing medical cannabis programs and with similar pre-trends for our analysis," Marinello explained.
The data uncovered jaw-dropping increases in crash fatalities in Colorado (16%), Oregon (22%), Alaska (20%), and California (14%).
"The results suggest that a potential unintended consequence of recreational markets is a surge in cannabis-intoxicated driving and crash deaths, highlighting the urgent need for policies aimed at curbing driving under the influence of cannabis," the authors urgently warn.
In the realm of opioid overdose deaths, recreational markets were associated with an 11% reduction in fatalities on average. The reduction ranged from 3% to 28% across all seven states.
Marinello emphasized that the decrease in opioid overdose fatalities is another critical area of impact that should be considered by states pondering legalization.
"This study provides compelling evidence of both potential benefits and harms that policymakers should carefully weigh when legalizing recreational cannabis markets," Marinello concluded.
The study findings were published in the peer reviewed journal: Social Science And Medicine.
https://www.sciencedirect.com/science/article/abs/pii/S0277953623000357
Concerns have been raised about the potential increase in motor vehicle crashes and fatalities due to the legalization of recreational cannabis markets. THC, the primary psychoactive compound in cannabis, has been shown to impair driving ability. Epidemiological studies have found mixed results on the association between cannabis use and crash risk, with some studies showing an increased risk while others find no association. Driving under the influence of cannabis is more prevalent in states with legal recreational sales, but results vary between studies.
According to
Cannabis News
coverages, eight studies have evaluated the effects of recreational legalization on traffic fatalities in the U.S., with mixed results. Some studies found increased fatal crashes in certain states, while others found no effect. Overall, recreational legalization has been associated with an increased risk of fatal motor vehicle crashes in some cases.
Cannabis use has also been linked to the development of depressive disorders and suicidality. However, the relationship between cannabis use and these outcomes may be due to causal mechanisms, reverse causation, or unknown confounders. A few studies have assessed the impacts of medical and recreational cannabis legalization on suicide, with mixed results.
Interestingly, Thailand recently haphazardly decriminalized cannabis usage in the country due to influences of a certain political party and some Thai businessmen who are actually scammers including a former Thai criminal who was in hiding in the United States for a while to await the run-out of the stature of limitations for fraud with a big prestigious local Thai company but is now active in the local cannabis business with many failed ventures in certain shopping malls and tries to be a social media influenzer on facebook etc with only stupid dogs following him! The cannabis liberalization in Thailand was meant to help poor farmers earn additional monies and to help Thais but rather only members of that political party and their cronies benefitted along with the fact that most of the Cannabis dispensaries in the country are directly or indirectly owned by foreigners with close Thais to filthy politicians or are owned by Thai Punjabi Indians who are involved in lots of shady business. Furthermore, most of the cannabis and cannabis products sold in the country are products from the United States or Europe (many brought in illegally) and does not benefit the local Thais farmers economically. No studies have been conducted by the Thai authorities with regards to the social impacts of cannabis liberalization in the country. Media reports show that cannabis consumption among the children and teenagers are alarmingly growing in the country!
For the latest
Cannabis News
, keep on logging to Thailand Medical News.