BREAKING! A Must For All Doctors To Read! Scientists Warn That COVID-19 Affects Cytochrome P450 3A4-Mediated Drug Metabolism And Drug Interactions!
Drugs Such As Midzolam, Lopinavir, Etc Used On COVID-19 Patients Could End Up Killing Them Instead!
COVID-19 News
: In a groundbreaking discovery, Canadian scientists from the College of Pharmacy at Dalhousie University have issued a warning about the potential deadly consequences of COVID-19 on cytochrome P450 3A4 (CYP3A4)-mediated drug metabolism and drug interactions. This revelation has raised significant concerns about the use of drugs and antivirals intended to treat COVID-19 and its associated conditions, as they may inadvertently lead to patient fatalities.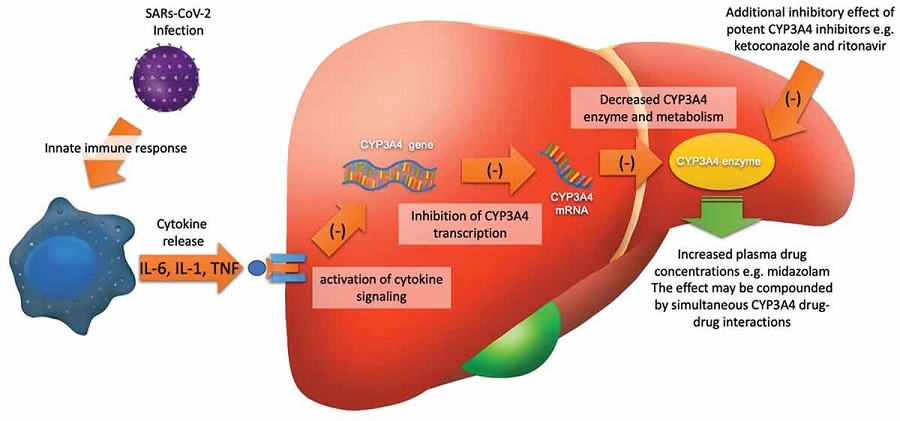 Simplified overview of hepatic CYP3A4 regulation by SARs-CoV-2 infection. Virulence factors from the SAR-CoV-2 virus interact with the host tissue epithelium and tissue resident macrophages to stimulate cytokine (e.g. interleukin (IL) -1b and IL-6 and tumor necrosis factor (TNF) release as part of the innate immune response. In turn, the cytokines, bind to their respective receptors on hepatocytes to activate intracellular signaling pathways that inhibit (-) the transcription of the CYP3A4 gene. This results in a reduction of CYP3A4 mRNA and ultimately lower amounts of the CYP3A4 enzyme. The consequence is reduced hepatic CYP3A4 metabolism leading to increased plasma concentrations of substrate drugs. Simultaneous administration of potent CYP3A4 inhibitors, is predicted to lead to further reductions in CYP3A4-mediated drug metabolism. Additional mechanisms of CYP3A4 regulation are not shown and include epigenetic regulation and post-transcriptional regulation.
There is still so much we do not know yet in the field of pharmacology and pharmacokinetics in terms of the drugs being used on COVID-19 patients and even about details of the SARS-CoV-2 pathogenesis. For example in a recent
COVID-19 News
report, it was only just brought to the attention of the medical community that as a result of SARS-CoV-2 being able to literally break the blood-brain barrier, the impact of various drugs being used can have an impact on SARS-CoV-2 patients!
https://www.thailandmedical.news/news/must-read-covid-19-news-sars-cov-2-altered-blood-brain-barrier-opens-questions-about-drugs-used-during-treatments-and-their-effects
CYP3A4, a liver enzyme responsible for metabolizing approximately 60% of available medications, plays a crucial role in the efficacy and safety of drug treatments. The inhibition of CYP enzymes by the SARS-CoV-2 virus, which causes COVID-19, can result in the accumulation of certain pharmaceutical compounds to dangerous levels and potentially trigger adverse drug responses.
The impact of COVID-19 on patients can vary from asymptomatic or mild cases to severe and life-threatening conditions characterized by hyper-inflammation, multi-organ failure, respiratory distress syndrome, and ultimately, death. Over 40 years ago, during an influenza B outbreak, the ability of viral infections to diminish hepatic CYP metabolism was first observed when asthmatic children experienced clinically significant adverse reactions to theophylline.
Recent evidence suggests a potential link between COVID-19 and CYP metabolism interactions, specifically involving the pro-inflammatory response triggered by the disease. This response leads to an increase in cytokines such as C-reactive protein (CRP), tumor necrosis factor (TNF), interferon-γ, and various interleukins including IL-6, ultimately reducing hepatic CYP3A4 metabolism. Consequently, this alteration in drug metabolism can result in modified drug levels and, in some cases, adverse drug responses.
To support their findings, the Canadian scientists conducted an extensive review of recent literature exploring the interactions between COVID-19 and CYP3A4 metabolism. They discussed the potential implications of COVID-19 on the pharmacokinetics and responses to CYP3A4-metabolized medications, identified gaps in knowledge, and emphasized the need for future research in this critical area.
One of the key findings highlighted the downregulation of CYP3A4 gene expression and function during COVID-19. This downregulation can have significant consequences for medication management, particularly for adults who are on multiple medications (polypharmacy), as the metabolism of several drugs can be affected. The potential for drug interactions, where medications can either inhibit or induce CYP3A4, further complicates the situation.
Already to date, numerous studies have shown reduced CYP3A4 metabolism in COVID-19 patients. For example, research demonstrated a correlation between elevated levels of IL-6 and reduced midazolam clearance, a drug metabolized by CYP3A4, in critically ill patients with COVID-19. Additionally, studies involving tacrolimus and lopinavir, both CYP3A4-metabolized drugs, revealed elevated drug concentrations in hospitalized COVID-19 patients. These findings suggest that the downregulation of CYP3A4 metabolism in COVID-19 can lead to altered drug levels and potentially affect treatment outcomes.
Although the existing pharmacokinetic data is limited to a few medications and severe COVID-19 cases, the implications of COVID-19 on CYP3A4 metabolism warrant attention. It is crucial for further research to determine the extent to which other CYP3A4-metabolized medications and individuals with milder COVID-19 symptoms are affected. By identifying the medications and patient populations most impacted by altered drug metabolism, healthcare providers can optimize COVID-19 monitoring and medication management protocols.
The study team also proposed that CYP3A4 sensitive substrates (e.g. simvastatin, buspirone, darifenacin, midazolam, etc.) should be used with caution in combination with moderate or strong CYP3A4 inhibitors (e.g. ketoconazole, verapamil, diltiazem, etc.) in active COVID-19. The drug to be discontinued from the interacting pair will need to be evaluated on a case-by-case basis but consideration should include need for the medication, potential for adverse drug events, and potential toxicity.
The study findings were published as an editorial in the peer reviewed journal:
Expert Opinion on Drug Metabolism & Toxicology.
https://www.tandfonline.com/doi/full/10.1080/17425255.2023.2228680
Thailand Medical News would also like to note that many elderly patients in nursing homes and hospitals around the world but more so in the Western countries meet with fatal outcomes as a result of high dose midazolam being used in their treatments regiments when they were infected with the SARS-CoV-2 virus! Detailed studies and investigations are urgently warranted on this!
https://www.dailymail.co.uk/news/article-8514081/Number-prescriptions-drug-midazolam-doubled-height-pandemic.html
https://www.thesun.co.uk/news/12100515/care-homes-accused-sedatives-coronavirus-die-quickly/
While some ignorant factcheckers claimed that midzolam did not kill the aged infected with COVID-19, this new data might show otherwise and also many data have already validated that midzolam prescriptions did increase during various surges in the West and were used on the elderly especially in the UK!
Important references:
COVID-19 Vaccines and the Virus: Impact on Drug Metabolism and Pharmacokinetics
https://dmd.aspetjournals.org/content/51/1/130.abstract
Impact of SARS‐CoV‐2 infection (COVID‐19) on cytochromes P450 activity assessed by the Geneva cocktail
https://ascpt.onlinelibrary.wiley.com/doi/full/10.1002/cpt.2412
Inhibition and induction of CYP enzymes in humans: an update
https://link.springer.com/article/10.1007/s00204-020-02936-7
For the latest
COVID-19 News
, keep on logging to Thailand Medical News.
Read Also:
https://www.thailandmedical.news/news/breaking-japanese-study-finds-u-s-fda-approved-and-promoted-covid-19-drug-remdesivir-induces-cardiomyocyte-dysfunction-and-is-cardiotoxic
https://www.thailandmedical.news/news/molnupiravir--what-wrong-with-america-why-is-the-american-government-and-agencies-funding-and-pushing-potentially-toxic-drugs-to-treat-covid-19
https://www.thailandmedical.news/news/breaking-stanford-study-confirms-favipiravir-use-in-mild-or-asymptomatic-covid-19-patients-has-no-efficacy-doctors-should-be-sued-for-prescribing-it