COVID Surges in UK - Southwest Records Alarming Spike, Prompting Renewed Vigilance Across The Country
COVID-19 News
: As the world yearned for an end to the COVID-19 pandemic, recent data reveals that the virus remains a looming presence, with a surge in COVID-19 cases being recorded across various geolocations in the world including Japan, South Korea, China, Australia, New Zealand, Spain and Romania.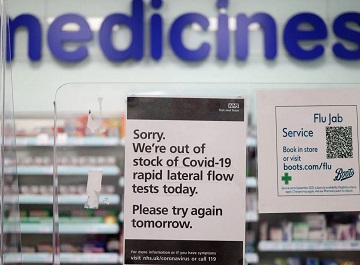 The United Kingdom is not spared from this surge either. The latest figures from the ZOE health app indicate that nearly 790,000 people across the nation are estimated to be experiencing symptomatic
https://health-study.joinzoe.com/data
Data shows that there has been a notable 30% rise in daily cases since the beginning of July. As the Southwest grapples with the highest infection rate, public concern is on the rise, with sales of COVID tests soaring by more than a third this month.
https://www.theguardian.com/world/2023/jul/29/sales-of-covid-tests-up-by-a-third-this-month-as-uk-cases-slightly-rise
The ZOE health app has become a crucial tool for tracking COVID symptoms, providing valuable insights into the current state of the pandemic. Its data for 29 July reveals that a staggering 789,695 individuals across the UK are estimated to be grappling with symptomatic COVID.
According to the Zoe data and also reports from local
COVID-19 News
coverages, the South West of England is bearing the brunt of the surge, witnessing between 931 and 1,628 daily new cases per million people. Not far behind is Wales, with a daily range of 591 to 1,755 new reports per million people. In contrast, Yorkshire and the Humber have the lowest rates, with a range of 328 to 1,088 new cases per million people daily.
However, the wide ranges in these estimates leave some uncertainty about the true numbers. With very little COVID-19 testing being conducted, the actual figures could be much higher.
It is essential to note that the UK Government has discontinued funding for the more reliable and comprehensive infection survey run by the Office for National Statistics, making the ZOE health app data even more critical in understanding the current COVID landscape.
While the recent rise in cases and COVID-related hospital admissions remains below the peaks seen during the Omicron surge last spring, health authorities are keeping a watchful eye on the figures. According to the Government dashboard, 677 patients in England tested positive for COVID in the week leading up to 21 July, up from 465 at the end of June. Although far from the alarming Omicron peak of 9,618 cases, this uptick raises concerns about the state of immunity in the population.
Experts attribute the resurgence of COVID cases to waning immunity, which is a natural consequence of reduced virus circulation and prolonged periods since vaccinations or infections. Dr Jamie Lopez Bernal, a consultant epidemiologist for immunization at the UK Health Security Agency, highlights that the low uptake of booster shots among certain age groups has contributed to this vulnerability. In England, only 40% of peopl e in their early 50s and 52% in their late 50s opted for the booster, whereas uptake climbed above 80% for those over 75, the group most at risk.
However, there is no real credible data showing as to whether these boosters really help or they are actually contributing to more worse impacts in terms of susceptibility to infections not including the adverse effects already being associated with these jabs.
COVID is demonstrating its resilience and adaptability, with milder symptoms compared to its earlier variants, and no alarming new mutations have been reported in over 18 months. However, this does not diminish the significance of the current surge. The virus is here to stay, akin to other respiratory infections, necessitating ongoing vigilance and precautionary measures.
Furthermore, it should always be remembered that even asymptomatic or mild infections are still capable of causing serious long term health issues in all who have been exposed to the SARS-CoV-2 virus. In that sense, the SARS-CoV-2 virus is unlike other common respiratory pathogens.
As the UK braces for autumn and winter, health officials are preparing for the potential of higher-than-normal levels of respiratory illnesses, including COVID, flu, and respiratory syncytial virus (RSV).
Individuals should also be reminded that previous exposure to SARS-CoV-2 virus, makes one more immune deficient and as a result, one is more susceptible to not only SARS-CoV-2 reinfections but also infections by other circulating pathogens.
The battle against COVID-19 is far from over, and as the virus lingers, everyone is reminded to remain cautious. While the world navigates this new normal, the only way to emerge stronger is by staying informed, united, and resilient in the face of COVID's ever-changing landscape.
For the latest
COVID-19 News
, keep on logging to Thailand Medical News.