WARNING! Increasing Incidences Of Cerebral Venous Sinus Thrombosis (CVST) In Many Who Had Omicron….Coincidences, Correlation Or Causal?
CVST-Omicron
: Thailand Medical News is again appealing to researchers globally to help look into another growing phenomena that doctors around the world are reporting.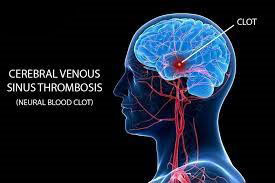 There seems to be sudden increase of diagnosis and admissions of otherwise healthy individuals having Cerebral Venous Sinus Thrombosis (CVST). Some had initially tested positive for COVID-19 but only had mild symptoms or were asymptomatic and a few were confirmed as having the Omicron variant (Not all medical establishments provide genomic sequencing). Some patients admitted for Cerebral Venous Sinus Thrombosis (CVST) said that they never had a test for COVID-19 done.
Most of these patients however complained of headaches and some experienced mental fogginess and also pains behind the eye in the initial stages.
For those who are not aware, Cerebral Venous Sinus Thrombosis (CVST) occurs when a blood clot forms in the brain's venous sinuses. This prevents blood from draining out of the brain. As a result, blood cells may break and leak blood into the brain tissues, forming a hemorrhage. The condition can often be fatal.
The increased in incidences were observed starting at the same time as the debut of Omicron in November 2021 and the initial incidences were observed in UK, Germany and then in the United States, Singapore and Thailand.
In Thailand for instance, reported cases are not even tested for COVID-19 and or even checked if they had previous COVID-19 infections as physician are ignoring any possibilities of any linkages between Cerebral Venous Sinus Thrombosis (CVST) and the SARS-CoV-2 virus!
There could be a possibility that due to the increased vaccination uptakes as a result of the threat of Omicron, the increased in Cerebral Venous Sinus Thrombosis (CVST) is being observed as it is already known that COVID-19 vaccines can also induce Cerebral Venous Sinus Thrombosis (CVST) as an adverse effect in a very extremely small proportion of the population.
https://www.ncbi.nlm.nih.gov/labs/pmc/articles/PMC8593397/
https://pubmed.ncbi.nlm.nih.gov/34610990/
https://jamanetwork.com/journals/jamainternalmedicine/fullarticle/2785610
However, what was also eliminating this possibility is that almost 37 percent of the 1,128 cases that were reported to us by doctors and physicians from 5 countries during the period 26
th
November 2021 to 8
th
January 2022 were unvaccinated individuals. Hence a urgent
CVST-Omicron
study is warranted.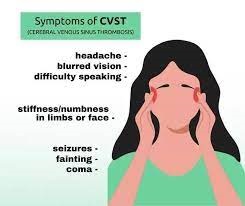 It should be noted that of these 1,128 cases that we were made aware of, 42 per cent resulted in deaths that were never classified as COVID-19 related.
We believe that the incidences of Cerebral Venous Sinus Thrombos is (CVST) is far more greater as we only received data from a small source of physicians and hospitals in UK, Germany, United States, Singapore and Thailand.
We also wonder if there is any correlation behind the high D-Dimer levels being reported in many who have possibly contracted the Omicron but are not exhibiting any disease severity.
https://www.thailandmedical.news/news/why-are-many-infected-with-omicron-having-elevated-d-dimer-levels-despite-not-displaying-any-disease-severity-urgent-research-needed
We at Thailand
Medical News
strongly feel that further research is urgently warranted concerning the possible linkage between Cerebral Venous Sinus Thrombosis (CVST) and the Omicron variant and that researchers should get a published paper out on this so as to warn the rest of the medical community.
At the same time individuals who are experiencing the related symptoms should not procrastinate in seeking a doctor's advice and getting a check up.
For more on
Cerebral Venous Sinus Thrombosis (CVST) and Omicron
, keep on logging to Thailand Medical News.