Thailand News: Woman Dies After Getting A Breast Implant At A Plastic Surgery Clinic In Nonthaburi, Thailand
Thailand News
: Local Thai media has reported that a woman died after receiving a breast implant at a plastic surgery clinic at Nonthaburi, Thailand.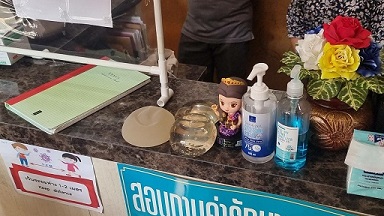 Pic Credit -Thai PBS
Accordingly, the health authorities ordered the clinic in Pak Kret district of Nonthaburi province to close after the death of the customer but there was no indication if the doctor or staff who performed the procedure would be arrested or would face charges.
It was reported that the health authorities ordered the clinic close based on the fact that it was allegedly operating without a license but there was no mention that charges would be filed against the operators of the clinic or the doctor who was in attendance.
According to a local
Thailand News
outlet, a relative of the deceased who was named identified as
37-year-old "Kanokwan", filed a complaint with the police at Wang Noi district in Ayutthaya province, saying that her sister died about five hours after she return from the clinic after having had a breast implant done.
The sister of the deceased suspects that the breast implant procedure might have been the cause of her death
https://www.thaipbsworld.com/plastic-surgery-clinic-in-nonthaburi-ordered-to-close-after-death-of-a-customer/
It was mentioned that after receiving the complaint, Wang Noi police sought cooperation from Pak Kret police and public health officials in checking the clinic and found that it has no license to conduct implant surgeries. The clinic was ordered to cease operations.
The name of the clinic and the name of the doctor was not revealed as usual.
Disgustingly, a representative of the clinic, accompanied by a lawyer, visited the victim's family in Ayutthaya province to negotiate the compensation payment.
The clinic only offered to pay the family a mere 100,000 Thai baht for funeral expenses.The family of the deceased however said that they are planning to seeking 10 million baht in compensation from the clinic, claiming that the victim was the breadwinner of the family who has left behind two children to be taken care of.
Thailand Medical News warns locals, expats and medical tourist to be wary of doctors, clinics, hospitals, drug and herbal brands, medical devices and health insurance companies that advertise in mainstream media, online sites, magazines and social media platforms or pay for sponsored posts.
https://www.thailandmedical.news/news/be-wary-of-clinics-and-hospitals-advertising-medical-and-aesthetic-services-in-mainstream-newspapers-and-online-sites-in-thailand
Most well-known and excellent doctors, clinics and hospital do not advertise as they typically have long queues due to their well known re putation and credibility.
Typically, doctors that are greedy and are not well known in their fields of specialty and also clinics that are basically devoid of patients advertise or pay fo sponsored post or use medical tourism sites or agents to promote their services. Clients of such doctors, clinics and hospitals typically end up paying more and also end up with substandard services and in some cases botched up procedures or worse death.
It should also be noted that it is hard to seek legal address in cases of botched procedures in Thailand.
Also do your own due diligence and stay away from any health or medical ads.
For the latest
Thailand News
, keep on logging to Thailand Medical News.