COVID-19 News: Millions Of SARS-CoV-2 Infected Sick Chinese Traveling To Countries Whose Governments Are Desperate For The Chinese Tourist Dollar!
COVID-19 News
: Forget about the COVID-19 catastrophe unfolding in China at the moment as the sudden relaxing of travel restrictions are now driving millions of sick and SARS-CoV-2 infected Chinese to not only seek treatment in countries that are desperate for the tourist dollar but also to seek out medical supplies, drug and other essential stocks, in the process helping to spread the COVID-19 disease to local citizens of these countries and also make access to medical treatments for the local citizens of those countries more difficult and expensive as some of the greedy private hospitals and doctors in these destinations are more interested in catering to these Chinese travelers.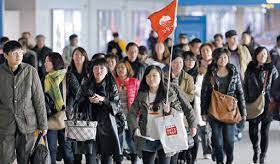 Despite fake news being disseminated by unethical and corrupted politicians from some these destinations that COVID-19 infections and COVID-19 hospitalizations in their countries are low, the real truth is far from it.
It is also expected that by mid-February, most of these countries will be facing a situation similar to what is unfolding in China at the moment, with their own healthcare infrastructure being overwhelmed.
Even though it has only been days since China relaxed its travel restrictions and planeloads of SARS-CoV-2 infected 'Chinese risque rabbits' are invading some of the referred destinations, already reports are emerging that the Chinese 'invaders' are buying up and diminishing stocks and supplies of NSAIDs, antibiotics, cough medicines, saline solutions for IV use, certain medical equipment and devices to be send back home to China, causing locals to deal with shortages while their governments are not paying any attention to what is brewing.
While some of these filthy politicians from destination countries that are allowing these infected Chinese to freely come are denying that these Chinese travelers are sick or infected,
COVID-19 News
coverages from countries who are more cautious are showing worrisome trends!
https://www.cnbc.com/2023/01/11/south-korea-covid-rules-not-discriminatory-to-chinese-travelers.html
https://www.cbsnews.com/news/south-korea-china-covid-positive-chinese-tourist-goes-on-run-seoul/
https://www.theguardian.com/world/2022/dec/29/eu-states-looking-for-joint-stance-on-covid-testing-for-travellers-from-china
The citizens of the countries who will be affected in coming weeks should always remember should they survive the surges in their home countries due to the new variants being brought in by the Chinese vectors to vote those politicians out of power in the whatever future elections and to make sure that these politicians end up behind bars!
The next variants that will wreak havoc will not be the XBB.1.5 or Kraken variant that stupid Western media and 'experts' are focusing on but r ather the BF.7.14, BA.5.2.48, BA.5.2.49 and other BF and BA.5.2 sub-lineages emerging from China that is causing a rise in COVID-19 associated pneumonia, ARDs and lung damage.
https://www.thailandmedical.news/news/covid-19-news-xbb-1-5-variant-which-is-more-transmissible-and-spreading-fast-will-not-wreak-much-havoc-as-compared-to-new-bf-and-ba-5-2-sublineages
The good news however is that some of the Western nations will see an exponential increase in hospitalizations, deaths and more chaos to their healthcare infrastructure in coming weeks. Also, in some of the destination countries especially in Asia, we can see more of the greedy and arrogant doctors in those countries also getting infected and suffering the consequences.
Citizens in the countries where these Chinese vectors are travelling to should start stockpiling necessary medications and essential supplies quick before the situation worsens.
With the way this COVID-19 pandemic is being managed with stupids and greedy cum corrupted people in charge, the COVID-19 crisis is expected to prolong for the next 4 to 7 years!
For the latest
COVID-19 News
, keep on logging to Thailand Medical News.