Breaking News: Wastewater Analysis Reveals Shocking Under-Reporting Of COVID-19 Cases As Problematic XBB.1.16 Variant Arrives In Western Australia
COVID-19 News
: A recent wastewater surveillance report has unveiled a disturbing discrepancy between the reported COVID-19 cases and the actual viral concentration in Western Australia (WA). As health officials boast about a decline in active cases, local physicians and wastewater experts counter with alarming claims of an increase in COVID-19 hospital admissions and a growing viral presence in the community.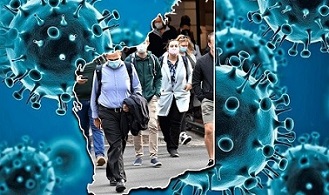 The latest data released by WA health officials claimed a drop in active cases from 1,945 to 1,839 within a week. They also reported only 13 COVID-19-related deaths in individuals aged between 72 and 101, and a mere two additional hospitalizations compared to the previous week, taking the total to 146.
However, wastewater experts and local physicians are warning of a rapid increase in COVID-19 infections that has remained largely unaddressed.
https://thewest.com.au/news/wa/covid-19-wa-cases-increased-by-3000-over-easter-despite-actual-numbers-being-underestimated-c-10419386
As if this revelation isn't troubling enough, WA Health recently detected its first cases of the COVID-19 mutation XBB.1.16, also known as Arcturus, which has caused a surge in cases across India. With the World Health Organization (WHO) closely monitoring the spread of this new variant in 31 countries, the situation could become dire. The XBB.1.16 variant poses a significant risk due to its estimated growth advantage and immune escape characteristics, potentially contributing to a global increase in case incidence.
Amidst this brewing storm, according to local
COVID-19 News
reports, WA Health has also noted a rise in other Omicron XBB sub-variants as well, particularly XBB.1.5 and XBB.1.9. Although there's no evidence suggesting that these sub-variants cause more severe diseases, certain demographics, such as the elderly and immunocompromised individuals, continue to face higher risks.
With the colder months approaching, WA Health has expressed concern about the possibility of people contracting both COVID-19 and the flu simultaneously. A double infection could be far more serious than having either respiratory virus alone. As people spend more time indoors, the transmission of respiratory viruses like COVID-19 and the flu are expected to increase.
To combat this imminent threat, WA Health recommends that anyone who has had their last COVID-19 shot or infection more than six months ago should get a COVID booster dose. The WA Health claimed that all available COVID-19 shots provide protection as a booster dose, with bivalent COVID vaccines being the preferred option. (Thailand Medical News is notable to verify the effectiveness of any of these COVID-19 shots against the new XBB sub-lineages that are more immune evasive and able to cause breakthrough infections. Furthermore Thailand Medical News warns that such information could make those in the vulnerable groups such as the aged, the obese, those immunocompromised and those with existing comorbidities and also those with certain genetic makeups and also the caretakers of such individuals from the vulnerable groups to become complacent after getting the shots w hile emerging actual real life data from many countries are now showing that these booster shots do not prevent disease severity nor deaths for those in the vulnerable groups and more safety precautions should be undertaken for these individuals very susceptible to the newer emerging XBB sub-lineages!)
Although there were only claims of 146 people being hospitalized for COVID-19 in WA and two patients in intensive care by WA Health, the danger is apparent especially if detailed analysis of the excess death rates over the past three weeks are taken in consideration and actual hospitalization data was revealed!
The WA health officials are urging all individuals experiencing cold or flu-like symptoms to stay home and use a Rapid Antigen Test (RAT) to test for COVID-19. Positive results should be immediately registered with WA Health.
As Western Australia faces the dark reality of under-reporting COVID-19 cases and the arrival of the XBB.1.16 variant, it's crucial to take necessary precautions and follow expert advice. The need for NPIs such as masking, social distancing etc has never been more urgent, as the state confronts a viral melting pot that threatens the health and safety of its residents.
For the latest
COVID-19 News
, keep on logging to Thailand Medical News.