UK Records 106,122 New COVID-19 Infections In Last 24 Hours. Infections Rising In Europe. WHO Warns Countries Cannot 'Boost' Themselves Out Of Pandemic!
Omicron Updates
: The United Kingdom reported a new record of 106,122 new COVID-19 infections in the last 24 hours, a first time that daily reported cases have risen above 100,000.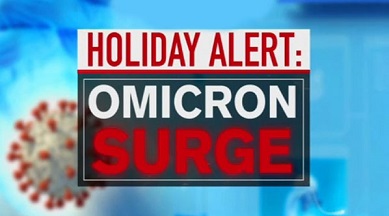 Please do not ignore this appeal for help! Please have a heart this Christmas and help us to sustain this website and also all our research and community initiatives. Please donate.
https://www.thailandmedical.news/p/sponsorship
British Health authorities also said that 140 people had died within 28 days of testing positive for COVID-19 in the last 24 hours.
France also reported 84,272 new COVID-19 infections in the last 24 hours, coming close to its all-time high of almost 87,000 cases in November 2020.
Coming within reach of the 84,999 new cases recorded at the height of France's spring wave in April, the number of cases was also the country's second-highest this year.
France's health minister earlier said over 100,000 new infections could be reached by the end of this month.
Italian health authorities reported 146 coronavirus-related deaths against 153 on Tuesday, the health ministry said, while the daily tally of new infections rose to 36,293 from 30,798.
Italy has registered 136,077 deaths linked to COVID-19 since its outbreak emerged in February last year, the second-highest toll in Europe after Britain and the ninth-highest in the world. The country has reported 5.5 million cases to date.
Omicron Updates
: Many European Countries Tightening Restrictions.
Various countries across Europe are tightening coronavirus restrictions as the World Health Organization's European chief warned there is "another storm coming".
Portugal, Germany and Finland are among the latest European nations to introduce tougher measures to stem the rising tide of cases of Omicron.
Hans Kluge, head of the European region of the World health organization (WHO), has told countries to brace for a "significant surge
".
He said, "We can see another storm coming. Within weeks, Omicron will dominate in more countries of the region, pushing already stretched health systems further to the brink."
To date, the Omicron variant has been detected in at least 41 of the 53 countries in the WHO's European region and is already dominant in Denmark, Portugal and the UK.
Germany has announced a limit on private gatherings to 10 people from 28 December, nightclubs will close and big events such as football matches will be spectator free as the nation faces a "massive fifth wave". Proof of vaccination is already in place for entry to public places including non-essential stores.
Portugal has introduced tougher measures even earlier. From Christmas Day, bars and nightclubs will be closed. Working from home is mandatory for at least two weeks. There are also new capacity restrictions in shops and a negative coronavirus test will be required to stay at hotels or go to events.
Outdoor gatherings are restricted to 10 people per group on New Year's Eve, when a negative test will be needed to enter restaurants, casinos or attend parties in public spaces.
In Spain, the Catalonia region has announced it is bringing back restrictions including a 1am curfew and the closure of nightlife.
France shut down nightclubs from 10 December for four weeks to curb the spread of the virus. Now the New Year fireworks and concerts in Paris have been cancelled.
Netherlands has brought in tougher restrictions at the start of this week imposing a nationwide lockdown.
Belgium will close cinemas, theatres and other indoor recreational activities as the new Omicron variant spreads. Museums, libraries and fitness centres will be able to stay open. The Belgian government is also urging people to get tested ahead of the holidays.
WHO Leader Warns No Country Can Boost Itself Out Of The Pandemic!
WHO Director-General Tedros Adhanom Ghebreyesus said on Wednesday that "No country can boost its way out of the pandemic."
He insisted that the priority must remain to get vaccines to vulnerable people everywhere rather than giving additional doses to the already vaccinated
The World Health Organization chief has warned that the rush in wealthy countries to roll out additional COVID vaccine doses is deepening the inequity in access to vaccines and is prolonging the pandemic.
WHO, a UN health agency has long decried the glaring inequity in access to COVID-19 vaccines. Allowing COVID-19 to spread unabated in some places dramatically increases the chance of new, more dangerous variants emerging, it argues.
Tedros told reporters, "Blanket booster programmes are likely to prolong the pandemic, rather than ending it, by diverting supply to countries that already have high levels of vaccination coverage, giving the virus more opportunity to spread and mutate."
His comments came as the Omicron variant's lightning dash around the globe since it was first detected in South Africa last month dampened hopes the worst of the pandemic was over.
The Omicron variant is spreading at unprecedented speed and has already been detected in 106 countries, the WHO said.
Although early data indicates that it could be better at dodging some vaccine protections, spurring the rush to provide boosters, Tedros insisted Wednesday that "the vaccines we have remain effective against both the Delta and Omicron variants."
He said, "It's important to remember that the vast majority of hospitalizations and deaths are in unvaccinated people, not un-boosted people."
The WHO's Strategic Advisory Group of Experts (SAGE) on Immunizations also recommended Wednesday against blanket booster programmes, insisting additional doses should be "targeted to the population groups at highest risk of serious disease and those necessary to protect the health system".
So far, 120 countries have begun implementing programmes to administer booster vaccines or additional doses, it said but none of them are low-income countries.
Scotland Finds Fewer COVID-19 Hospitalizations With Omicron
In Scotland, the Omicron variant of the coronavirus appears less likely to result in COVID-19 hospitalization than Delta, according to an analysis of early data that was posted ahead of peer review on Wednesday.
The newly updated statistics agree with data released earlier on Wednesday from South Africa and from England, also in advance of peer review.
At the University of Edinburgh, researchers tracked nearly 152,500 patients diagnosed with COVID-19, including 22,205 infected with the Omicron variant. Half of the Omicron-infected patients were under the age of 40.
The number of Omicron patients who needed to be hospitalized was 68 percent lower than what the researchers would have expected, based on the rate in patients infected with Delta.
President Biden Welcomes Approval Of Pfizer's Oral COVID Pill
United States President Joe Biden has welcomed the USFDA authorization of Pfizer's antiviral COVID-19 pill ie the first at-home treatment for the coronavirus, calling it "promising".
The US Food and Drug Administration (FDA) authorized Pfizer's Paxlovid (nirmatrelvir tablets and ritonavir tablets, co-packaged for oral use) for emergency use on Wednesday.
Pfizer's COVID-19 treatment is administered in two 150 milligram tablets along with a 100 milligram tablet of an HIV drug, ritonavir, twice daily. The HIV drug helps slow the patient's metabolism, which allows Paxlovid to remain active in the body at a higher concentration for a longer period.
Pfizer's pill was 89% effective in preventing hospitalization, according to final clinical trial data submitted by the company to the FDA earlier this month.
Initial data from its competitor, Merck's shoed that the molnupiravir pill was 50% effective at preventing hospitalization, however a broader trial found the pill was 30% effective at preventing hospitalizations.
Pfizer CEO Albert Bourla has said he expects Paxlovid to remain highly effective at treating people infected with the omicron variant. The pill targets an enzyme the virus needs to replicate. Bourla said it is very hard for the virus to mutate in a way where it doesn't need the enzyme, called a protease.
"It's very difficult for the virus to create a strain that can live without this protease," Bourla told media. "It's not impossible. It's very difficult."
Please do not ignore this appeal for help! Please have a heart this Christmas and help us to sustain this website and also all our research and community initiatives. Please donate.
https://www.thailandmedical.news/p/sponsorship
For the latest
Omicron Updates
keep on logging to Thailand Medical News.