Spanish Study Finds That Nitrates In Drinking Water Increases Risk For Prostate Cancer!
A new study led by researchers from the Barcelona Institute for Global Health (ISGlobal) has found that nitrates in tap water and bottled water may be a risk factor for prostate cancer, particularly for aggressive tumors.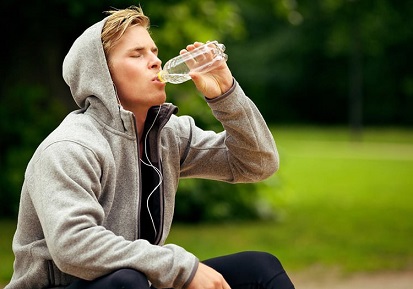 The study findings also suggest that diet plays a significant role in mitigating the negative effects of nitrate in drinking water. The study team found that consuming plenty of fiber, fruit/vegetables, and vitamin C could reduce the risk of developing
prostate cancer
due to long-term exposure to nitrate.
Nitrate and trihalomethanes (THMs) in drinking water are widespread and it is already known that they are potential human carcinogens.
https://onlinelibrary.wiley.com/doi/full/10.1111/1753-6405.13222
https://www.sciencedirect.com/topics/immunology-and-microbiology/sodium-nitrate
https://www.anses.fr/fr/content/r%C3%A9duire-l%E2%80%99exposition-aux-nitrites-et-aux-nitrates-dans-l%E2%80%99alimentation
https://link.springer.com/article/10.1007/BF01719941
https://pubmed.ncbi.nlm.nih.gov/8487327/
https://europepmc.org/article/pmc/7015561
The study team evaluated the association between drinking-water exposure to nitrate and THMs and prostate cancer.
During the period 2008–2013, 697 hospital-based incident prostate cancer cases (97 aggressive tumors) and 927 population-based controls were recruited in Spain, providing information on residential histories and type of water consumed.
Average nitrate and THMs levels in drinking water were linked with lifetime water consumption to calculate waterborne ingestion. Odds ratios (OR) and 95% confidence intervals (CI) were estimated using mixed models with recruitment area as random effect. Effect modification by tumor grade (Gleason score), age, education, lifestyle, and dietary factors was explored.
Mean (plus or minus standard deviation±standard deviation±standard deviation) adult lifetime waterborne ingested nitrate (milligrams per day), brominated (Br)-THMs (micrograms per day), and chloroform (micrograms per day) were 11.5 (plus or minus 9.0±9.0±9.0), 20.7 (plus or minus 32.4±32.4±32.4), and 15.1 (plus or minus 14.7±14.7±14.7) in controls.
Waterborne ingested nitrate greater than 13.8>13.8>13.8 vs. less than 5.5 milligrams per day<5.5mg/d<5.5mg/d was associated with an OR of 1.74 (95% CI: 1.19, 2.54) overall, and 2.78 (95% CI: 1.23, 6.27) for tumors with Gleason scores greater than or equal to 8≥8≥8.
Associations were higher in the youngest and those with lower intakes of fiber, fruit/vegetables, and vitamin C. Waterborne ingested THMs were not associated with prostate cancer. Residential tap water levels of Br-THMs and chloroform showed, respectively, inverse and positive associations with prostate cancer.
The study findings suggest long-term waterborne ingested nitrate could be a risk factor of prostate cancer, particularly for aggressive tumors. High intakes of fiber, fruit/vegetables and vitamin C may lower this risk. Association with residential levels but not ingested chloroform/Br-THM may suggest inhalation and dermal routes could also be relevant for prostate cancer.
The study findings were published in the peer reviewed journal: Environmental Health Perspectives.
https://ehp.niehs.nih.gov/doi/full/10.1289/EHP11391
Nitrate and THMs are the most common contaminants in drinking water. Nitrate comes from agricultural fertilizers and manure from intensive livestock farming that washes into aquifers and rivers by rainfall. THMs are by-products of water disinfection, usually with chlorine. Long-term exposure to THMs has been associated with an increased risk of bladder cancer, but evidence of the relationship between THMs and other types of cancer is limited.
https://europepmc.org/article/pmc/7015561
The stud team team studied 697 cases of prostate cancer in Spanish hospitals between 2008 and 2013 (including 97 aggressive tumors) and a control group made up of 927 men aged 38-85 years who had not been diagnosed with cancer at the time of the study.
Worryingly, the findings showed that the higher the nitrate intake, the greater the association with prostate cancer. Participants with higher waterborne nitrate ingestion (lifetime average of more than 14 mg per day) were 1.6 times more likely to develop low-grade or medium-grade prostate cancer and nearly three times more likely to develop an aggressive prostate tumor than participants with lower nitrate intakes (lifetime average of less than 6 mg per day).
Although the ingestion of waterborne THMs was not associated with prostate cancer, THM concentrations in residential tap water were associated with the development of these tumors, suggesting that inhalation and dermal exposure may play a significant role in total exposure. Further studies are needed to draw firm conclusions regarding the impact of THMs on prostate cancer.
An interesting finding of the study was that the association between ingested nitrate and prostate cancer was only observed in men with lower intakes of fiber, fruit/vegetables, and vitamin C.
Lead research, Dr Carolina Donat-VargasInstituto de Salud Global de Barcelona (ISGlobal), told Thailand Medical News, "Antioxidants, vitamins and polyphenols in fruits and vegetables may inhibit the formation of nitrosamines ie compounds with carcinogenic potential in the stomach. Moreover, vitamin C has shown significant anti-tumor activity. And fiber, for its part, benefits the intestinal bacteria, which protect against food-derived toxicants, including nitrosamines."
Currently, prostate cancer is the most common cancer in Spanish men, accounting for 22% of all tumors diagnosed. However, its causes remain largely unknown, and it is one of the few cancers for which the International Agency for Research on Cancer (IARC) has not identified a clear carcinogenic agent. Therefore, it is vital to continue exploring the environmental factors that may contribute to the development of this cancer, so that action can be taken to prevent it.
Prostate cancer is the second most commonly diagnosed cancer and the fifth leading cause of cancer death among men worldwide, with an estimated 1,414,000 new cancer cases and 375,304 deaths in 2020.
The five early signs of prostate cancer are:
-Difficulty starting urination.
-Weak or interrupted flow of urine.
-Urinating often, especially at night.
-Trouble emptying the bladder completely.
-Pain or burning during urination.
-Blood in the urine or semen.
Many cases of prostate cancer can be treated through treatments that lower testosterone and other male sex hormones, but about 10–20% of prostate cancer cases resist treatment within five years. This treatment-resistant prostate cancer can then spread to the rest of the body, where it becomes deadly.
It is highly advised that males above the age of 35 years should go for frequent cancer screening these days.
The study team proposes measures to reduce nitrate levels, including ending the indiscriminate use of fertilizers and pesticides, and encouraging the adoption of diets that prioritize the health of the planet by reducing the consumption of animal-based foods, especially meat. The study hopes to raise awareness of the potential environmental and human health impacts of pollutants in water and to persuade authorities to ensure more rigorous control of this natural resource.
In conclusion, the study highlights the potential risk of ingesting waterborne nitrate through tap water and bottled water on the development of prostate cancer
For the latest on
Prostrate Cancer
, keep on logging to Thailand Medical News.