BREAKING NEWS! Russian Scientists Reveal Disturbing Findings: Antibodies That Could Worsen COVID-19 Infection Discovered In Patients With Severity!
Study Shows That AME Or Antibody-Mediated Enhancement Could Be Occurring Undetected In Many COVID-19 Patients With Disease Severity!
COVID-19 News
: In a startling discovery, scientists from the Siberian Branch of the Russian Academy of Sciences, VECTOR, Research Institute of Virology, FMBA, Engelhardt Institute of Molecular Biology, Russian Academy of Sciences, and Novosibirsk State University have issued a warning regarding the presence of antibodies that can enhance the severity of SARS-CoV-2 infection. These antibodies were found in patients with severe cases of COVID-19.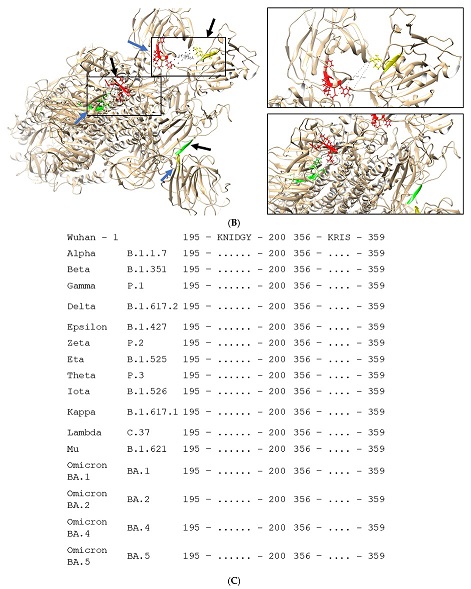 Epitope mapping of mAb RS2. (A) Results of phage display screening for peptides bound by mAb RS2. Alignment of S-protein of SARS-CoV-2 homolog fragments and peptides, selected from Ph.D.-12 phage display peptide library. (B) Ribbon representation of SARS-CoV-2 S-protein 3D structure (PDB 7VXE) with specified region 195–200 aa (blue arrow) and 356–359 aa (black arrow). The molecular coordinates for the structural analysis were derived from the Protein Data Bank and rendered using UCSF Chimera molecular visualizer, version 1.15. E—alignment of region 240–256 aa of TBEV glycoprotein E and peptides recognized by mAb FVN-32 selected from phage libraries. (C) Alignment of the identified fragments (195–200 aa and 356–359 aa) in different SARS-CoV-2 variants S-protein.
Antibody-dependent enhancement (ADE) has been previously observed in other viral infections such as SARS-CoV-1, MERS-CoV, and SARS-CoV-2 in laboratory settings and has been reported in previous studies and
COVID-19 News
reports. However, this study marks the first identification of monoclonal antibodies (mAb) causing ADE in an in vivo model of SARS-CoV-2.
The study team developed a monoclonal antibody called mAb RS2, targeting the S-protein of SARS-CoV-2 using hybridoma technology. In vitro tests demonstrated that mAb RS2 had a high affinity for the virus and could neutralize SARS-CoV-2 infection. It showed promising protective efficacy in a dose-dependent manner in an animal model of SARS-CoV-2 infection during pre-exposure prophylaxis.
However, the researchers made a startling discovery during post-exposure prophylaxis experiments. Administration of mAb RS2 resulted in an increased viral load in the respiratory tracts of the animals. This finding raised concerns about the potential of these antibodies to worsen the infection in patients.
To investigate further, the scientists examined three groups of blood plasma samples: plasmas from vaccinated individuals without COVID-19, plasmas from volunteers with mild symptoms of COVID-19, and plasmas from patients with severe COVID-19. The analysis revealed that antibodies competing with mAb RS2 were significantly more prevalent in the plasma of patients with severe COVID-19. These antibodies, which potentially enhance SARS-CoV-2 infection, were not detected in the plasma of vaccinated individuals or those with mild cases of COVID-19.
The study team also identified a putative epitope, or binding site, recognized by mAb RS2 throug h phage display. They found that this epitope is quaternary, formed by two separate sites in the S-protein S1 domain and the receptor-binding domain (RBD). Structural analysis suggested that the efficacy of mAb RS2 in neutralizing the virus is related to its ability to inhibit the transition of the RBD from a closed to an open conformation, which is necessary for the virus to enter host cells.
The discovery of antibodies capable of enhancing SARS-CoV-2 infection raises concerns about the development of effective vaccines and therapeutics. Similar phenomena have been observed in other viral infections, such as dengue and MERS, where certain antibodies can exacerbate the disease.
The study team emphasized the importance of considering the possibility of ADE/AME (antibody-mediated enhancement) when designing strategies to combat COVID-19.
These findings provide crucial insights into the mechanisms of SARS-CoV-2 neutralization and highlight the need for further research to better understand the complexities of the immune response to the virus. The scientific community must address these challenges to ensure the development of safe and effective interventions against COVID-19.
The study findings were published in the peer reviewed International Journal of Molecular Sciences.
https://www.mdpi.com/1422-0067/24/13/10799
For the latest
COVID-19
News, keep on logging to Thailand Medical News.
Readers be aware that we will be restricting access to all our websites and social media accounts especially when it concerns new prophylactics and therapeutics as we are preparing for the coming catastrophe that is expected to start around Autumn 2023 and plan to only support readers who have been supporting us continuously this last 4 years.
Read Also:
https://www.thailandmedical.news/news/breaking-u-s-nih-funded-study-reveals-gloomy-findings-about-long-term-protection-from-covid-19-including-autoimmune-and-possible-ade-issues
https://www.thailandmedical.news/news/breaking-india-s-genome-consortium-backtracks-on-booster-dose-advice-amidst-concerns-arising-over-possible-ade-phenomena-with-omicron
https://www.thailandmedical.news/news/breaking-not-the-type-of-ade-expected-opsonization-by-non-neutralizing-antibodies-confer-protection-to-sars-cov-2-by-reducing-phagocytosis
https://www.thailandmedical.news/news/warning-the-delta-variant-is-mutating-rapidly,-sri-lanka-reports-4-new-delta-variants,-japanese-study-warns-about-vaccine-efficacy-and-ade-issues
https://www.thailandmedical.news/news/breaking-french-study-published-in-journal-of-infections-claims-that-ade-or-antibody-dependent-enhancement-is-occurring-in-delta-variant-infections
https://www.thailandmedical.news/news/a-guide-to-understanding-antibodies-and-ade-antibody-dependent-enhancement