What Is Going On? Many Countries Planning To Drop COVID-19 Testing And Trying to Downplay Long COVID! Giving Up? Concealing Data? Bad Times Coming?
Something is simply not right! In the midst of the Omicron surge with the new BA.2 variant causing new surges, strangely many countries are suddenly opening up, removing mandates and restrictions. (As far as I am concerned the jab mandates are the most stupid and dictatorial thing any bastard could have imposed and people need to go back and see who developed these ideas and have eradicated them for good as such demons are dangerous to society.)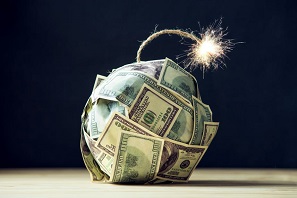 The stupid British authorities are even trying to do away with reporting of COVID-19 infection and death rates!
The it was announced that many countries like Sweden, Denmark and even South Korea are dropping COVID-19 testing altogether!
It was announced that from Wednesday, Sweden has halted wide-scale testing for COVID-19 even among people showing symptoms of an infection, putting an end to the mobile city-square tent sites, drive-in swab centers and home-delivered tests that became ubiquitous during the pandemic and provided essential data for tracking its spread.
The sudden move puts the Scandinavian nation at odds with most of Europe, but some experts say it could become the norm as costly testing yields fewer benefits with the easily transmissible but 'milder' omicron variant and as governments begin to consider treating COVID-19 like they do other endemic illnesses.
Swedish Public Health Agency chief Karin Tegmark Wisell told Thailand
Medical News
, "We have reached a point where the cost and relevance of the testing is no longer justifiable. If we were to have extensive testing adapted to everyone who has COVID-19, that would mean half a billion kronor a week (about US$55 million) and 2 billion a month (US$220 million)."
Effective Wednesday, only health care and elderly care workers and the most vulnerable will be entitled to free PCR testing if they are symptomatic, while the rest of the population will simply be asked to stay home if they show symptoms that could be COVID-19.
Rapid antigen tests are readily available for purchase in supermarkets and pharmacies, but those results aren't reported to health authorities.
Only private health care providers can perform tests and offer certificates for international travel, but the cost won't be reimbursed by the state or health insurance.
Denmark also said on Monday that the number of PCR tests will drop from 500,000 per day to 200,000 to "match the current stage of epidemic development," and all of Denmark's free government-funded test capacity is to close by March 6.
South Korea said Wednesday it was dropping its vaunted "trace, test and treat" programme as a surge in Omicron cases threatens to overwhelm the country's healthcare system.
Initially at the start of the pandemic in 2020, South Korea was hit by one of the worst early outbreaks of the disease outside China but brought it under control with mass testing and aggressive contact tracing. The strategy earned the country widespread praise, but Seoul has now decided to drop the system after surpassing one million infections over the weekend due to the rapid spread of Omicron.
Sohn Young-rae , a senior health official told media, "The 'trace, test and treat' approach is difficult to operate due to limited resources and has excessively high social and economic costs."
The country's daily caseload hit a record high of 49,567 on Tuesday, with health authorities saying the number could hit 170,000 later this month. The figure has more than doubled in less than a week.
It was announced that a new set of measures to manage the virus is taking effect in stages starting this month, and will refocus resources on the most vulnerable, health officials said.
The main aim is to diagnose and treat high-risk groups to "prevent the collapse of the medical system and the deterioration of social and economic functions", Sohn added.
Previously, anyone testing positive was sent to a government centre for treatment and quarantine, but now asymptomatic patients are being told to stay at home.
At the same time, many countries even certain WHO officials are now trying to play down the long-term health and medical consequences of SARS-CoV-2 infections or what is collectively known as long COVID.
Some are even making claims that the current COVId-19 jabs will clear all long COVID conditions when there is no proof of it!
There are speculations that there are directives being issued by certain individuals from the World Economic Forum to members to conceal as much as possible about the COVID-19 pandemic and to leave the general public in the dark so as to prevent social uprisings!
This seems to be apparent as a lot of key data even about genomic sequencings and the emergence of new variants or sub-variants are being removed and no longer shared on many online platforms and we were told that even some of the bigger journal publishers have been warned to not publish such studies or revelations!
Even about COVID-19 jabs, there seem to be a concerted effort to stop the full disclosure of full data on the initial clinical trials and even surprising was an announcement that Johnson and Johnson has stopped production of its vaccines temporarily and also data showing that Pfizer stock value has fallen.
https://www.marketwatch.com/story/pfizer-stock-falls-after-profit-beats-but-revenue-misses-even-as-covid-19-vaccine-sales-of-125-billion-top-forecasts-2022-02-08
https://www.nytimes.com/2022/02/08/business/johnson-johnson-covid-vaccine.html
As of the last 24 hours, the world has seen 3.11 new COVID-19 infections and 13,635 new COVID-19 deaths! Seriously, is this a time to start letting our guards down?
Something is definitely not right and we think that the temporary staged lifting of restrictions and calmness is a prelude of something more catastrophic that is coming! Those in power are already aware of what it is.
We believe that by late march, everything should be clearer of what is really brewing.
For those that are under the illusion that things are going to get better or that the pandemic is going to end or become endemic etc, they are going to be in for a rude shock. The pandemic is simply still in its early stages! The SARS-CoV-2 coronavirus is not going anywhere and none of the present authorized therapeutics are going to stop it. Expect to go through a mess for the next 6 to 8 years!
Keep on logging to Thailand
Medical News
if you want to survive the coming catastrophic surges.