BREAKING NEWS! Greek Researchers Warn That Mild COVID-19 Can Reactivate Hepatitis B Virus (HBV) Even In Absence Of Immunosuppressive Therapy!
Documented Case Of COVID-19 Reactivating HBV In A Woman Patient Raises Alarms!
COVID-19 News
: In a surprising discovery, researchers in Greece have found evidence suggesting that even a mild COVID-19 infection can reactivate the Hepatitis B Virus (HBV) without the presence of systemic immunosuppressive therapy. This groundbreaking finding challenges the existing understanding of HBV reactivation and its relationship to COVID-19. The study was conducted by a team of experts from the Army Share Fund Hospital of Athens-Greece, Hippokration General Hospital of Athens-Greece, Medical School of National & Kapodistrian University of Athens-Greece, and General Army Hospital of Athens-Greece.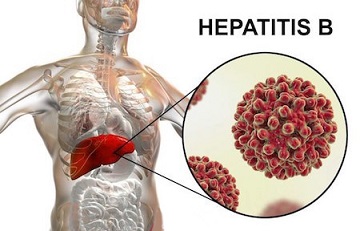 HBV reactivation (HBVr) is a known phenomenon that occurs when immunosuppressive therapies are initiated for various diseases. It has also been observed in COVID-19 patients undergoing immunosuppressive treatments.
Immunosuppressive therapies, including corticosteroids, have been implicated in HBV reactivation. The dose and duration of corticosteroid treatment are crucial factors determining the risk of reactivation. While high doses and long-term use of corticosteroids carry a high risk of HBVr, low doses administered for short durations pose a significantly lower risk.
However, there have been reported cases of HBV reactivation in individuals with COVID-19 who did not receive any immunosuppressive therapy or exhibit other known causes for reactivation.
In light of this observation, the researchers present a case study of a patient who experienced HBV reactivation following a mild COVID-19 infection, which was treated solely with low-dose and short-duration inhaled corticosteroids (ICS).
The patient, who had been monitored for HBeAg negative chronic HBV infection over a period of 20 years, showed normal liver enzyme levels and undetectable HBV DNA in previous check-ups. However, after contracting a mild COVID-19 infection and receiving a short course of inhaled corticosteroids, the patient's AST and ALT levels (markers of liver damage) became elevated, along with increased levels of HBV DNA. Extensive diagnostic tests ruled out other potential causes of liver abnormalities, confirming the diagnosis of HBV reactivation. The patient was subsequently treated with entecavir, a medication used to suppress HBV replication. Following treatment, the patient's liver enzyme levels normalized, and HBV DNA levels showed a decreasing trend. The patient remains asymptomatic and under close surveillance.
The attending physicians stressed that in the presented case, the patient received a mild COVID-19 treatment consisting of low-dose inhaled corticosteroids for only five days, making it unlikely to be the sole cause of HBV reactivation.
Past
COVID-19 News
coverages have shown that SARS-CoV-2 infections are also able to reactivate other pathogens in the human host including EBV, Herpes, TB etc.
-19-and-might-serve-as-an-indicator-of-latent-covid-19-infection-varied-implicatio">https://www.thailandmedical.news/news/breaking-covid-19-news-dormant-herpes-could-be-reactivated-by-covid-19-and-might-serve-as-an-indicator-of-latent-covid-19-infection-varied-implicatio
https://www.thailandmedical.news/news/covid-19-news-spanish-researchers-warn-that-sars-cov-2-infections-and-vaccinations-trigger-reactivation-of-all-kinds-of-herpesviridae-viruses
https://www.thailandmedical.news/news/new-study-shows-that-epstein-barr-virus-reactivation-and-low-cortisol-levels-are-common-in-many-long-covid-patients
https://www.thailandmedical.news/news/various-studies-are-showing-that-reactivation-of-dormant-epstein-barr-virus-could-be-what-is-responsible-for-covid-severity-as-well-as-long-covid
https://www.thailandmedical.news/news/interesting-read-could-epstein-barr-virus-explain-why-certain-covid-19-patients-manifest-certain-symptoms-while-others-are-asymptomatic
https://www.thailandmedical.news/news/covid-19-warnings-sars-cov-2-coronavirus--infection-could-activate-dormant-tuberculosis
https://www.thailandmedical.news/news/breaking-turkey-medical-researchers-based-on-actual-clinical-case-reports-warn-that-covid-19-is-reactivating-dormant-tuberculosis-in-individuals-inclu
https://www.thailandmedical.news/news/covid-19-and-cancer-study-shows-that-sars-cov-2-and-usage-of-anti-covid-19-drugs-can-reactivate-oncogenic-viruses-and-increase-risk-of-cancer
https://www.thailandmedical.news/news/can-sars-cov-2-especially-the-omicron-variant-cause-hpv-and-oncogenic-hpv-reactivation-urgent-studies-warranted-based-on-growing-incidences
https://www.thailandmedical.news/news/reactivation-of-herpes-hhv-6-and-ebv-is-associated-with-myalgic-encephalomyelitis-chronic-fatigue-syndrome-implications-for-long-covid
Another past study by researchers from UAE had also warned that SARS-CoV-2 infections can reactivate hepatitis B virus.
https://www.thailandmedical.news/news/breaking-hepatitis-b-uae-covid-19-case-study-indicates-that-covid-19-could-induce-hepatitis-b-virus-reactivation
Hepatitis B virus (HBV) is responsible for millions of chronic hepatitis infections worldwide. According to the WHO, more than 296 million individuals are carrying the HBV virus worldwide.
The progression of HBV infection varies depending on the interaction between the virus and the host's immune system response. COVID-19 has been shown to cause liver injury in addition to respiratory symptoms. While the mechanisms behind COVID-19-related liver injury are not fully understood, several factors, including direct viral effects, inflammation, hypoxia, drug toxicity, and vascular changes, have been proposed. Given that both HBV and SARS-CoV-2 can potentially induce liver injury, researchers have been investigating the impact of COVID-19 on the natural history of chronic HBV infection and the influence of HBV seropositivity on the severity of COVID-19 infection.
The case study presented by the Greek researchers adds to the growing body of evidence surrounding HBV reactivation in the context of COVID-19. The reactivation of HBV in the absence of immunosuppressive therapy raises questions about the pathophysiology of HBVr and the potential interaction between SARS-CoV-2 and HBV. The researchers suggest that the disruption of the immune system's balance and HBV replication may play a role in this unexpected reactivation.
The findings have important implications for the management of patients with HBV infection, particularly those who contract COVID-19. Close monitoring of HBsAg-positive patients is crucial, even in the absence of systemic immunosuppressive treatment. The low risk of HBV reactivation associated with inhaled corticosteroids, as observed in this case, suggests that COVID-19 is also capable of causing immunodeficiency issues that can lead to reactivation of various dormant pathogens in the human host.
The study findings were published on a preprint server and are currently being peer reviewed.
https://www.preprints.org/manuscript/202306.1305/v1
For the latest
COVID-19
News
, keep on logging to Thailand Medical News.