COVID-19 News: 5875 New SARS-CoV-2 Infections And 19 Deaths In New Zealand Over The Last 7 Days! Health Authorities Mull New Vaccine Policies For 2024
COVID-19 News
: In a weekly update on the COVID-19 situation in New Zealand, health authorities have reported 5,872 new cases of SARS-CoV-2 and 19 additional deaths. These alarming numbers have prompted health officials to reevaluate their vaccination policies for 2024. With millions of vaccine doses wasted this year, New Zealand is facing the challenge of distributing vaccines effectively while protecting the most vulnerable populations.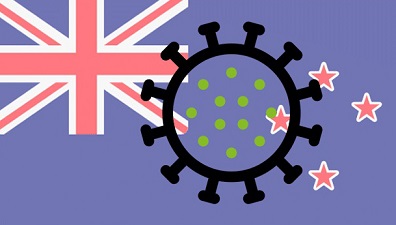 New Zealand's Battle Against COVID-19
Over the past week, New Zealand has seen a surge in COVID-19 cases, with 5,872 new infections and 19 deaths attributed to the virus. Among these new cases, 1,364 were probable cases, and 2,823 were reinfections. As of midnight on Sunday, November 5th, 212 individuals were hospitalized, with five in intensive care. The seven-day rolling average of new cases reached 838 per day, signaling an ongoing battle against the virus.
https://www.tewhatuora.govt.nz/our-health-system/data-and-statistics/covid-19-data/covid-19-current-cases
While last week's report by Te Whatu Ora showed 3,934 new cases and 29 additional deaths, the current data underscores the persistent threat of COVID-19 in the country.
Additionally, the Long Covid Registry in New Zealand has revealed concerning data about the support measures for those suffering from Long Covid. Dr Paula Lorgelly, the lead researcher, emphasized the debilitating nature of Long Covid, indicating a need for improved support and care for affected individuals.
According to local experts, the variants and sub-lineages affecting New Zealand currently are EG.5, HK.3 and XBC while EG.5.1.8 and FL.20 are rising.The occurrence of BA.2.86 is relatively low. In wastewater analysis, EG.5 dominates, HK.3 is on the rise, XBC remains stable, and BA.2.86 has been detected.
https://twitter.com/RhysTWhite/status/1720221319764312507
https://www.esr.cri.nz/our-expertise/covid-19-response/covid19-insights/
Vaccine Distribution Challenges
As New Zealand grapples with the latest surge in COVID-19 cases, authorities face the challenge of optimizing vaccine distribution while dealing with substantial vaccine wastage. Despite being nearly four years into the pandemic, the country continues to experience hundreds of virus-related hospitalizations each week, with the total death toll expected to exceed 3,500 by the end of the year.
The Immunisation Advisory Centre (IMac) is currently evaluating who should receive COVID-19 vaccinations in 2024. While not recommending further vaccinations for everyone, IMac is focusing on providing boosters to vulnerable populations who need them the most.
Dr Nikki Turner, IMac's medical director, stressed that older individuals and those with significant medical conditions are still at the highest risk of severe illness. Younger, healthier people, who have acquired immune memory from vaccination and previous infections, are expe riencing milder cases.
Dr Turner explained to various
COVID-19 News
outlets that older individuals do not develop long-lasting, durable immunity, necessitating repeated vaccination. IMac's current recommendations for boosters include individuals aged over 75, Māori and Pasifika people over 65, those between 30 and 74 with complex health needs, and individuals aged 16 and older who are severely immunocompromised.
Future vaccination strategies in New Zealand may be influenced by whether COVID-19 follows a seasonal pattern similar to influenza. In such a case, the goal would be to vaccinate high-risk populations before the winter season. Until then, six-monthly boosters are recommended to keep the population protected.
Vaccine Wastage
In addition to vaccination policy concerns, New Zealand has faced the issue of vaccine wastage. Data from Te Whatu Ora revealed that a significant number of COVID-19 vaccine doses have expired at national warehouses this year. The wasted vaccines include 1.7 million doses of the Novavax vaccine, 1.4 million doses of the original Pfizer vaccine, 71,442 doses of the bivalent vaccine, 135,710 doses of the pediatric vaccine, and 6,590 doses of the infant vaccine.
New Zealand initially procured nearly 11 million doses of the original Pfizer vaccine in 2021 and ordered an additional 4.7 million doses to ensure full coverage of the population. Furthermore, 1.7 million bivalent vaccines were imported ahead of the pre-winter rollout this year.
Dr David Hughes, Chief Medical Officer of Pharmac, announced that the agency is seeking advice from its immunization advisory committee to make decisions about the COVID-19 vaccine for 2024. This decision will consider international recommendations on the antigen composition of COVID-19 vaccines and vaccines approved by Medsafe. Pfizer's new Omicron vaccine, designed to target the XBB1.5 subvariant and its various sub-lineages, is among the candidates being evaluated.
Looking Ahead
As the COVID-19 landscape continues to evolve, the need for updated vaccines in the future remains uncertain. However, the virus's tendency to mutate, similar to the influenza virus, suggests that annual vaccine updates may be likely. Pharmac is also soliciting funding applications for COVID-19 vaccines to inform the country's approach to procurement and supply in the coming years.
For now, New Zealand's existing bivalent vaccines, which target earlier lineages such as BA.4 and BA.5, remain effective against the Omicron strains circulating in the country. As the virus continues to adapt, New Zealand will likely update its vaccine strains to ensure optimal effectiveness, especially before the winter season.
In conclusion, New Zealand is facing a critical juncture in its battle against COVID-19. Balancing vaccination efforts, booster strategies, and minimizing vaccine wastage will be essential to protect the population and overcome the ongoing challenges posed by the virus. Health authorities are continually evaluating the situation and adapting their policies to ensure the best possible outcomes for New Zealanders in 2024 and beyond.
For the latest
COVID-19 News
, keep on logging to Thailand Medical News.