BREAKING COVID-19 News! Case Study Shows That Even Asymptomatic SARS-CoV-2 Infections Can Lead To Spontaneous Bowel Perforations!
COVID-19 News
: Sri Lanka's Ministry of Healthcare & Nutrition, Indigenous Medicine, has recently reported a startling case study that sheds light on a previously unexplored and alarming complication of COVID-19. This study highlights the case of an asymptomatic 52-year-old woman who tragically developed severe mesenteric ischemia, ultimately leading to bowel perforations and her untimely demise. The findings in this case underscore the importance of vigilant monitoring and early diagnosis, even in patients with mild or no apparent symptoms of COVID-19.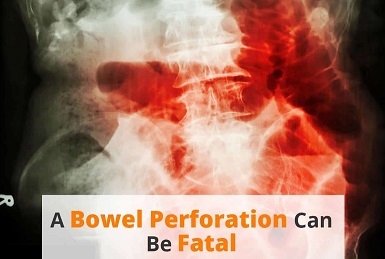 It should be noted that Thailand Medical News in our past
COVID-19 News
coverages had already warned about COVID-19 infections being able to lead to fatal gastrointestinal bleeding or disorders including intestinal or mesenteric ischemia.
https://www.thailandmedical.news/news/japanese-researchers-warn-that-covid-19-infections-can-cause-gastrointestinal-disorders-that-can-lead-to-deaths
https://www.thailandmedical.news/news/japanese-researchers-warn-that-covid-19-infections-can-cause-gastrointestinal-disorders-that-can-lead-to-deaths
https://www.thailandmedical.news/news/warning-sars-cov-2-infections-causes-intestinal-ischemia-increases-disease-severity-and-risk-of-mortality
https://www.thailandmedical.news/news/breaking-study-shows-that-covid-19-can-cause-intestinal-ischemia-and-gastrointestinal-issues-in-asymptomatic-individuals-who-continue-to-test-negative
https://www.thailandmedical.news/news/covid-19-research-worrying-gastrointestinal-abnormalities-revealed-in-abdominal-imaging-studies-of-covid-19-patients
Incidences of bowel perforations, intestinal ischemia or mesenteric ischemia as a result of COVID-19 infections are becoming very common and there has also been a rise in such fatal outcomes but the medical community is refusing to acknowledge this! Below are just some of the many reported cases studies or reports on such events.
https://www.sciencedirect.com/science/article/pii/S2210261222007842
https://www.frontiersin.org/articles/10.3389/fmed.2022.879996/full
https://www.frontiersin.org/articles/10.3389/fmed.2022.879996/full
https://www.scielo.br/j/jvb/a/fVw7bcQhjHsqqqnqt5yBxkk/?lang=en
https://www.wjgnet.com/2307-8960/full/v9/i18/4700.htm
https://www.cureus.com/articles/69751-acute-mesenteric-ischemia-as-an-early-complication-of-covid-19#!/
https://journals.sagepub.com/doi/10.1177/00031348211038571?icid=int.sj-full-text.similar-articles.4
https://karger.com/dmj/article/5/1/58/823302/Intestinal-Ischemia-as-a-Complication-of-COVID-19
https://www.europeanreview.org/wp/wp-content/uploads/1414-1429.pdf
https://www.wjgnet.com/1007-9327/full/v27/i32/5448.htm
https://www.mdpi.com/2227-9059/10/5/1010
https://journals.lww.com/annals-of-medicine-and-surgery/fulltext/2023/02000/sars_cov_2_related_superior_mesenteric_artery.26.aspx
https://www.htct.com.br//en-covid-19-acute-mesenteric-ischemia-a-articulo-S2531137920312840
Background
The ongoing COVID-19 pandemic, caused by the severe acute respiratory syndrome coronavirus 2 (SARS-CoV-2), has been primarily associated with respiratory symptoms. However, a growing body of evidence has shown that the virus can affect various organ systems, including the gastrointestinal tract. Patients infected with SARS-CoV-2 commonly experience gastrointestinal symptoms such as nausea, anorexia, vomiting, and diarrhea, alongside more traditional respiratory symptoms. Viral shedding in stool samples has also been documented, suggesting that the GI tract is susceptible to infection and damage.
This case study focuses on an exceptional and unfortunate outcome, where an asymptomatic individual with COVID-19 developed mesenteric ischemia, a severe condition characterized by a lack of blood supply to the intestines. Mesenteric ischemia has been previously reported in critically ill COVID-19 patients, and it often leads to life-threatening complications. This case is exceptional because the patient exhibited no initial symptoms suggestive of COVID-19, making it a rare and tragic occurrence.
Case History
The patient in question was a previously healthy 52-year-old woman who had not shown any symptoms of COVID-19. She had a history of two uncomplicated vaginal deliveries and no known exposure to COVID-19. Her only relevant medical history was a period of amenorrhea for four months, unrelated to the virus.
Her condition dramatically changed when she woke up with severe abdominal pain, leading her to seek outpatient treatment. She soon began vomiting and experienced faintness and difficulty breathing. When admitted to the hospital, her condition was critical, with elevated heart rate, low blood pressure, and signs of peritonism.
Urgent tests, including urine HCG and abdominal ultrasound, initially ruled out common causes of abdominal pain. A midline laparotomy revealed severe fecal contamination and a full-thickness circumferential perforation in her distal ileum. The surgery involved removing the affected ileal segment and creating a colostomy to manage the complications.
The shocking revelation came when a rapid antigen test of her nasopharyngeal swab confirmed SARS-CoV-2 infection. Unfortunately, her condition deteriorated rapidly despite treatment, and she passed away in the intensive care unit.
Post-mortem examination was not conducted due to limitations in handling SARS-CoV-2 positive patients, but her family tested negative for the virus.
Gastrointestinal Complications in COVID-19
Gastrointestinal symptoms in COVID-19 patients have been well-documented, and viral shedding in stool samples is an established phenomenon. The virus has even been found in the gall bladder during surgical procedures. Some studies have shown that SARS-CoV-2 actively replicates in the gastrointestinal tract.
Beyond typical GI symptoms, COVID-19 can lead to more severe complications, such as acute cholecystitis, acute pancreatitis, ileus, pseudo-colonic obstruction, and mesenteric ischemia. Mesenteric ischemia is a life-threatening condition that often presents with abdominal pain, nausea, vomiting, and per-rectal bleeding. Laboratory findings associated with this condition include elevated white blood cell counts and high levels of lactate, often indicating poor prognosis.
In this case, the patient exhibited unusual clinical features such as lactic acidosis without severe symptoms, which should prompt consideration of early computed tomography angiography (CTA) for diagnosis. D-dimer levels may also be useful in assessing mesenteric ischemia, although further validation is required. Additional markers like amylase, intestinal fatty acid binding protein (I-FABP), serum alpha-glutathione S-transferase (alpha-GST), and cobalt-albumin binding assay (CABA) have been suggested for initial diagnosis.
CTA is considered the gold standard for diagnosing mesenteric ischemia, with high sensitivity and specificity. Surgical intervention is often necessary for patients with this condition, involving bowel examination and resection, as well as endovascular or open angiography and thrombectomy for proximal arterial thromboembolic disease.
Pathological examination of resected bowel segments in these patients often reveals extensive mucosal ulceration, congestion, and transmural inflammation, indicating ischemic damage. However, the exact mechanisms by which SARS-CoV-2 leads to mesenteric ischemia remain uncertain.
Potential Mechanisms and the Need for Anticoagulation
It is known that mesenteric ischemia can occur in critically ill patients, often due to factors like high doses of vasopressors, hemodynamic instability, and metabolic derangements that compromise intestinal blood flow. In some cases, SARS-CoV-2 infection might trigger mesenteric ischemia directly, as observed in this case.
Inflammatory coagulopathy has been associated with COVID-19, leading to complications like deep vein thrombosis, cerebrovascular accidents, and renal failure. The authors of this study believe that this inflammatory coagulopathy might also contribute to mesenteric ischemia, though further research is needed to establish this link. At the time of writing, there is limited evidence to support the use of anticoagulation therapy in SARS-CoV-2 patients. Markers like D-dimer may be considered but require additional validation.
The mortality rate among COVID-19 patients who develop mesenteric ischemia is high, with a significant percentage of deaths occurring within days of the onset due to multiorgan failure or septic shock. This emphasizes the need for early detection and intervention in such cases.
Conclusion and Lessons Learned
This case study serves as a sobering reminder that COVID-19 can have far-reaching consequences, even in individuals who exhibit mild or no symptoms. Mesenteric ischemia is a severe condition that can quickly lead to bowel perforations and death, and its atypical presentation in this asymptomatic patient highlights the importance of early diagnosis and vigilant monitoring.
The challenges posed by the COVID-19 pandemic continue to evolve, and the identification of rare complications is an ongoing process. To prevent severe morbid complications and save lives, it is crucial to develop risk assessment algorithms and consider the use of anticoagulation therapy in COVID-19 patients. The medical community must remain vigilant and adaptive in the face of this novel disease.
In conclusion, while COVID-19 infections are often mild or asymptomatic, mesenteric ischemia can be a devastating complication, particularly in severe cases. Timely diagnosis and intervention are critical, and medical professionals should maintain a high level of suspicion, even in patients who do not display typical symptoms of the virus. As the pandemic continues, the development of risk algorithms and the consideration of anticoagulation therapy may become essential tools in the fight against this unpredictable and potentially deadly disease.
The Sri Lankan case report was published on a preprint server.
https://www.researchsquare.com/article/rs-3567430/v1
For the latest
COVID-19 News
, keep on logging to Thailand Medical News.