BREAKING NEWS! UK Study Published In PLOS Journal Claims That COVID-19 Vaccines May Be Driving Surge In Leprosy Cases!
COVID-19 News
: A new study by researchers from University College London Hospitals NHS Foundation Trust-United Kingdom, London School of Hygiene & Tropical Medicine-United Kingdom, St Georges University Hospitals NHS Foundation Trust-United Kingdom published online in the last 24 hours on the peer reviewed PLOS journal (Which strangely as been marked as an uncorrected proof..whatever that means!) is creating a stir in the research and medical community and also creating panic among many members of the public!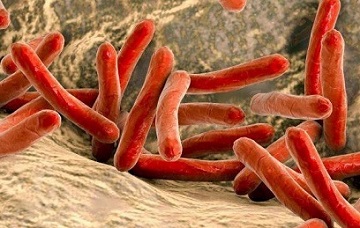 Mycobacterium leprae
It should be noted that the researchers are all credible professionals who do have a very established track record and have not been involved with any anti-vaxxers platforms or controversial sites etc.
In an unexpected twist of events, the UK study has raised concerns about a potential worrying correlation between COVID-19 vaccines and an increase in leprosy cases. The study highlights the complex interplay between the immune response triggered by the vaccines and the dormant Mycobacterium leprae bacteria responsible for leprosy. As vaccination efforts continue worldwide, this revelation calls for a deeper understanding of the implications of augmented T cell responses in individuals with leprosy or latent M. leprae infection.
Leprosy - A Neglected Tropical Disease
Leprosy, a neglected tropical disease, has long been associated with immune-mediated complications known as leprosy reactions. These reactions can lead to nerve function impairment, posing significant risks to affected individuals. While antimicrobial therapy is effective in treating M. leprae infection, leprosy reactions require systemic immunosuppression, making immunocompromised individuals more vulnerable to severe COVID-19. The convergence of leprosy and COVID-19 in the context of vaccination warrants careful examination.
Vaccines and T Cell Response
COVID-19 vaccines have proven instrumental in reducing the severity of the disease and its spread. However, they can provoke a T cell response, which could potentially trigger an immunological reaction in individuals with latent M. leprae infection, leading to clinical leprosy or leprosy reactions in those already diagnosed with the disease. This theoretical risk has been observed in the past with BCG vaccination, which has been associated with leprosy development in some cases.
The study team told
COVID-19 News
outlets, "The development of BT leprosy and a Type 1 reaction in another individual shortly after a dose of COVID-19 BNT162b2 vaccine may be associated with vaccine mediated T cell responses. The benefits of vaccination to reduce the risk of severe COVID-19 outweigh these unwanted events but data from leprosy endemic countries may provide further information about potential adverse effects of augmented T cell responses in individuals with leprosy or latent M. leprae infection."
The UK Study - Unraveling the Con nection
The UK study conducted a retrospective analysis of individuals attending the Leprosy Clinic at the Hospital for Tropical Diseases in London in 2021. It found a high uptake of SARS-CoV-2 vaccines among leprosy patients, with a striking revelation of two cases of leprosy adverse events associated with the BNT162b2 vaccine.
One case involved an 80-year-old man diagnosed with BT leprosy shortly after receiving the second dose of the vaccine. The other case concerned a 27-year-old man who developed leprosy T1R eight weeks after receiving a single dose of the BNT162b2 vaccine. The study raised concerns about the potential association between TNF-α and IL-6 levels after BNT162b2 second doses and the development of leprosy.
Other Reported Cases
The UK study also reviewed six published reports from both leprosy endemic and non-endemic settings, revealing 14 cases of leprosy adverse events associated with SARS-CoV-2 vaccines. The onset of these events occurred within 5-14 days following vaccination, with one case of T1R occurring 56 days after the third SARS-CoV-2 vaccine. The majority of the cases were associated with reactions rather than new manifestations of leprosy, and most individuals had a longstanding M. leprae infection predating vaccination.
Balancing the Risks
While the potential link between COVID-19 vaccines and leprosy requires attention, it is essential to strike a balance between the benefits of vaccination in reducing severe COVID-19 and the rare occurrence of leprosy adverse events. Vaccination remains a crucial tool in controlling the pandemic, and the benefits far outweigh the risks in most cases. However, healthcare providers must remain vigilant and aware of potential leprosy adverse events associated with SARS-CoV-2 vaccination.
The Impact on Leprosy Services
The COVID-19 pandemic has had a significant impact on leprosy services, with disruptions in access and provision of care. WHO guidelines recommended the suspension of NTD programs, including leprosy, during the pandemic, leading to a decline in reported new cases. Efforts to restore and strengthen leprosy services must be a priority, even amidst ongoing vaccination campaigns.
Conclusion
The revelation of a potential link between COVID-19 vaccines and leprosy adverse events is a matter of concern but should not overshadow the claimed crucial role of vaccination in combating the pandemic. As vaccination efforts continue, ongoing research and data collection are necessary to better understand the implications of T cell responses in individuals with leprosy. With careful monitoring and awareness, healthcare providers can ensure the safety and efficacy of COVID-19 vaccination in vulnerable populations. Furthermore, it is essential to reinforce leprosy services to prevent any setbacks in the fight against this age-old disease.
The study team summarized, "Leprosy is a neglected tropical disease caused by Mycobacterium leprae. The clinical presentation varies depending on the immune response of the affected person. The infection is curable with antimicrobial therapy but individuals with leprosy can experience immune-mediated complications known as leprosy reactions. There are reports of vaccines, including those for SARS-CoV-2 being associated with the development of leprosy or leprosy reactions. We performed a retrospective study to determine the vaccination status of all individuals diagnosed with leprosy attending the Leprosy Clinic in 2021 and whether any individual had developed leprosy or a new leprosy reaction within 12 weeks of receiving a dose of a SARS-CoV-2 vaccine. Fifty-two individuals with leprosy attended the clinic, five newly diagnosed and eight individuals were on antimicrobial treatment. Twenty-two individuals were prescribed an immunosuppressant drug during 2021. Forty-nine individuals had at least one vaccine dose, one was unvaccinated There was no vaccination record for two individuals. Two individuals met our criteria for a SARS-CoV-2 vaccine associated new leprosy adverse event. It is important for clinicians to be aware of the potential leprosy adverse events associated with SARS-CoV-2 vaccination and to advise leprosy affected individuals or those with dormant leprosy to report any new symptoms immediately."
The study findings were published in the peer reviewed journal: PLOS.
https://journals.plos.org/plosntds/article?id=10.1371/journal.pntd.0011493
For the latest
COVID-19 News
, keep on logging to Thailand Medical News.
Please help follow our twitter account and also share our tweets as many mainstream news platforms and also social media platforms are trying to restrict our news coverages.
https://twitter.com/ThailandMedicaX
Read Also:
https://www.thailandmedical.news/news/u-s-medical-news-u-s-cdc-warns-that-leprosy-is-becoming-endemic-in-florida