BREAKING! New Omicron Sub-Lineage Not Yet Named With Additional Mutations Including F643L And A701V Wreaking Havoc In Brazil!
Thailand Medical News Exclusive
: Researchers from the Laboratory Ecology of Communicable Diseases in the Amazon at the Instituto Leônidas e Maria Deane- Manaus, Brazil and the Flavivirus laboratory at the Instituto Oswaldo Cruz, Fiocruz, Rio de Janeiro-Brazil have discovered that the SARS-CoV-2 variant that is current causing an exponential surge in Brazil is actually a potentially new sub-lineage of the Omicron BA.1 variant with additional mutations found in the spike protein and a defining characteristic is the presence of the F643L and A701V mutations on a high majority of all the sequencings.
The study team analyzed more than 903 Omicron sequences from Amazonas that were collated in recent weeks and were initially classified within lineages BA.1 (93%) and BA.1.1 (7%, harboring mutation R346K).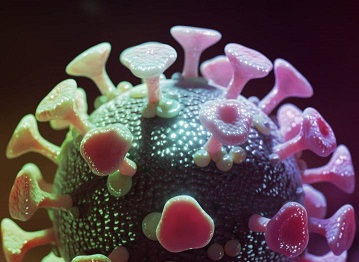 Detailed mutation analysis of the Spike (S) protein revealed additional newly acquired mutations among these collated sequences.
However, most of these acquired mutations were restricted to one or a few sequences and showed no increase in frequency along consecutive epidemiological weeks (EW), except for three mutations:
-the S704L mutation that increased in frequency from 0% in EW 52 to 4% in EW2.
-the F643L and A701V mutations that increased from 0% in EW 52 to 17% in EW2.
It is important to note that the F643L and A701V mutations were mapped on the same SARS-CoV-2 genomes, hence indicating the emergence of a new BA.1 sub-lineage in Brazil and the Amazon region.
These preliminary study findings ascertain that a new Omicron sub-lineage is driving the third COVID-19 wave in Brazil. It is replacing the Delta and and is fast at replacing the original Omicron BA.1 variant and also the BA.1.1 variant that was initially also found in Brazil.
The new sub-lineage has yet to be assigned a name of classification and the WHO, ECDC and also US. CDC has been informed in the last few hours of the new discovery.
Professor Dr F.G. Naveca from Instituto Leônidas e Maria Deane- Manaus who lead the study told Thailand
Medical News
exclusively that as of this moment, there is no data with regards to the transmissibility, immune evasiveness and virulence of this new sub-lineage but studies are underway.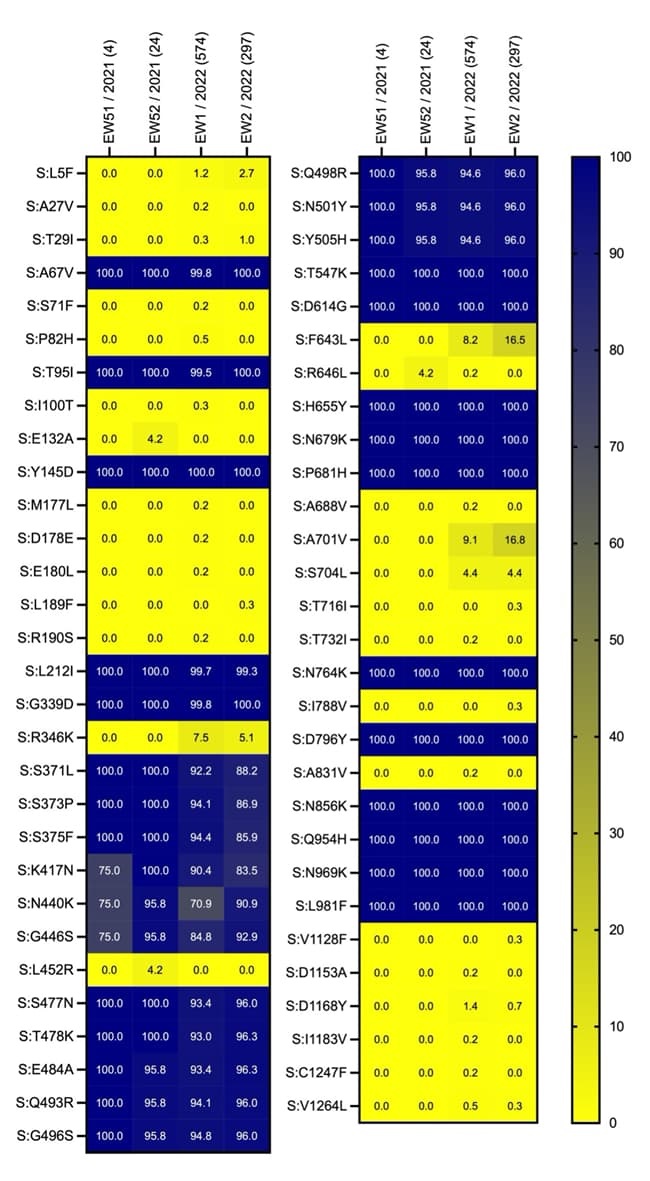 A list of all the mutations found on the 903 sequences in the Amazon as sampled per epidemiological week. The proportion of sequences is indicated by the color (according to the scale) and the number within the tile. It should be noted that all mutations with frequencies >70% correspond to Omicron synapomorphies. The cumulative number of sequences per epidemiological week is indicated in parentheses.
However local physicians in Manaus are claiming that the new sub-lineage seems more transmissible coupled with the fact that it is able to evade immunity conferred by both vaccines and natural immunity via previous infections as many cases of breakthrough infection among fully vaccinated individuals and reinfections among those that previously were infected are being observed.
It is also being observed that many infected are developing disease severity and many are dying. Hospitalization rates in Brazil in the last one week has risen exponentially.
On Thursday, more than 219,000 Brazilians were infected with the virus and more than 964 people died in that 24 hours. Infection and death rates for Friday and Saturday are not yet available.
To date the Omicron variant besides the original BA.1 lineage has spawned a few more variants including the BA.1.1, BA.2 and BA.3 variants.
The BA.2 is also causing a resurgence of infections in many countries and is 1.5 times more transmissible than the original Omicron variant.
https://www.thailandmedical.news/news/breaking-scientist-warns-that-new-omicron-sublineage-ba-2-will-cause-new-surge-and-reinfections-globally-as-previous-omicron-infection-may-offer-no-pr
This new sub-lineage would be the fifth concerning Omicron variant.
The preliminary study was published on the site: Virological.org
https://virological.org/t/the-dissemination-of-the-omicron-variant-in-the-highly-seroprevalent-amazonas-state-brazil-is-associated-with-a-rapid-upsurge-of-sars-cov-2-cases/785
Thailand
Medical News
will be providing more updates on this new variant.
No media or website is allowed to copy or rewrite this article without giving due credit to Thailand Medical News with a link to the original article.