T Cell Dysregulation, Uncoordinated Adaptive Immune Response To SARS-CoV-2 Are Among The Many Factors Behind Long COVID!
Long COVID-19 News
: A new study by researchers from University of California, San Francisco-USA, Ulm University Medical Center-Germany, Zuckerberg San Francisco General Hospital-USA has found that T Cell dysregulation, uncoordinated adaptive immune response to SARS-CoV-2 along with inflammation are among the many factors behind Long COVID!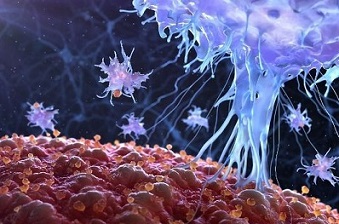 The study investigated the role of T-cells in
Long COVID
(LC) by using three "omics" assays (CyTOF, RNAseq, Olink) and serological tests on patients eight months after recovering from SARS-CoV-2 infection but before receiving any COVID-19 vaccines.
Long COVID, a type of post-acute sequelae of SARS-CoV-2 infection, affects about 10% of recovered patients, but its cause remains unclear.
The study found that Long COVID patients exhibit systemic inflammation and immune dysregulation, with global differences in T cell subset distribution, sex-specific perturbations in cytolytic subsets, and higher levels of SARS-CoV-2 antibodies.
Additionally, Long COVID patients show a breakdown in proper crosstalk between the humoral and cellular arms of adaptive immunity, potentially leading to immune dysregulation, inflammation, and clinical symptoms associated with Long COVID.
The researchers observed various T-cell related findings in Long COVID patients, including a higher proportion of CD4+ central memory T-cells poised to migrate to inflamed tissues, and exhausted SARS-CoV-2-specific CD8+ T cells, T follicular helper cells, and regulatory T-cells.
They also harbored significantly higher levels of SARS-CoV-2 antibodies, and in contrast to non-Long COVID individuals, exhibited a mis-coordination between their SARS-CoV-2-specific T and B cell responses.
Furthermore, Long COVID C patients lost coordinated humoral and cellular immune responses to SARS-CoV-2 seen in fully recovered individuals, and dysregulated production of IL-4 and IL-5 by Th2 cells likely hindered humoral and cellular immune responses.
The study suggests that future research should explore potential Long COVID therapeutic strategies targeting IL-6, evaluate other antivirals that might reinvigorate T-cell ability to eradicate residual viremia, and investigate associations between iron metabolism and its relationship to coagulopathy in LC patients.
The study findings were published on a preprint server and are currently being peer reviewed.
https://www.biorxiv.org/content/10.1101/2023.02.09.527892v1
In the study investigating Long COVID (LC) using multiple "omics" analytical methods, the study team found that individuals with Long COVID exhibit disruptions in both total and SARS-CoV-2-specific T cells, leading to mis-coordination between the two main arms of adaptive immunity and overall changes in gene expression.
The study carefully selected a cohort of individuals who consistently met the case definition for Long COVID over an 8-month period and compared them to individuals who consistently demonstrated complete recovery.
&l t;br /> The study findings showed significant changes in the distribution of certain T cell subtypes in individuals with Long COVID, including a higher proportion of CD4+ Tcm, Tfh, and Treg cells.
These elevated frequencies indicate an ongoing immune response persisting at 8 months post-infection, but it is unclear whether this response is directed against SARS-CoV-2 or other potential antigens such as herpes etc. Moreover, the study identified sex-dimorphism in T cell phenotypes, with a subset of activated and cytotoxic T cells elevated in Long COVID females but not in Long COVID males.
The most striking finding from this study is the loss of coordination between humoral and cellular immune responses in individuals with Long COVID. This miscoordination may be due to various factors, including a long-lived SARS-CoV-2 reservoir, reactivation of viral co-infections, or autoimmune responses.
Additionally, the study revealed a highly pro-inflammatory signature in Long COVID, potentially driven by immune dysregulation or faulty regulatory mechanisms.
The study identified increased heme synthesis in individuals with Long COVID, which could be related to fibrin amyloid microclot formation observed in some Long COVID patients.
Further studies on iron metabolism and red blood cell function, as well as their relationships to coagulopathy in Long COVID, are warranted.
The study had several limitations, including a small sample size of 43 participants and a focus on blood specimens, while the source of immune dysregulation may originate from tissues.
However, despite these limitations, the study contributes to the growing understanding of potential pathophysiological contributors to Long COVID and suggests several mechanisms for further exploration and disruption in future therapeutic trials.
For the latest
Long COVID-19

News
, keep on logging to Thailand Medica