Thailand Medical Authorities Says Country Bracing For A Surge Of COVID-19 Cases After An Uninhibited Songkran Holiday Bash And The Coming Muslim Holidays
Thailand Medical
authorities are bracing for an unprecedented explosion of COVID-19 cases as the nation's wild Songkran celebrations in the last few days fuel fears of a new surge in COVID-19 cases.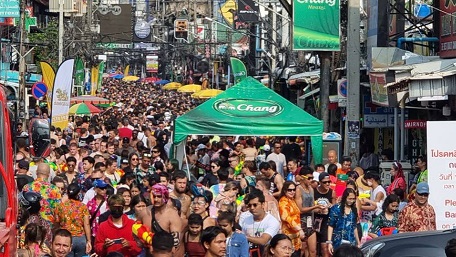 Patong, Phuket, April13th 2023
This new surge is expected to be potentially driven by a variety of new XBB sub-lineages including XBB.1.16, XBB.1.9.1, XBB.1.9.2 and XBB.2.3 and also their newer sub-lineages that are more infectious and pathogenic…thanks to all the tourists from various countries that had come to the country to celebrate Songkran along with many ignorant and reckless Thais.
The Thai New Year festivities, which were a no-holds-barred extravaganza for the first time in three years, have set the stage for a potential national disaster as not only were many not wearing or taking any precuations, but in many tourist locations like Khaosan Road in Bangkok or in various locations in Phuket, tight crowds of local Thais and foreigners were a common occurrence without any masking or safe distancings!
In a shocking turn of events, Thai Prime Minister Prayut Chan-o-cha himself appeared unannounced at Bangkok's notorious Khaosan Road, joining the world's largest water fight, soaking wet and maskless amidst a sea of revelers as he was on his desperate election campaigning rounds.
With nearly 200 official water fight sites across Bangkok and countless more neighborhood clashes, Thailand's capital city threw caution to the wind, embracing normalcy after years of stringent COVID-19 restrictions.
But the party may be over sooner than expected. Dr Thares Krasanairawiwong, director-general of Thailand's Department of Disease Control (DDC), revealed to the local Thai media that COVID-19 infections are expected to skyrocket following the Songkran celebrations. The number of cases could surpass those seen after New Year's, when restrictions had been previously relaxed.
In a shocking display of irresponsibility, Songkran partygoers were not required to test for coronavirus, and mask-wearing was virtually nonexistent. With alcohol-fueled merrymaking on the rise, the risk of an uncontrollable COVID-19 surge looms large.
Between April 9 and 15, Thailand saw a staggering 435 new COVID-19 cases admitted to hospitals for treatment – nearly three times higher than the previous week. Thirty of these patients suffered from lung inflammation, and 19 were put on ventilators. Tragically, two lost their lives to the virus.
However, many local physicians were skeptical of the released COVID-19 statistics and commented that the actual figures are likely to be much higher.
Local private hospitals across the country are also witnessing increasing hospitalizations and also increased outpatient clients with respiratory issues.
The DDC's Bureau of Epidemiology has grim expectations for the post-Songkran COVID-19 caseload. Local
Thailand Medical
experts warns that the virus will spread further due to the reckless activities and travel during the festival. The lack of testi ng and mask-wearing outdoors has set the stage for a perfect storm of viral transmission.
The situation grows direr by the day, with a horrifying 58% increase in lung inflammation cases and a 36% rise in patients requiring ventilators. To make matters worse, the two fatalities were individuals who had received booster shots more than three months ago, sparking concerns about people needing to update their shots.
Thailand Medical
experts are urging those in high-risk groups, particularly the elderly and those with underlying conditions, to get a booster shot as soon as possible to protect themselves from the looming crisis.
Dr Sopon Imasirithavorn, DDC deputy director-general, advises everyone to self-monitor for at least seven days after Songkran and avoid close contact with vulnerable populations.
The sinister XBB.1.16 variant of COVID-19 is already wreaking havoc worldwide, detected in 22 countries and counting, with India being hit the hardest. According to the global initiative on sharing avian influenza data (GISAID), nearly 3,000 cases of this variant have been reported as of April 13, with six confirmed in Thailand.
The coming Muslim Hari Raya Adil Fitri holidays are expected to also fuel more COVID-19 surges especially among Muslim communities in Bangkok and also in the Southern provinces of Thailand that are predominantly Muslim.
As the nation teeters on the edge of a COVID-19 catastrophe, the world watches with bated breath. Will Thailand's Songkran celebrations go down in history as the catalyst for a devastating new wave of the pandemic, or will authorities manage to contain the virus before it spirals out of control? Only time will tell, but one thing is certain: the stakes have never been higher.
For the latest COVID-19 News, keep on logging to
Thailand Medical
News.