U.S. Medical News: COVID-19 Hospitalizations In California Reach 5-Month High, SARS-CoV-2 Infections Rising Across Los Angeles County And Most Of California
U.S. Medical News
: California, USA - As the summer draws to a close, COVID-19 has once again taken center stage in California's ongoing battle against the virus. The latest reports from the state's Department of Public Health paint a concerning picture, with COVID-19 hospitalizations reaching a five-month high. Additionally, Los Angeles County and several other regions across the state are grappling with a resurgence in SARS-CoV-2 infections.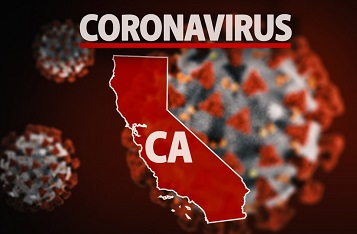 COVID-19 Hospitalizations Surge in California
The number of patients hospitalized with COVID-19 in California has been on a worrisome upward trajectory. According to the most recent data available as of August 26, 2023, there were a total of 1,668 COVID-19 patients in California hospitals.
https://public.tableau.com/views/COVID-19HospitalsDashboard/Hospitals?:embed=y&:showVizHome=no
This marks a significant increase of 182 patients compared to the previous week, as reported in the weekly update from the California Department of Public Health (CDPH).
https://covid19.ca.gov/state-dashboard/
This alarming figure represents the highest hospitalization rate the state has seen in the last five months, dating back to March 27, 2023, when California recorded 1,694 hospital patients with COVID-19. The situation has deteriorated notably since July 4, 2023, when the hospitalizations had reached a relative low of 681 patients. Since then, the numbers have been steadily rising, causing concern among health officials.
The rise in hospitalizations mirrors an increase in the state's seven-day test positivity rate, which now stands at 14%. This figure reflects data up to August 26, and it represents a surge from the previous week's 12.4%. Notably, this marks the highest test positivity rate in California since July 2022, underscoring the ongoing challenges posed by the virus.
COVID-19 Trends in Sacramento and Surrounding Counties
While the situation in California as a whole is dire, it is essential to examine how specific counties are faring. Sacramento County has experienced fluctuations in its COVID-19 statistics. As of August 26, there were 60 total hospital patients with COVID-19, marking a slight decrease from 74 patients one week earlier. However, the seven-day test positivity rate in the county surged to 15.8%, up from 13.5% the previous week.
Yolo County, a neighboring region, had also issued warnings about increased COVID-19 activity. Dr. Aimee Sisson, the county's public health officer, urged residents to remain vigilant. Although the seven-day test positivity rate decreased slightly to 14%, this figure still represents an upward trend since July 2, when it was at 4.3%. Hospitalizations in Yolo County increased from four patients to seven patients within a week.
Placer County, another neighboring region, witnessed an eight-patient increase in hospitalizations with a seven-day test positivity rate of 15%. This rate has been on an upward trajectory since hitting its low point of 4% on June 22, 2023.
El Dorado Cou nty reported a more substantial decline in its seven-day test positivity rate, dropping by 2.8 percentage points to 17.4%. However, hospitalizations in the county increased from one patient to two patients within a week.
Los Angeles County Grapples With Rising Infections
In Southern California, Los Angeles County is once again facing a surge in COVID-19 cases. After a relatively calm summer, the Department of Public Health reported a fifth consecutive week of rising transmission rates. Hospitalization rates have escalated from approximately 250 per day in mid-July to 422 per day as of August 18.
https://publichealth.lacounty.gov/media/Coronavirus/
According to local
U.S. Medical News
coverages, the countywide daily case count also witnessed a significant spike, with an average of 512 new cases reported each day. This represents a 35% increase from the previous week. Despite the surge in hospitalizations and cases, the daily testing rates in Los Angeles County have remained relatively stable, with around 5,000 tests conducted per day as of August 15. This is a stark contrast to the nearly 9,000 tests reported daily in May 2023.
Public health officials in Los Angeles County have emphasized the importance of precautionary measures, especially for individuals with underlying health conditions. However, they note that the current infection rates are not as severe as those witnessed at the same time last year when Los Angeles County had nearly 1,300 daily hospitalizations.
Statewide Trends and Causes of the Surge
The increase in COVID-19 cases in Los Angeles County aligns with a broader statewide trend in California. Official state COVID-19 data reveals that new hospital admissions and test positivity rates have both been on the rise since the end of June, signaling a resurgence of the virus across the Golden State.
In May 2023, California's statewide seven-day coronavirus positivity rate stood at a modest 3.4%. By August 13, this number had soared to 11.2%, indicating a significant increase in infections. Experts attribute this surge to various factors, including the return of summer travelers, the commencement of the new school year, and the emergence of new COVID variants.
Health officials have reported that almost all the circulating strains in Los Angeles County are descendants of the Omicron XBB variant. During a recent briefing, Dr. Barbara Ferrer, the Director of Public Health in Los Angeles County, noted that cases had "doubled" over the last month, adding urgency to the situation.
Public Health Response
As COVID-19 hospitalizations reach a five-month high in California, and infections surge in Los Angeles County and across the state, public health officials are closely monitoring the situation. They continue to urge residents to get vaccinated, practice social distancing, wear masks, and follow recommended hygiene measures.
The coming weeks will be critical in determining whether the current surge can be contained or if it will continue to worsen. It is a stark reminder that the fight against COVID-19 is far from over, and continued vigilance is essential to protect public health and prevent further strain on healthcare systems.
For tools and resources to stay safe and protect yourself and others from COVID-19, please refer to your local health department's guidelines and the COVID-19 Surveillance Dashboard for more in-depth statistics. Thailand Medical News will continue to monitor this developing situation and provide updates as they become available. Stay safe, stay informed, and stay vigilant in the face of this ongoing public health challenge.
For the latest
U.S. Medical News
, keep on logging to Thailand Medical News.