183 COVID-19 Deaths In Australia Over The Last 24 Hours And 39,051 New COVID-19 Infections Over The Last 7 Days. Start Of The Fifth Wave And Winter!
COVID-19 News
: As winter officially commences in Australia on the 1st of June 2023, signs are already indicating that is going to be a gloomy winter with many Australians expected to die within the next three months!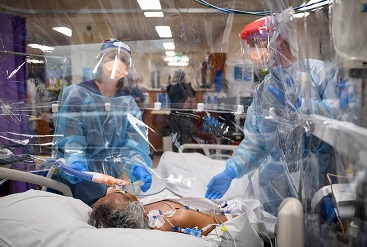 Some researchers on conditions of anonymity from the Institute for Health Metrics and Evaluation at the University of Washington in Seattle that has stopped updating its COVID-19 modelling platforms since April 2023 due to political pressure and lack of funding,
https://covid19.healthdata.org/australia?view=cumulative-deaths&tab=trend
have projected that up to 26,000 Australians could end up dead in the next 90 days due to COVID-19!
Signs are already indicting that the maybe the death rates might even supersede the projected amounts as already in the last 24 hours, Australian registered 183 COVID-19 deaths!
Australian health authorities and mainstream media have reported a total of 39,051 new COVID-19 infections over the last 7 days but stopped short of indicating the testing rates or test-positivity rates….a common strategy deployed by many countries these days to not provide a proper perspective of how serious the situation actually is.
https://www.abc.net.au/news/2023-05-26/covid-19-case-numbers-from-around-the-states-and-territories/102395888
https://covidlive.com.au/
Shockingly, an Australian Infectious diseases pediatrician, Professor Dr Robert Booy made a misleading statement to the Australian
COVID-19 News
media that might make more Australians to become complacent instead of being on guard and take preventive measures! He told the Australian ABC news, "Three years into the pandemic, the virus is running out of ways to mutate and to evade our immunity!"
https://www.abc.net.au/news/2023-05-23/covid-omicron-fifth-wave-winter-2023/102374504
Most international virologists disagreed with this statement…just the XBB sub-lineage alone is rapidly evolving and churning out hundreds of spawns each day with unique mutations to evade all forms of immunity ranging from immunity conferred by previous infections or vaccine induced immunity or even hybrid immunity.
While reinfections and co-infections are going to become a new norm, studies are also showing that reinfections can cause more harm to the long-term health of many and with data showing about viral persistence and the emergence of more serious health conditions like heart failures, strokes, kidney and liver damage due to viral persistence some with sudden fatal outcomes, there is nothing mild about being infected with the newer SARS-CoV-2 sub-lineages!
There are now over 210 different XBB sub-lineages with the right fitness in circulation globally over the last 30 days!
https://cov-spectrum.org/explore/World/AllSamples/from%3D2023-04-19%26to%3D2023-05-19/variants?nextcladePangoLineage=xbb*&
In Australia alone, there are more than 109 of these sub-lineages currently in circulation with many more still emerging.
https://cov-spectrum.org/explore/Australia/AllSamples/from%3D2023-04-19%26to%3D2023-05-19/variants?nextcladePangoLineage=xbb*&
We have not even touched on the newly emerging sub-lineages from the BA.1, BA.2 and BA.5 or the Deltacron variants such as XBC, some of which are already found in Australia.
Studies have also validated that these newly emerging XBB sub-lineages and other Omicron sub-lineages are much more immune evasive and are still evolving to evade immunity efficiently!
https://www.ncbi.nlm.nih.gov/pmc/articles/PMC10015854/
https://www.cell.com/cell/fulltext/S0092-8674(22)01531-8
https://www.nature.com/articles/s41579-022-00841-7
https://www.mdpi.com/1999-4915/15/4/944
https://www.biorxiv.org/content/10.1101/2022.09.15.507787v3.full.pdf
https://www.biorxiv.org/content/10.1101/2023.04.06.535883v3.full
https://www.ncbi.nlm.nih.gov/pmc/articles/PMC10203986/
https://www.biorxiv.org/content/10.1101/2023.04.06.535883v3
In fact, emerging preliminary data are indicating that the newer spawns of the XBB.1.16, XBB.1.9.1, XBB.1.92, XBB.2.3 and Deltacron XBC.1.6 are all not only more immune evasive but are also more pathogenic and fusogenic.
Many of these are just only beginning their climb towards circulation predominance in Australia and it will be interesting how things develop in Australia over the next few weeks.
But rest assured that we will not get the real coverage of the actual COVID-19 situation in Australia as the authorities there have very good strategies of covering up real COVID-19 data and are notorious for underreporting as well.
Australians with brains should start preparing for a very bad winter and not only start stocking up on essential foods and medical supplies so there is not much need to go out, but they should also start masking correctly and also use as much indoor air-filtering equipment as possible and for those in the vulnerable groups, its best that they start isolating themselves and take more preventive measures.
For the latest
Australian COVID-19 News
keep on logging to Thailand Medical News.
Read Also:
https://pubmed.ncbi.nlm.nih.gov/36890632/