COVID-19 NEWS - World Updates: Philippines Starts To See Gradual Rise In Cases, Okinawa Prefecture In Japan Facing A Public Health Crisis
COVID-19 News
: We are living in interesting times, as those who had created the SARS-CoV-2 virus to depopulate the world have achieved their goal of creating a perfect bioweapon that will not be noticed by the ignorant masses as the SARS-CoV-2 virus has now evolved to be able to disarm the human immune responses perfectly so as to give rise to mainly asymptomatic infections or mild infections initially except for those in the vulnerable groups ie the aged and those with existing comorbidities or those with certain genetic make-ups. However, as the virus is now able to remain longer in the human host, viral persistence is resulting in more damage over time especially to critical organs like the heart, liver, kidneys, brains and also the gastrointestinal tract and that is why we are witnessing very high excess death rates all over the world due to other health issues such as cardiovascular issues, strokes, organ failures, sepsis etc. As an example, England recently disclosed that cardiovacular issues caused more than 100,000 excess deaths recently!
https://www.thailandmedical.news/news/breaking-news-england-had-more-than-100,000-excess-deaths-due-to-cardiovascular-issues-since-covid-19-started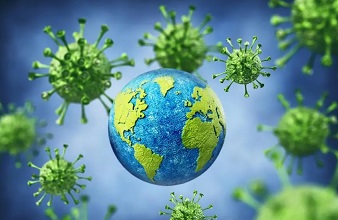 The current strategy deployed by many countries to define COVID-19 deaths as deaths occuring within 14 to 28 days after infections is really questionable! The newer SARS-CoV-2 sub-lineages are more adapt for causing slow deaths and viral persistence is a major issue that is still not being addressed by the medical community!
While COVID-19 testing and even SAR-CoV-2 genomic surveillance is drastically down in many countries, along with many countries refusing to divulge real and accurate COVID-19 data and many mainstream media are under the directive of creating an illusion that COVID-19 is over or is manageable, the reality is that we are in worse state that we were in during the start of the COVID-19 pandemic. Simply analyzing whatever little reliable data that we have will show you that we have more active cases currently than we had in the first three month when the COVID-29 crisis was first announced, we have no control measures or border controls now, we have more than 285 SARS-CoV-2 sub-lineages in circulation in various geolocations across the globe, we do not have any monoclonal therapeutics that work nor even any effective antivirals, the efficacy of the current vaccines and boosters against the current more immune evasive SARS-CoV-2 sub-lineages are questionable and reinfections and coinfections are becoming the new norm. Oh yes, I forgot…with billions already exposed to the SARS-CoV-2 virus initially, we now have a huge global population of humans with dysregulated immune systems and many inflicted with 'COVID-19 induced immunodeficiency'! The change in the global immune landscape is also causing other pathogens to evolve and causing the surge in various other infections.
So when considering the current kinetics of the COVID-19 situation…seriously... are we in a better state?
The WHO weekly COVID-19 reports are simply a farce as how can it be deemed as accurate when many countries are not even doing testing or even reporting accurate data!
https://www.who.int/p ublications/m/item/weekly-epidemiological-update-on-covid-19---22-june-2023
In actual reality, Europe is one the regions currently facing the brunt of the COVID-19 crisis but the EU and governments there have successfully concealed all COVID-19 data, excess death rates etc effectively and even most of the mainstream media there are now 'indirectly controlled'. Many are unaware but many government related sites in Europe especially the health agencies have applied geolocation blocking to prevent sites like us from acquiring any data and reporting on the situation there. For example:
https://www.santepubliquefrance.fr/
We will be shortly be revealing some shocking statistics and
COVID-19 News
updates about Europe in a coming article and also providing depressing updates about the COVID-19 situation in Australia and New Zealand in coming updates. Meanwhile…..
COVID-19 Cases Gradually Rising In Philippines
.
Philippine health authorities on Thursday reported 584 new COVID-19 cases, bringing the active cases in the country to 8,508. This is the second straight day of increasing new cases.
It should be noted that only 6,949 individuals were tested on Wednesday that gave this figure for Thursday and most tested were individuals who had turned up at hospitals due to symptoms and even then, many public or state-run hospitals were not conducting COVID-19 test! Note that Philippines has a population of more than 114 million people!
Data from the Philippines Department of Health latest bulletin showed that the nationwide caseload jumped to 4,161,235 while the total recoveries also climbed to 4,086,245.
https://doh.gov.ph/covid19tracker
The country's death toll remained at 66,482, marking the fifth straight day of no new deaths.
The NCR or National Capital Region has the highest number of cases, with 2,100 within the past two weeks, followed by Calabarzon with 1,339, Central Luzon with 1,337, Western Visayas with 846, and Cagayan Valley with 587. In cities and provinces, Quezon City recorded with most new cases in the past 14 days with 505, Iloilo with 484, Cavite with 465, Bulacan with 376, and Pampanga with 332.
COVID-19 Caseloads Increase In Japan And Okinawa Prefecture Facing A Public Health Crisis
.
Japan faces an imminent threat of a new wave of COVID-19 as the number of cases nearly doubles within a month, according to recent statistics released by the health ministry. Just a month ago, Japan had downgraded COVID-19 to a level similar to that of seasonal flu. However, the situation has quickly escalated, with the average number of new infections per healthcare facility rising significantly.
In the week spanning June 5 to June 11, around 5,000 designated hospitals and clinics across the country reported a total of 25,163 new cases, averaging 5.11 patients per facility. This marks an increase from the previous week's average of 4.55 patients and a substantial rise from the period between May 8 and May 14 when the average was 2.63 patients.
The surge in cases is particularly noticeable in Okinawa Prefecture, where the average number of new patients per facility surged to 18.41 during the week in question, compared to just 6.07 four weeks earlier. Other regions, including Kagoshima, Ishikawa, Saitama, and Hokkaido, also experienced a significant increase in reported infections per facility.
Nationwide, the number of new hospitalizations rose to 4,330 in the same week, up from 4,122 in the previous week. Additionally, the average number of patients in intensive care units stood at 79 over a seven-day period.
In Tokyo, the number of new COVID-19 patients reported by designated hospitals skyrocketed to 2,486, averaging 5.99 patients per facility. This represents a more than fourfold increase compared to five weeks prior. Hospitalizations in Tokyo also rose, reaching 1,032 as of Monday, up from 983 the previous week. Furthermore, the strain on the healthcare system increased, as indicated by the seven-day rolling average of incidents where ambulances were unable to find hospitals for patients for 20 minutes or more, which rose to 96.3 from 82.3 within a week.
The surge in infections in Japan is driven by various subtypes of XBB, a highly mutated variant of the omicron variant. XBB subtypes accounted for over 90% of all genome-sequenced cases in Tokyo, with XBB.1.16 at 31.3%, followed by XBB.1.9.1 at 20.8% and XBB.1.5 at 15.6%. While XBB is highly contagious and can evade immunity acquired from past infections or vaccines, it has not been confirmed to cause more severe symptoms than other omicron sub-lineages, according to the National Institute of Infectious Diseases.
But most worrying, the situation in Okina prefecture has come to a point where hospitals are simply full and the public healthcare infrastructure is facing a crisis.
https://medical.nikkeibp.co.jp/leaf/mem/pub/series/miwa/202306/580171.html
https://twitter.com/Yash25571056/status/1671366355143229440
We will be providing more updates about the situation in Japan in the next few hours.
For the latest
COVID-19 News
, keep on logging to Thailand Medical News.