Omicron Might Cause Mild Symptoms In A Large Percentage But The Long Term Health Implications Are Far Worse Than Delta, Be Warned!
Omicron Variant
Research
: Although it is observed that hospitalizations and death rates due to Omicron variant are rising in the United Kingdom, a large majority still only experience mild symptoms like coughs, a scratchy throat, body fatigues and pains, with a smaller sub-group experiencing fever as well for a few days, it is stupid to simply dismiss that the variant is mild as that would make more people lax and be off guard coupled with the fact we have no clue what the variant is capable of causing in terms of long term health complications.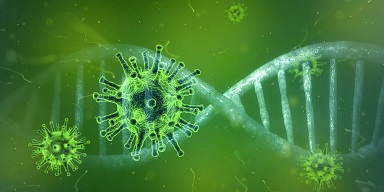 Emerging studies have shown that the new variant despite being able to replicate faster and cause breakthrough infections and reinfections, has a reduced ability to attack the lungs and cause respiratory issues.
Study findings suggest that mutations on the omicron virus' spike protein lowers infectivity of lung organoids and Calu-3 lung cells. The study findings also showed that the omicron spike protein induces relatively poor (lung) cell-cell fusion compared to Wuhan and Delta strains.
https://www.thailandmedical.news/news/good-news-preliminary-unpublished-data-shows-that-omicron-might-not-affect-lungs-much,-rather-your-brains,-heart-and-other-organs-are-targets
A recent study also showed that the omicron has a weaker binding affinity for the ACE-2 receptors. However, preliminary findings from that study also indicated that the omicron could be shifting its focus from the human host ACE2 receptors to other receptors including the DDP IV receptors. (The MERS CoV uses the DDP IV receptor for cell entry.)
https://www.thailandmedical.news/news/breaking-study-alarmingly-shows-omicron-could-be-possibly-evolving-to-shift-its-focus-on-human-receptors-from-ace2-to-ddp-iv,-similar-to-mers
There are numerous studies underway in Germany, Denmark, Sweden, China and the United States in which preliminary data is suggesting that yes… the Omicron could is evolving and shifting its focus away from the ACE2 receptors to that of other human host receptors including CD147, Neuropilin‐1, Dipeptidyl peptidase 4, alanyl aminopeptidase (ANPEP), glutamyl aminopeptidase (ENPEP) and angiotensin II receptor type 2 (AGTR2).
There is also preliminary data emerging that the new Omicron variant is capable of infecting the T-cells including CD4 (just like HIV) and also aggressively damaging the CD8 cells far worse than other existing SARS-CoV-2 strains.
If the
Omicron Variant Research
findings of these above studies turn out to be conclusive, it means that we could really be in a mess as we really could be ending up dealing with a situation with something that is far worse and similar to 'airborne HIV'! (Something that we had always anticipated since the beginning of the pandemic)
It is also too early to make any conclusions yet as the Omicron is also aggressively still evolving and new mutations and deletions are emerging. Already three sub-lineages of the Omicron have been identified and a few more being classified.
https://www.thailandmedical.news/news/breaking-the-omicron-sub-lineage-temporarily-called-england-milk-2d24ac9-2021-that-is-spreading-in-uk-is-vastly-different-from-the-south-african-omicr
One study is also showing that the Omicron is evolving and could end with more concerning mutations in the subsequent waves.
https://www.medrxiv.org/content/10.1101/2021.12.19.21268069v1
The coming weeks will tell us more as most of these studies should be published by then. But in the meanwhile, for gawds sake stop making media announcements that the Omicron is mild, we have no clue what is it is really capable of doing yet.
But yes, I do agree that we should not be too worried about Omicron as it will most probably swept through a larger percentage (due to its enhanced transmissibility and infectious nature) of the global population and disrupt and damage their immune system. (For gawds sake there is more to the immune system that just antibodies!)
Rather we should be worried about what's the next SARS-CoV-2 variant that will be released into the population after Omicron as that's the variant that is really going to cause the most damage with a majority of the world already having a compromised immune system due to previous SARS-CoV-2 variants and the Omicron!
https://www.thailandmedical.news/news/why-is-no-one-warning-the-masses-that-the-sars-cov-2-spike-proteins-are-causing-major-immunodeficiency-issues-in-all-infected-individuals
It will also be interesting to see then is other issues also start coming into play such as immune imprinting, ADE, 'original antigenic sin' and viral priming. I know that I have been repeating myself here the last few days, but it is also serving as a warning!
Dear readers, we are appealing for your kind help and support this Christmas and the coming new year. We are desperately needing funds to sustain this website and all our research and community initiatives and need your help. Please donate. Thank You.
https://www.thailandmedical.news/p/sponsorship
For more on the
Omicron Variant Research
, keep on logging to Thailand Medical News.