BREAKING NEWS: American Women Are Now Being Violently Attacked By Biological Males Freaks! The Riley Gaines Attack At San Francisco State University!
-Ex-College Biological Female Swimmer Riley Gaines Attacked by Trans Activists at San Francisco State University While Defending Women Rights.
-The Biden Administration Is Promoting Trans behaviour And Supporting Trans Groups Over All Other Communities.
-Gay Groups Do Not Want To be Associated With Trans Activists And Wants The LGBQT acroynm changed!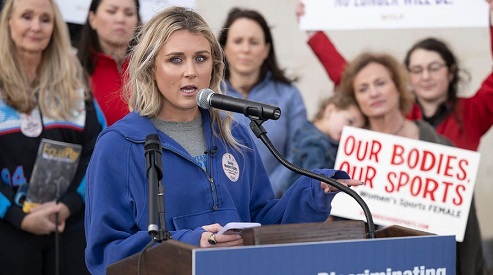 The United States is in a complete chaos as the Biden administration and Democrats are promoting sexual grooming in young children and also supporting the Trans behavior and trans activists along with the support of tech giants and certain conglomerates and media.
A video showing former college swimmer
Riley Gaines
being accosted and physically assaulted by a group of trans activists at San Francisco State University (SFSU) has gone viral, sparking a heated debate about the role of trans athletes in women's sports.
Gaines, a biological female and a 12-time All-American champion, was due to speak at a Turning Point USA (TPUSA) event when protesters disrupted the proceedings, forcing Gaines to be escorted to safety by police. The incident has reignited the debate surrounding trans athletes' participation in women's sports, with many Republican-controlled states implementing laws banning such involvement.
The footage, which has been viewed over 450,000 times across multiple social media platforms, shows Gaines being chased, verbally abused, and allegedly "physically hit twice by a biological male freak!" during the altercation.
Gaines shared her experience on Twitter, stating that the incident proves the need for sex-protected spaces and urging others to speak out against injustice. She further claimed that the protesters' attempts to silence her only served to reinforce her conviction in her cause.
The incident has garnered widespread attention and condemnation from various organizations, including the Independent Women's Forum (IWF) and the Champion Women campaign group. The IWF called the incident "absolutely ludicrous" and blamed the Biden administration, the NCAA, and the International Olympic Committee for fostering an environment that allows such attacks to occur.
Meanwhile, Champion Women's CEO, Nancy Hogshead, expressed her support for Gaines and lamented the prevalence of male violence in society.
The protesters were reportedly organized by SFSU's Queer and Trans Resource Center and stormed Gaines' speech as she discussed her personal experiences competing against trans swimmer Lia Thomas.
Gaines previously accused Thomas of having an "utter disregard and disrespect towards women" during an interview with Fox News. Thomas, however, maintains that trans athletes do not pose a threat to women's sports, citing the NCAA's decade-long rules permitting trans women to compete without any significant issues arising.
In response to the incident, Gaines' agent, Eli Bremer, released a statement expressing his shock at the violence directed towards his client for standing up for women's rights. He emphasized Gaines' commitment to continuing her fight against the inclusion of biological males in women's sports, despite the risks involved.
The attack on Gaines comes on the heels of a recent Supreme Court decision allowing a 12-year-old transgender girl in West Virginia to compete on her middle school's girls' sports teams while a lawsuit over a state ban is pending. West Virginia's law currently prohibits transgender athletes from participating in female teams in middle and high schools and colleges.
As Gaines continues to recover from the traumatic experience, the debate surrounding trans athletes in women's sports shows no signs of slowing down.
The viral nature of the incident at SFSU serves to amplify the conversation, drawing attention to the challenges faced by athletes like Gaines and the importance of creating a safe and inclusive environment for all competitors.
The problems all started since Biden took over as President and the Democrats gained a foothold in running the country and started promoting the issues that Transgenders should be allowed to participate in sporting events as women although they are biological males that have greater muscle strength, endurance and physical prowess over biological females!
In the Nashville mass shooting that involved a transgender targeting Christians at a school and shot dead three young children and three adults, the Democrats tried to change the narratives and made it about gun control and even made to stop reporting that the shooter was a transgender! Even in the aftermath of the shooting, the white house was more focused on Transgender rights!
While many do agree that transgenders should be give equal rights and protection from discrimination, it does not mean that they should be allowed to compete with biological women in sports nor are allowed to use women toilets or be given extra privileges.
The gay and lesbian communities that are well integrated in mainstream communities are also speaking out now as many do not condone behavior of Trans rights groups and violence against women. Many gay groups are now calling for the LBGTQ acronym to be changed as the gay and also lesbian communities do not want to be associated with these aggressive, violent and freak-like behaviors!
Recently, some of the companies linked to the Democrats like Anheuser-Busch Companies, LLC which owns Bud Light, Michelob Ultra, Stella Artois, Budweiser, Busch Light and other beer brands and also the sporting company has been using stupid and ugly Trans presenters for their products.
As a result, many real biological males, real biological females and even the gay communities are now boycotting brands associated with these companies.
In the mean-while real biological women and real biological men who are mentally stable and also the gay community should start boycotting all products, sport events and other events and also politicians and media that support these extreme Trans activist.
American women need to speak out before its too late!
For the latest news about
Deteriorating
America under Biden
, keep on logging to Thailand Medical News.