Thailand Medical News: Still More Reports Of Thais Dying In Their Homes In Bangkok Due To COVID-19 As Cases Surge! Many Thais Still Oblivious Of Dangers!
Thailand Medical
: Even after our initial report about Thais dying in their homes due to COVID-19 in Bangkok, there has been no improvement to the situation.
https://www.thailandmedical.news/news/thailand-medical-more-cases-of-people-dying-in-their-homes-due-to-covid-19-emerging-in-bangkok-while-authorities-say-not-to-panic-about-xbb-1-16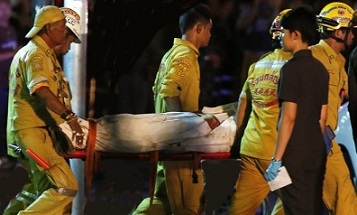 Stock Shots
There has been no concerted public relations initiatives or public announcements to warn the general public about the dangers of the new COVID-19 onslaught caused by a variety of XBB sub-lineages including the XBB.1.16 and XBB.2.3 sub-lineages and their spawns and to warn them about what preventive measures for them to take and also what actions to take if they are infected or have symptoms. In fact, considering the current situation of the potential dangers associated with the new XBB sub-lineages, the authorities should advocate work and study from home policies and also start findings ways enforce social distancing and also other preventive measures without any stringent lockdowns. Mandatory masking should be enforced and foreigners who break such rules should be penalized heavily!
According to reports from the police and rescue workers, another case of a Thai dying in the home was reported in the last 24 hours.
The report stated that a 70-year-old woman was found dead in her home at Bang Phlat district in Bangkok yesterday. Rescue workers along with a forensic doctor arrived at the home at Charansanitwong Soi 40 after being called by the family of the deceased and a ATK test conducted at the scene confirmed a COVID-19 infection.
The body was sent for immediate cremation at a nearby temple while the four other family members staying in the same house who also tested positive for the SARS-CoV-2 virus were placed under quarantine.
Some rescue workers speaking on conditions of anonymity claimed that such incidences are rising in Bangkok and nearby provinces over the last two weeks and that not all such cases make it to the media! (Please note that Thailand Medical News is unable to verify these claims! We have not even been able to procure the real and actual daily COVID-19 infection and daily COVID-19 death rates and even accurate COVID-19 hospitalization rates in the country. Some of the data released by the local authorities do not tally or even correlate with other data!)
Various private hospitals across the country are seeing a surge in COVID-19 hospitalizations and also outpatient clients and some have even stopped accepting new COVID-19 cases due to lack of hospital beds.
Most of the common symptoms being reported by locals infected in this new COVID-19 onslaught include fever, runny nose, sore throats, gastric reflux, extreme fatigue, body aches, dizziness, diarrhea, chest pains and difficulty in breathing. The XBB.1.16 associated red eyes or conjunctivitis that has been extensively reported in India has not been seen here in Thailand.
According to data by the COV-Spectrum platform, there are about more than 29 diff erent XBB sub-lineages in circulation in Thailand at the moment with the XBB.1.16 sub-lineages constituting about 10.73% of all sequences and XBB.2.3 constituting about 2.82% of all sequences.
https://cov-spectrum.org/explore/Thailand/AllSamples/Past6M/variants?nextcladePangoLineage=xbb*&
As both are highly transmissible and also more pathogenic coupled with the fact they both have a better growth advantage over earlier XBB sub-lineages, we can expect to see COVID-19 cases surge exponentially in coming weeks especially in the current situation where is no COVID-19 preventive measures in the country and many Thais are simply complacent due to ignorance.
Thailand Medical
News would like to warn that all Thais should take heed that the XBB.1.16 can increase risk of disease severity as a recent Indian study has shown that almost 25.7% of all those infected with the XBB.1.16 sub-lineage end up hospitalized and of these 33.8% will end up needing supplemental oxygen with many going on ventilators!
https://www.thailandmedical.news/news/indian-study-shows-that-xbb-1-16-does-increase-risk-for-disease-severity-contrary-to-claims-by-clueless-experts-or-stupid-health-authorities
Also, while many health authorities around the word are advocating boosters with claims that it prevents disease severity and risk of mortality, the Indian study showed that almost 91.7 percent of XBB.1.16 breakthrough infections occurred in the vaccinated and new emerging data is showing that these shots do not offer much protection to those in the vulnerable groups ie the old, the obese, the immunocompromised, those with existing comorbidities and also those with certain genetic make ups. More attention should be focused on these groups and more preventive measures should be adopted to protect these vulnerable groups.
In shopping malls across Bangkok yesterday, many locals and foreigners were seen without mask and at certain hotel and restaurant buffets, people were seen at the food counters without any mask! Many Thais are simply oblivious to the dangers associated with the new XBB sub-lineages in circulation and are assuming that COVID-19 is now mild or that being vaccinated is good enough…not aware of the fact that the vaccinated can still spread the virus to the vulnerable groups!
Exhibitions, events, gatherings are all taking place as usual all over Thailand without any preventive or safety measures in place. Even pre-ATK testing to prove COVID-19 negativity is no longer being utilized in many such public events even though we are dealing with a more pathogenic SARS-CoV-2 sub-lineage.
With so many holiday breaks approaching in the coming two weeks in Thailand and no official hard warnings from the authorities, we can expect that this COVID-19 onslaught in Thailand will be one of the worse since the start of the pandemic.
Furthermore, the newer spawns of the XBB.2.3 sub-lineage such as XBB.2.3.2, XBB.2.3.5 etc are expected to wreak havoc and it will indeed be fun times coming to Thailand.
For the latest on the COVID-19 situation in Thailand, keep on logging to
Thailand Medical
News.