COVID-19 News: UK Faces Soaring COVID-19 Hospitalizations And Positivity Test Rates As New Variant BA.2.86 Becomes Predominant!
COVID-19 News
: The United Kingdom is grappling with a concerning surge in COVID-19 cases as hospitalizations have increased by a staggering 24 percent in just one week. Additionally, the test positivity rate currently stands at 17.4 percent, posing significant challenges to the country's healthcare system. This alarming situation coincides with the rapid spread of the new Pirola variant, also known as BA.2.86, which has experts on high alert due to its extensive mutation profile.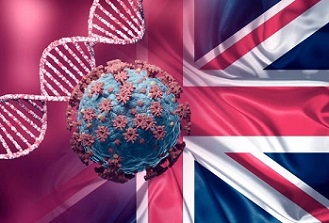 Data released by the UK Health Security Agency (UKHSA) from the last week of September reveals that the number of individuals testing positive for the virus has risen by over 29.4 percent compared to the previous week.
https://ukhsa-dashboard.data.gov.uk/topics/covid-19#healthcare
https://coronavirus.data.gov.uk/
This surge is particularly concerning, given the reduced testing infrastructure in place at the time. The current test positivity rate is a staggering 17.4 percent, indicating the widespread prevalence of the virus within the community.
BA.2.86 is the latest Omicron variant to make its presence known, and it has raised significant concerns among health experts due to its extensive mutational changes. This variant boasts 34 additional mutations, making it a potential challenge for existing vaccines to combat effectively. The emergence of BA.2.86 is a troubling development for public health, as it threatens to further complicate the ongoing battle against COVID-19.
The BA.2.86 has rapidly gained a foothold in the UK, with over 185 confirmed cases reported on the GISAID platform.
https://twitter.com/Justanewsletter/status/1710843627872887087
https://twitter.com/HNimanFC/status/1713321555701231825
https://twitter.com/HNimanFC/status/1713695461700198578
https://twitter.com/HNimanFC/status/1713548312098312655
https://www.thailandmedical.news/news/covid-19-news-ba-2-86-sequences-rising-along-with-infections-and-hospitalizations-in-united-kingdom
Its global spread has been swift, as it has already been detected in 21 countries, including France, Japan, Australia, and Denmark. The ease with which BA.2.86 has spread underscores the urgency of addressing this new threat.
The symptoms associated with the BA.2.86 variant are noteworthy for their similarity to common cold symptoms. Patients with this variant often report a runny nose, headache, fatigue, sneezing, and a sore throat. However, in addition to these common symptoms, three other signs, namely diarrhea, eye irritation, and rashe s, have also been frequently reported. These distinct symptoms add complexity to the diagnosis and management of the variant. Persistent coughs and sore throats are also a distinct manifestation for many infected with the BA.2.86 variant.
However what s concerning is a latest observation that many people who had mild or moderate symptoms of BA.2.86 infections are later developing slight breathing issues with X-rays revealing enlarged hearts and pulmonary edema!
As the BA.2.86 variant sweeps across the UK, the data from the UKHSA paints a grim picture of the situation. The number of COVID-19-related deaths in the week ending on September 8 increased by a staggering 55 percent compared to the previous week. The growing number of patients in hospitals has been a trend since mid-July, with a 24.8 percent increase in Covid patients being admitted to hospitals in the week ending on September 29.
https://ukhsa-dashboard.data.gov.uk/topics/covid-19#healthcare
https://www.england.nhs.uk/statistics/statistical-work-areas/covid-19-hospital-activity/
Professor Susan Hopkins, Chief Medical Advisor at UKHSA, commented on the emerging data to various local
COVID-19 News
outlets, stating, "While this is still very early data and more research is needed before we can be certain, it is encouraging to see an initial indication that BA.2.86 demonstrates similar levels of antibody escape compared to other variants circulating in the UK."
She also added, "The available data is too limited to draw conclusions about the severity of the illness it causes, but there is so far no evidence to suggest that it is more likely to make people seriously ill than other Omicron variants in circulation."
In response to the threat posed by the BA.2.86 variant, the Department of Health and Social Care (DHSC) announced that the autumn vaccine program would be brought forward to September 11 as a precautionary measure. However, UKHSA data up to and including October 4 indicate that only a fraction of the eligible population has received the vaccine so far.
As experts closely monitor the situation, concerns are growing about the potential for a new wave of COVID-19 in the UK. Mary Ramsay, the director of public health programs at UKHSA, issued a statement saying, "This week's surveillance indicates a slight increase in Covid infection rates. As we enter the colder months and people begin to mix more indoors, we expect to see further increases in COVID-19 cases."
The impact of this latest surge is not limited to an increase in cases alone. Hospitalizations have seen a substantial rise, with 3,366 patients admitted to hospitals in England during the week ending October 6, marking the highest figure since mid-April. UKHSA warns that these numbers are expected to rise as winter progresses, alongside the likelihood of other winter respiratory viruses like the flu making their presence felt.
https://coronavirus.data.gov.uk/details/healthcare?areaType=nation&areaName=England
While current hospitalizations due to COVID-19 have increased, they remain well below the levels observed during the peak of the pandemic. The latest data from UKHSA indicates an average of 2,257 daily COVID-19 cases in England. The UK has also launched a vaccine booster campaign, primarily targeting the elderly and vulnerable population. According to UKHSA, 3.9 million individuals aged 65 and over in England have received the booster, which is being offered alongside the seasonal flu vaccine to maximize protection for vulnerable individuals during the winter season. Ramsay emphasized the importance of those eligible to receive the vaccine to do so promptly.
The situation in the UK is closely monitored by health officials and researchers worldwide, as they work to understand the BA.2.86 variant's impact, and the effectiveness of existing countermeasures in managing this new wave of COVID-19 infections. As the nation braces for the challenges of the winter months, continued vigilance and rapid response will be essential in containing the spread of the virus and protecting public health.
For the latest
COVID-19 News
, keep on logging to Thailand Medical News.