Monkeypox News: Promiscuous Gay And Bisexual Men In Thailand 'Helping' To Increase Mpox Infections With 24 New Cases And One Death In The Last Week!
Monkeypox News
: Thailand is currently grappling with a monkeypox (Also known as Mpox…a stupid name proposed by the WHO!) outbreak, a viral disease that has claimed one life and infected an additional 24 individuals in the last week. The situation is particularly alarming due to the involvement of high-risk groups, including those with diverse sexual orientations and individuals living with HIV. This
Monkeypox News
report delves into the recent surge in monkeypox cases, the unfortunate death of an HIV-infected patient, and the role of high-risk and irresponsible behaviors in spreading the disease.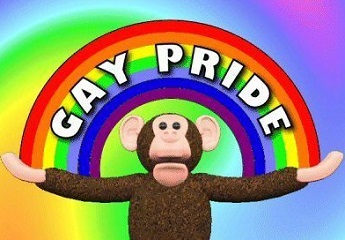 The Latest Outbreak
Health authorities in Thailand revealed that the recent monkeypox outbreak has resulted in 24 new cases and one tragic death. The fatality was a 24-year-old Thai male who had been battling HIV for three years before contracting monkeypox. His symptoms included a high fever, physical weakness, and a rash on his face, hands, and genitals. Despite initial hospitalization on August 25, his condition deteriorated, and he was transferred to the Bamrasnaradura Infectious Diseases Institute on September 12, where he eventually succumbed to the virus.
Thailand Medical
News would like to point out that contrary to claims by local health authorities or 'experts', the number of HIV infections are rising at an alarming rate especially among the local gay and bisexual men as many are no longer practicing safe sex due to influence by many online porn sites and shows especially on the only fans platform and a new trend of chemsex introduced by gay sex tourists from Singapore, Britain and Australia…where the consumption of various narcotic drugs including cannabis removes any inhibitions in individuals from indulging in group sex! Many of the monkeypox infections found not only in Thailand but also elsewhere globally were predominantly gay or bisexual men who also had HIV!
Geographical Spread
The new cases of monkeypox are distributed across several regions in Thailand. Nine cases were identified in Bangkok, with three cases each in Chiang Mai and Nonthaburi, and two in Phuket. Single cases were reported in Nakhon Pathom, Chon Buri, Pathum Thani, Prachin Buri, Saraburi, Udon Thani, and Ubon Ratchathani. This geographic spread underscores the urgency of containing the outbreak, as it is no longer confined to a single locality.
Previous Monkeypox Cases
The first monkeypox case in Thailand was diagnosed in July of the preceding year. Since then, the cumulative number of diagnosed cases has reached 559, with one unfortunate death. Among these cases, 503 are Thai nationals, 52 are foreigners with known nationality, and four individuals have unidentified nationalities.
High-Risk Groups
One concerning aspect of the monkeypox outbreak in Thailand is the involvement of high-risk groups. A significant portion of the infected individuals, accounting for 474 cases, belongs to the diverse sexuality group. Among this group, a staggering 44% are also living with HIV. The majority of monkeypox cases are concentrated within the 30 to 39-year age group, with 241 cases, closely followed by the 20 to 29-year age group, which comprises 172 cases.
The Role of Risky Behaviors
In response to the public health crisis, Thai health authorities have advised those in risk groups to abstain from sexual activities with strangers and to maintain a safe distance from individuals with visible skin rashes and blisters. This is a crucial precautionary measure to curb the transmission of the virus, particularly among individuals who engage in risky behaviors.
A Startling Encounter
The monkeypox outbreak took an alarming turn with a recent case in Chiang Mai. A 36-year-old Thai patient, who had visited an entertainment venue in the region, admitted to engaging in a threesome with two foreigners, one of whom was identified as Lebanese. This risky behavior resulted in a positive test for the monkeypox virus, marking the province's first recorded instance of the disease.
The patient displayed relatively mild symptoms, including flu-like symptoms, muscle aches, genital infections, swollen lymph nodes in the groin, and fluid-filled bumps on various parts of his body, including his face, arms, and penis. The patient, who is also living with HIV, is currently receiving treatment at a private hospital in Chiang Mai. He is a resident of Lamphun, where the case is being closely monitored.
Preventing Further Spread
Authorities are taking the latest case in Chiang Mai seriously, with the Lamphun Provincial Public Health Office and relevant departments launching an investigation to prevent further transmission of the virus. Individuals who have come into contact with the patient, including family, friends, and others at risk, will be closely monitored for a period of 21 days.
Lessons from Past Cases
Just two weeks ago, there was a spike in monkeypox cases in Chon Buri province and Pattaya, primarily among the gay community. Many of these patients contracted the disease through sexual activity. While the exact number of cases in these areas was not reported, officials urgently advised residents to avoid sexual activity with strangers, emphasizing the importance of responsible behaviors.
Conclusion
The recent surge in monkeypox cases in Thailand is a stark reminder of the consequences of risky behaviors, particularly among high-risk groups. The involvement of individuals with diverse sexual orientations and those living with HIV underscores the need for targeted public health campaigns and education to prevent further transmission of the virus. As the authorities intensify their efforts to control the outbreak, the community's cooperation and responsible actions will be instrumental in curbing the spread of monkeypox in Thailand.
For the latest
Monkeypox News
, keep on logging to Thailand Medical News.
Read Also:
https://www.thailandmedical.news/news/monkeypox-news-gay-men-in-europe-are-once-again-humping-indiscriminately-in-the-cool-season-with-no-regards-for-safe-sex-as-mpox-infections-rise-again
https://www.thailandmedical.news/news/monkeypox-infections-rise-in-china-among-gay-male-population,-forcing-authorities-to-step-up-prevention-and-control-via-new-legislation
https://www.thailandmedical.news/news/monkeypox-news-concerns-rise-as-infections-spike-among-gay-men-and-teenagers-in-thailand-145-new-cases-in-august-including-a-16-year-old-boy
https://www.thailandmedical.news/news/medical-authorities-report-that-monkeypox-or-mpox-infections-gradually-rising-in-thailand-189-infections-identified-so-far-and-one-death
https://www.thailandmedical.news/news/mysterious-mpox-outbreak-in-china-raises-concerns-gay-tourism-involving-a-south-east-asian-country-famous-for-gay-prostitutes-blamed
https://www.thailandmedical.news/news/south-korea-faces-growing-monkeypox-outbreak-as-cases-spread-across-the-country-while-canada-witnessing-sporadic-monkeypox-cases