BREAKING! Ragon Institute Scientists Discover New Subset Of Immune Cells That May Hold The Key To Fighting Autoimmune Fibrosis And Severe COVID-19!
Medical News
: In a groundbreaking study conducted by researchers at the Ragon Institute of MGH, MIT, and Harvard, USA, a previously unidentified subset of B cells has been found to infiltrate inflamed tissues in autoimmune fibrosis and severe COVID-19. These new study findings shed light on potential drivers of inflammation and fibrosis and offer new avenues for targeted therapies. This discovery has the potential to revolutionize our understanding of autoimmune diseases and severe COVID-19, leading to improved treatment options and better outcomes for patients.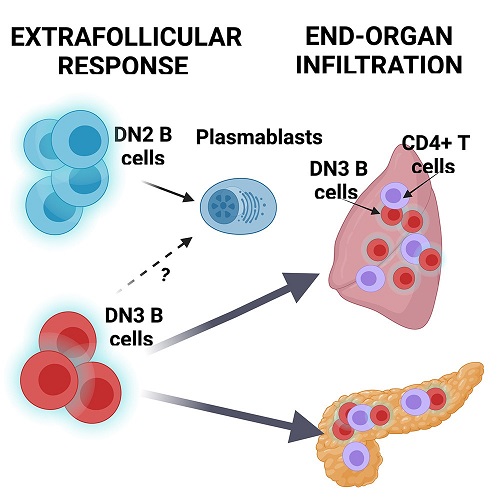 Graphical Abstract



The Hidden Culprits
Although B cell depletion therapy has proven successful in resolving inflammation in various diseases, the specific B cell subsets responsible for disease progression have remained elusive. The study identifies a unique subset of B cells called extrafollicular IgD-CD27-CXCR5-CD11c- DN3 B cells, which accumulate in the blood of patients with IgG4-related disease (IgG4-RD) and severe COVID-19. These DN3 B cells exhibit a propensity to infiltrate the end-organs affected by these conditions, suggesting their involvement in driving tissue inflammation and fibrosis.
The Role of Tissue-Infiltrating DN3 B Cells
The study highlights the physical interaction between DN3 B cells and CD4+ T cells within inflamed tissues. This interaction implies a potential collaboration between these cell types in promoting inflammation and fibrosis. By infiltrating the affected organs, DN3 B cells may play a crucial role in the initiation and progression of fibrotic diseases like IgG4-RD and severe COVID-19.
Corresponding author, Professor Dr Shiv Pillai, principal investigator at Ragon Institute told Thailand
Medical News
, "DN3 B cells might potentially contribute to the initiation of fibrosis in both IgG4-RD and in COVID-19 and should be investigated as possible drivers of persistent inflammation and fibrosis in the post-acute sequelae of COVID-19."
Further investigation into the biology of DN3 B cells could pave the way for targeted therapies that specifically address their contribution to inflammation and fibrosis.
Implications for Treatment
The identification of disease-specific extrafollicular B cells infiltrating tissues offers a new perspective on the pathogenesis of autoimmune fibrosis and severe COVID-19. Understanding the unique biology and functions of DN3 B cells may lead to the development of more effective treatments for conditions such as IgG4-RD and other fibrotic diseases, including severe COVID-19. This discovery also opens up possibilities for managing post-acute sequelae associated with COVID-19, potentially alleviating the unwanted long-term effects of the disease.
The Quest for Better Therapies
The study's findings prompt important questions regarding the effectiveness of B cell depletion therapy in fibrotic diseases where autoantibodies are not central to the pathogenesis. The study team aim to uncover the precise mechanisms by which DN3 B cells contribute to inflammation and fibrosis, potentially influencing myeloid cells, fibroblasts, and myofibroblasts. By unraveling the mysteries surrounding DN3 B cells, scientists hope to develop targeted therapies that provide more tailored and efficient treatments for IgG4-RD, severe COVID-19, and other fibrotic diseases.
Conclusion
The discovery of tissue-infiltrating DN3 B cells in autoimmune fibrosis and severe COVID-19 represents a significant breakthrough in our understanding of these diseases. This newfound knowledge has the potential to revolutionize treatment approaches, offering hope for improved outcomes and better quality of life for patients. By exploring the intricate interplay between B cells and T cells within inflamed tissues, researchers can unlock the secrets behind inflammation and fibrosis, paving the way for innovative therapies that specifically target the underlying causes of these conditions.
The study findings were published in the peer reviewed journal: Cell Reports.
https://www.sciencedirect.com/science/article/pii/S2211124723006411
For the latest
Medical News
, keep on logging to Thailand Medical News.