Cannabis News
: A recent study conducted by researchers from Oregon Health & Science University (OHSU-USA) has shed new light on the effects of chronic cannabis use on male fertility.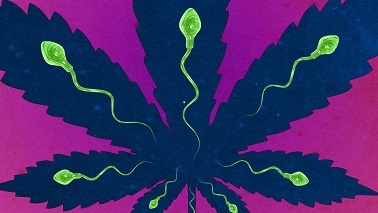 The research, which focused on nonhuman primates, confirms that long-term THC consumption can have a significant impact on reproductive health. However, the study also brings a glimmer of hope by revealing that discontinuing THC use can partially reverse these effects.
This groundbreaking research provides valuable insights into the reversible nature of cannabis-induced male fertility impairment.
THC or delta-9-tetrahydrocannabinol, the primary psychoactive compound in cannabis that is widely used by men of reproductive age in the United States and around the world. Yet, the lack of safety data regarding THC poses a considerable risk to reproductive health, with users often unaware of the potential harm.
With this in mind, the OHSU study aimed to deepen our understanding of the reversibility of THC's impact, enabling healthcare providers to better counsel patients on the risks associated with THC use when planning to conceive.
Dr Jamie Lo, the corresponding author of the study, emphasizes the importance of researching and educating individuals about the implications of THC on reproductive health. As cannabis use continues to rise and more states legalize its consumption, this knowledge becomes increasingly vital.
Dr Lo told
Cannabis News
reporters at TMN, "These findings are important because we can now more confidently assure patients that by abstaining from THC for at least four months, the impacts of THC on male fertility can be partly reversed."
Armed with this information, healthcare providers can offer concrete recommendations to patients engaged in family planning or actively trying to conceive.
The research also involved a multidisciplinary team, including experts from OHSU, the University of Georgia, and Duke University. Using nonhuman primates as a model, the study team administered progressively increasing doses of THC over a seven-month period. They closely examined changes in the reproductive organs, testes, and sperm quality and quantity.
The study findings revealed that THC exposure led to a significant reduction in testes size and disrupted male reproductive hormones, both of which have a negative impact on overall fertility. Furthermore, THC exposure affected the sperm's gene regulation, particularly genes linked to the development of the nervous system, including those associated with autism spectrum disorder.
Interestingly, when THC use was discontinued for approximately four months, the study team observed partial reversal of these adverse effects, indicating that chronic THC-induced damage can be mitigated. While further research is necessary to fully understand the underlying biological mechanisms of this reversal process, the study's findings already provide valuable initial insights. The information obtained can guide healthcare providers in effectively counseling patients on cannabis use prior to attempting to conceive.
gt; Dr Jason C. Hedges, the lead author of the study, stresses the importance of this research, particularly for teenagers and young adults who might not prioritize family planning.
He warns that even moderate doses of THC can impact fertility outcomes, making it a serious concern for healthcare providers. Dr Hedges states, "The more we can understand and define this issue, the better information we can provide to patients to optimize their reproductive health."
Moving forward, the study team aims to expand their knowledge of the relationship between THC and reproductive health. Ongoing studies will investigate the effects of chronic THC use over extended periods and through various modes, such as vaping. Additionally, they plan to explore the impact of THC on fetal and offspring development.
As cannabis continues to gain acceptance and prevalence in society, it is crucial to comprehend its potential effects on reproductive health. The research conducted by OHSU provides hope by demonstrating the partial reversibility of male fertility impairment caused by chronic THC use. With further research, healthcare providers will be armed with a deeper understanding of the risks and benefits associated with cannabis, empowering them to offer more informed and effective guidance.
The study findings were published in the peer reviewed journal: Fertility & Sterility.
https://www.fertstert.org/article/S0015-0282(23)00167-X/fulltext
For the latest
Cannabis New

s
, keep on logging to Thailand Medical News.