Elon Musk Stirs the Crypto Pot: Twitter Bird Replaced with Shiba Inu image, Dogecoin Skyrockets Amid Lawsuit
In a move that left the internet buzzing, Twitter CEO Elon Musk replaced the platform's iconic bird logo with a Shiba Inu image, the symbol of the meme-based cryptocurrency Dogecoin.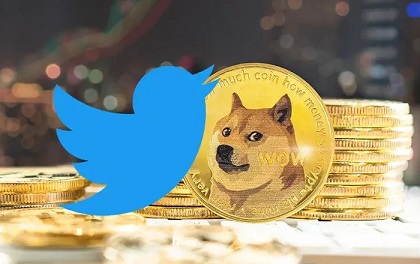 The change came as Musk faced a $258 billion racketeering lawsuit accusing him of running a pyramid scheme to support Dogecoin.
This bold move led to a surge in Dogecoin's value, with a more than 30% increase, further fueling the ongoing controversy surrounding Musk's involvement with the digital currency.
Dogecoin, created as a joke in 2013 by two software engineers, has become the eighth-most valuable cryptocurrency, with a market cap of over $13 billion. The
Shiba Inu
mascot is a nod to the popular "doge" meme that gained traction a decade ago. Despite its humorous origins, the cryptocurrency has seen massive growth, partly due to Musk's public endorsement and promotion.
The legal battle began in June 2022, when Musk was named in a lawsuit filed in the U.S. District Court for the Southern District of New York. The plaintiffs accused him of engaging in racketeering by promoting Dogecoin, pointing to his appearance on "Saturday Night Live," where he called Dogecoin a "hustle." Musk's legal team filed a motion on March 31 to have the lawsuit dismissed, calling it a "fanciful work of fiction" based on his "innocuous and often silly tweets."
Musk's public endorsement of Dogecoin goes beyond tweets and memes. Tesla, another of his companies, announced in December 2021 that it would accept Dogecoin for some merchandise. Following that announcement, Dogecoin's value rose more than 20%. In January 2022, when Musk revealed that Dogecoin payments were live, the cryptocurrency's value jumped as much as 15%. Tesla still accepts Dogecoin as payment for some merchandise and has not sold any of its holdings.
While Twitter's logo change may not be permanent, it has undoubtedly stirred the pot and generated significant attention for both Musk and Dogecoin. The billionaire's influence on the cryptocurrency market continues to be a topic of debate, as the legal battle unfolds and the digital currency world watches closely.
With Dogecoin's market cap and notoriety on the rise, it remains to be seen how this high-stakes drama will play out and what other surprises Elon Musk has in store for his followers and critics alike.
Verification Check Mark Saga
Over the weekend, Twitter users expected a significant change in the platform's verification check marks. However, the anticipated removal of check marks from celebrities, politicians, and other notable figures did not occur on a large scale. The verification check mark changes were part of Elon Musk's strategy after purchasing Twitter for $44 billion. The new approach required users to pay $8 per month for Twitter Blue to maintain their verification badges.
While some verified users lost their check marks, the majority retained them, causing concerns about Twitter's credibility. Impersonations surged after Musk announced the changes, leading to Twitter pausing sign-ups for Twitter Blue. Last month, Twitter stated that check marks would be removed for non-paying users starting April 1, with organizations charged $1,000 per month for gold check marks.
Some verified users refused to pay for a previously free feature, and news organizations like The New York Times, The Washington Post, and Politico stated they would not pay for verification, arguing that credibility and authenticity were lost since anyone could purchase a badge.
For the latest news about Twitter or Dogecoin, keep on logging to the Non-Medical News Section Of Thailand Medical News.