COVID-19 News: Excess Deaths Are Increasing In Europe And Especially More So In The United Kingdom!
COVID-19 News
: The latest European mortality monitoring project report for the second week of January 2023 has shown that excess deaths are increasing by more than 35% for most of Europe and considering that the data is based on compiled reported data from various countries in Europe, we can easily assume that the actual figures could be much higher as many governments are trying to conceal actual data or are still downplaying the fallouts from exposure of the SARS-CoV-2 spike proteins either via natural infections or via forced 'prophylactic' programs!
https://www.euromomo.eu/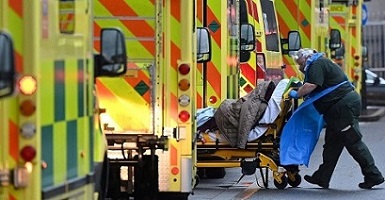 In the week ending 13 January 2023 (Week 2), 17,381 deaths were registered in England and Wales; this was 19.5% above the five-year average (2,837 excess deaths).
https://www.ons.gov.uk/peoplepopulationandcommunity/birthsdeathsandmarriages/deaths/datasets/weeklyprovisionalfiguresondeathsregisteredinenglandandwales/2023
Again, local British experts and researchers are contradicting these released figures as daily scenes for the last 30 days at the various hospitals, mortuaries and undertakers across the United Kingdom do not correlate with these figures which are in reality much higher!
Preliminary data is showing that many are dying from the usual causes of heart failures and other cardiovascular issues, strokes, sepsis and organ failures!
While daily reporting of COVID-19 statistics has been stopped in many European countries and the Western mainstream media has stopped reporting about the seriousness of the COVID-19 crisis, hospitals continue to be overrun with the sick and infected, and many public healthcare infrastructures in various European countries including the British NHS have either collapsed or are in the state of nearing collapse.
It is amazing to watch in this present age and time with advances in technology and communications, as to how a group of elites controlling the COVID-19 narratives can get way with hiding the catastrophic impact of the ongoing COVID-19 crisis with the aid of mainstream media and the big tech companies, and many of the ignorant masses are simply oblivious of what is really happening.
To add to the mess, we have many stupids who still think that COVID-19 is made up or that it is as mild as flu or that things have returned to normal now or that we have attained herd immunity!
While the most of the current SARS-CoV-2 variants, subvariants, sub-lineages and recombinant variants now in circulating do not cause much disease severity during the acute stage of infection, (except for those in the vulnerable group), there is increased mortality within 30 days of infection and also thereafter. The same goes for all that have been given the spike proteins through so called 'prophylactic' shots!
https://www.thailandmedical.news/news/covid-19-updates-new-variants-will-not-cause-much-severity-in-acute-phase-of-infection-but-increases-mortality-risk-within-30-days-of-infection& lt;/a>

What is worse is that with the debut of many new BA.5 sub-lineages such as the new BE, BF, BQ, BW, DF, DJ and many new BA.5.2 sub-lineages spotting more immune evasive mutations, many will be subject to reinfections and immunity imprinting effects, with increasing risk for disease severity and mortality!

https://www.thailandmedical.news/news/covid-19-news-stupids-saying-that-china-variants-have-been-circulating-before-bf-7-14,-ba-5-2-48,-ba-5-2-49-are-new,-past-exposure-to-ba-5-will-not-he
We have already covered in our past
COVID-19 News
coverages our hypothesis that many exposed to the SARS-CoV-2 virus, only have about 5 to 8 years left and that reinfections will also help shorten their remaining lifespans and that worse, those with certain genetic issues or host gene variants, will have increased risk of mortality upon exposure to the SARS-CoV-2 spike proteins.
https://www.thailandmedical.news/news/breaking-hypothesis-that-majority-exposed-to-sars-cov-2-will-have-shortened-lifespans-validated-by-study-showing-nsp2-impairs-human-4ehp-gigyf2-comple
https://www.thailandmedical.news/news/most-who-have-been-exposed-to-the-proteins-of-the-sars-cov-2-virus-will-have-shortened-lifespans-stop-using-fluvoxamine-for-ba-2-infections
The nucleocapsid or N proteins or the SARS-CoV-2 virus is also as dangerous as the spike proteins and plans to include more of them along with the spike proteins in the next generation 'prophylactic' shots is a disaster in the making!
People need to pay attention to the excess death rates as these figures are expected to rise exponentially at a rate never seen in the history of mankind in the next few years!
For the latest
COVID-19 News
, keep on logging to Thailand Medical News.