Abbott's Tendyne Transcatheter Mitral Valve Replacement (TMVR) System Shows early Promise In Early Clinical Studies
Summit, the pivotal trial of Abbott Laboratories' Tendyne transcatheter mitral valve, will not read out until 2021, but early data from a small feasibility trial of the device give a hint of how it might perform in one of Summit's patient cohorts: those with mitral annular calcification (MAC). One-year data on the first nine patients in Abbott's 30-patient feasibility study, all of whom had severe MAC, suggest that the device allows mitral regurgitation relief and symptom improvement.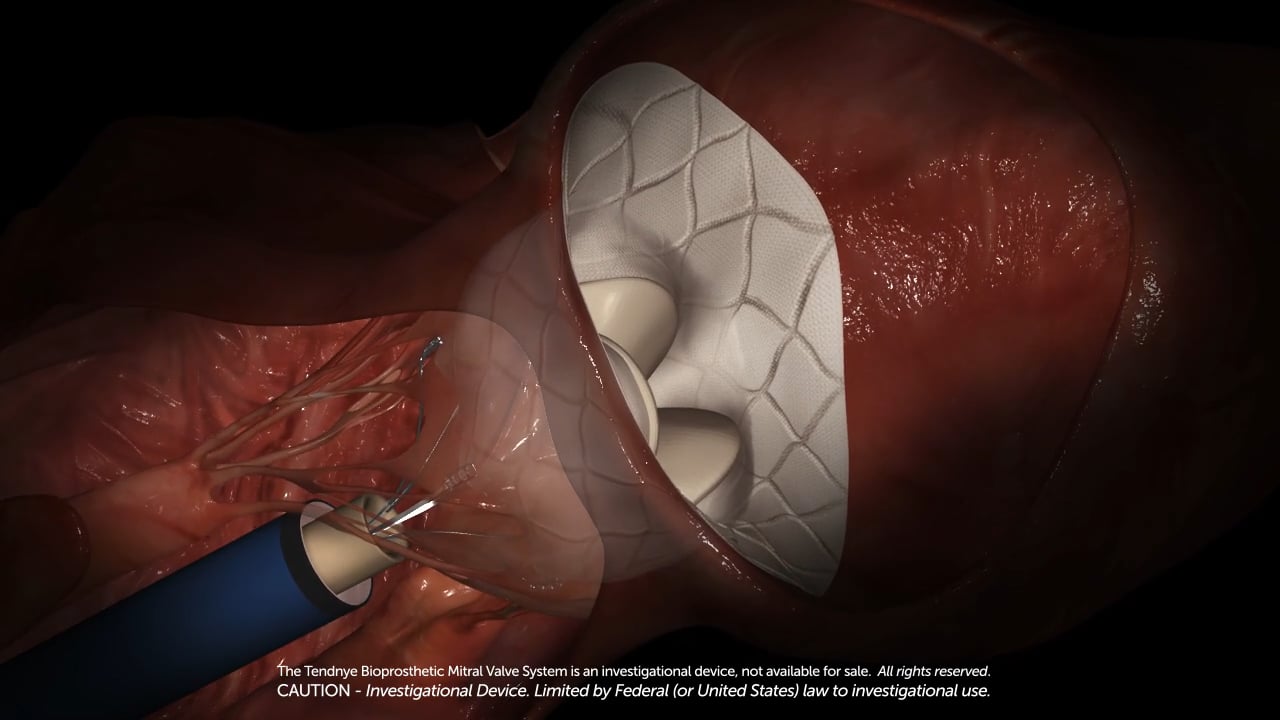 Abbott's Tendyne Transcatheter Mitral Valve Replacement (TMVR)
But further data will be necessary for approval, and that it might arrive even faster. Feasibility trial success could mean a new therapy in an even shorter time.
The data on the Tendyne valve published this month in the
Journal of the American College of Cardiology
, are the first of a dedicated transcatheter mitral valve in patients with severe MAC. MAC occurs when deposition of calcium causes the mitral valve annulus to become less flexible and thicker. In many patients, MAC can be severe and invade the myocardium, posing challenges for open surgical correction, potentially including atrioventricular groove disruption, a surgical complication that is nearly always fatal. Moreover, MAC frequently is accompanied by severe morbidities that significantly increase surgical risk, such as coronary atherosclerosis, inflammatory disorders, and renal failure.
Past attempts at treating these patients have involved the off-label use of transcatheter aortic valves, and indeed an investigator-initiated feasibility study of this procedure using Edwards Lifesciences' aortic valves, is ongoing. But use of aortic valves in this population has been associated with high rates of residual mitral regurgitation in which the valve closes imperfectly, allowing blood to leak back into the left atrium and conversion to open heart surgery, and a mortality rate of around 25%.
Fortunately the Tendyne device acquitted itself reasonably well. It was successfully implanted, and resulted in relief of mitral regurgitation in all nine patients.
None of the patients died during the implantation procedure, though during a median follow-up of 12 months there was one cardiac death and one noncardiac death.
There was no dysfunction of the implant, and mitral regurgitation remained absent in all treated patients. Two patients were readmitted to hospital for heart failure; neither died. Clinical improvement with mild or no symptoms occurred in all patients alive at the end of follow-up.
SUMMIT, a pivotal clinical study of the TMVR system will involve up to 1,010 patients who will be enrolled in up to 80 sites in the pivotal trial.
Abbott said the investigational Tendyne device is the first and only mitral valve replacement that can be repositioned and fully retrieved, allowing the surgeon to precisely place the device during implantation, which could improve patient outcomes. Tendyne is a tri-leaflet, bioprosthetic valve available in multiple sizes, and is stabilized by a pad and a tether mechanism that holds the pad in place where it's been implanted inside the native valve.
The study will determine if treatment with the Tendyne TMVR system is safe and effective for patients suffering from severe mitral regurgitation. SUMMIT investigators will evaluate a composite endpoint of death, cardiovascular hospitalization, stroke or reoperation at one year. The first several patients in the trial were treated at Ascension's Via Christi Hospital St. Francis in Wichita, KS. and the West Virginia University Heart and Vascular Institute in Morgantown, WV.
TMVR NEXT BIG THING IN THE MEDICAL DEVICES MARKET
From
Thailand Medical News perspective
, TMVR is the next frontier for many medtech companies. It has been long believed that TMVR could represent the next big multi-billion opportunity in medtech. Three years ago, a flurry of M&A, investments, and consolidation took place in the TMVR market.
Small companies with catheter-mounted mitral valve prostheses have been the subject of furious deal-making by the big medtech players in cardiology.But no such device is yet approved, and trial data on these technologies has been fairly thin on the ground.
Abbott significantly strengthened its mitral valve portfolio in 2015 when it acquired Tendyne for $250 million. Around the same time Abbott made an unspecified investment in Santa Cruz, CA-based Cephea Valve Technologies, a mitral valve repair company.
Not to be left out of the TMVR action, Medtronic picked up twelve in a deal worth up to US$458 million, shortly after the Tendyne acquisition was announced.
Transcatheter aortic valve replacement pioneer, Edwards Lifesciences began heavily making moves in the space when it acquired CardiAQ Valve Technologies for about US$350 million. The Irvine, CA-based company also acquired Or Yehuda, Israel-based Valtech Cardio Ltd for about US$340 million with about US$350 million in milestone payments.
The Valtech acquisition yielded Edwards the Cardioband, a transcatheter ring technology that is set to compete firmly against Abbott's MitraClip.
LivaNova made a significant acquisition in TMVR when it acquired Maple, MN-based Caisson. London-based LivaNova had been investing in Caisson since 2012 and picked up the remaining 51% of the company for about US$72 million.
Despite TMVR being a lucrative market, some companies have not had a smooth ride in the space. In May, Vancouver-based Neovasc said its revenue declined by 78% from $339, 922 for the first quarter of 2018 compared to revenues of US$1.5 million from the same period in 2017.
Neovasc has the Tiara TMVR system, which is delivered through the apex of the heart to replace the mitral valve while preserving the integrity of the surrounding structures of the heart. Just last month, the company announced the first patient in the U.S. has been implanted with a Neovasc Reducer, a CE-Marked medical device for the treatment of refractory angina in a compassionate use case.
However in the TMVR market sector, it looks like Abbott's Tendyne might beat all in the race and make a huge financial killing as it is seems as the only ahead of the game in terms of the success of its early clinical trials.