Canon's New Aquilion ONE / PRISM Edition Spectral CT Scanner Already Getting Massive Orders In Asia
Despite only being unveiled at the RSNA 2019 conference in Chicago, a forthnight ago, Canon Medical's brand new
Aquilion ONE / PRISM Edition spectral CT scanner,
a system that takes advantage of artificial intelligence technologies is already getting massive orders in Asia including one for new hospital in Bangkok, 3 for new hospitals in Vietnam, 3 for hospitals in India and more in the pipeline. This despite the fact that the device is yet to be cleared by the US FDA.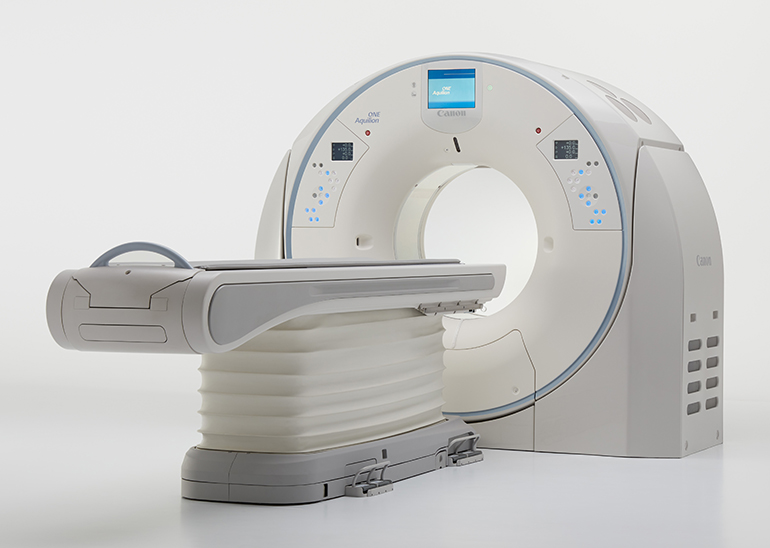 The new device relies on Canon's Advanced intelligent Clear IQ Engine (AiCE) along with its Deep Learning Spectral Reconstruction imaging algorithms to improve capabilities when scanning patients using both conventional and spectral computed tomography.
AiCE is yet to be FDA cleared, but it's a system that uses deep learning to identify true signals from the noise, resulting in clearer, sharper images. The technology was trained using previously acquired data and is applicable when scanning all parts of the body, including the lungs, brain, and heart.
The Deep Learning Spectral Imaging is also pending FDA clearance, and it takes advantage of rapid kV switching with patient-specific mA modulation, full field of view acquisition, and a large coverage area, and uses these within a deep learning reconstruction algorithm to guarantee high energy separation and low noise.
The new Aquilion ONE / PRISM Edition spectral CT scanner also comes with a new CT fluoroscopy interface for fast procedural workflows and single person operation.
Erin Angel, managing director, CT Business Unit, Canon Medical Systems USA told
Thailand Medical
news, "The intelligent technologies that make up the Aquilion ONE / PRISM Edition give healthcare providers the clinical confidence they need to reach new heights from both a clinical and business perspective. Canon Medical's deep learning reconstruction technology is pushing routine diagnostic imaging into the age of AI assisted imaging, revolutionizing patient care by enabling improved diagnostic confidence."
In terms of MRI Devices and CT Scanners, Siemens Healthineers is the leading market leader with Canon fast catching up. The rest of the brands do not have much credibility due to backward and non-innovative technology, constant technical issues, bad customer support and complacent marketing and sales teams.
For more details visit: https://us.medical.canon/