Experts And Health Authorities Claims That Current SARS-CoV-2 Sub-Lineages Do Not Cause Disease Severity. So Why Are COVID-19 Hospitalizations Increasing?
COVID-19 News
: We have been told by health authorities and so-called 'experts' that the current SARS-CoV-2 sub-lineages do not cause disease severity nor they increase the risk of mortality and many use terms like asymptomatic infections and mild symptomatic as being associated with the new SARS-CoV-2 sub-lineages in circulation.
https://www.washingtonpost.com/health/2023/08/08/eris-covid-variant-eg-5-omicron/
https://www.cbsnews.com/news/new-covid-2023-variant-eg5-strain-what-to-know/
https://www.nationalheraldindia.com/health/scientists-say-eg51-nicknamed-eris-will-not-cause-a-severe-covid-infection
https://www.who.int/docs/default-source/coronaviruse/09082023eg.5_ire_final.pdf?sfvrsn=2aa2daee_1
https://www.aljazeera.com/news/2023/9/4/what-is-pirola-the-newest-ba-2-86-coronavirus-variant-that-is-spreading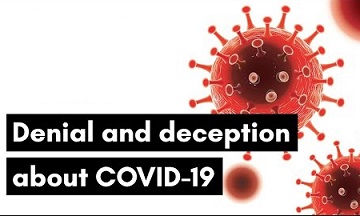 However, reports and
COVID-19 News
coverages from various sources including the WHO, U.S. CDC and UKHSA themselves also claim that COVID-19 hospitalizations are increasing at rates that are concerning!
https://www.thailandmedical.news/news/covid-19-news-world-health-organization-says-current-covid-19-trends-are-alarming-as-infections,-hospitalizations-and-deaths-rise-even-before-winter
https://www.usnews.com/news/health-news/articles/2023-09-06/cdc-new-covid-19-hospitalizations-increase-nearly-16
https://news.sky.com/story/covid-19-hospital-admissions-in-england-reach-three-month-high-12951658
So if the current new SARS-CoV-2 sub-lineages in circulation are not driving disease severity and hence the increase in COVID-19 hospitalizations, why are COVID-19 hospitalizations increasing even among the fully vaccinated and boostered?
Is COVID-19 triggering some neuropsychiatric fetishes that is driving people to want to be hospitalized?
https://twitter.com/Thaila ndMedicaX/status/1698514784428163273
Maybe the health authorities and experts can give a more detailed explanation and please do not use the excuse waning immunity….we are specifically talking about the claims made by the buffoons that these current SARS-CoV-2 sub-lineages do not drive disease severity!
We have not even touched on the issue of COVID-19 deaths and also excess deaths in the last 6 weeks…both of which preliminary data shows is also on the increase literally everywhere! (We will be covering this in detail in a coming article.)
Readers show also take note that in the initial days of the start of the Delta surge and also the Omicron surge, we were also told similarly that these strains do not drive disease severity!
In fact, during the whole pandemic were told many lies by various health agencies, authorities and 'experts"at various stages ie the virus was not transmissible between humans, the virus was not air-borne, the virus will not mutate and if does it will die down, viral persistence does not exist, the vaccines will help control the spread and transmissions of the SARS-CoV-2 virus etc, COVID-19 is over…etc! The latest ones in the last few days are that the new COVID-19 boosters featuring the spike proteins of the XBB.1.5 are effective against the new SARS-CoV-2 variants such as EG.5.1, FL.1.5.1, GJ.1.2, HK.1 HK.3, HV.1 and even against the BA.2.86 variant. All these based on mere in vitro studies using serum from previously infected individuals who had the XBB.1.5 strain! (Some media even when to describe these studies as clinical studies and some were studies by the vaccine manufacturers themselves hence we can be guaranteed of bias findings while the rest were by labs or experts who had financial ties with these vaccine manufacturers directly or indirectly!).
Actual frontline healthcare staff are concerned and are saying that some of the new SARS-CoV-2 variants like FL.1.5.1, GJ.1.2, HK.1, HK.3, HV.1 and also the new BA.2.86 are actually driving disease severity!
More concerning are many other variants that no one is talking about but are also starting to increase in circulation in specific geo-locations and are driving disease severity.
https://www.thailandmedical.news/news/breaking-covid-19-news-forget-sars-cov-2-ba-2-86,-11-sequences-of-new-variant-discovered-in-india-with-triple-mutations-that-enhances-fusogenicity
https://github.com/cov-lineages/pango-designation/issues/2223
https://github.com/cov-lineages/pango-designation/commit/68ae5bfcd50c2eed683568680fbdef2f8ddb011b
This sub-lineage now designated as XBB.1.16.24 seems to be indeed driving disease severity but no one is referring to it and Indian authorities are concealing its spread and hospitalizations arising due to it!
The only thing that I can warn all readers is that to avoid believing anything that is told to you and instead do you own due diligence and start taking your own COVID-19 preventive measures including masking, social distancing, taking the right prophylactics and also installing air filtration and disinfections in your homes, offices, shops etc.
Rest assured..while the authorities and mainstream media might continue to downplay and conceal actual COVID-19 data, the coming winter of 2023/2024 is going to be real bad and will supersede all previous COVID-19 records in terms of infections and fatality!
For the latest
COVID-19 News
, keep on logging to Thailand Medical News.