Dengue News: Health Authorities Warn That Dengue Infections Are Rising Exponentially In Mexico
Dengue News
: Mexico is grappling with an alarming surge in dengue fever infections, as health authorities issue urgent warnings and scramble to control the escalating crisis. Dengue fever, a mosquito-borne viral illness, has seen an exponential rise in Mexico, particularly in Yucatan State, where the situation is dire. As of September 24, 2023, there have been 23,241 confirmed cases of dengue fever in Mexico, with an additional 132,307 probable cases, marking a stark contrast to the 2022 figures, which stood at 5,577 confirmed cases and 31,122 probable cases for the same period.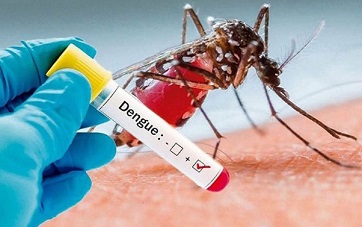 This rapid increase has sounded alarm bells across the country, with Yucatan State being the hardest hit, recording 5,780 confirmed cases according to latest local
Dengue News
updates.
The dengue fever outbreak in Mexico is a year-round concern, but the risk escalates significantly from June to October when mosquito activity peaks. In 2022, there were approximately 59,918 reported cases of dengue fever, followed by 36,742 cases in 2021, 120,639 cases in 2020, and a staggering 268,458 cases in 2019, highlighting the cyclical nature of this mosquito-borne disease.
Dengue fever is transmitted through the bite of infected Aedes mosquitoes, primarily Aedes aegypti. Its symptoms include sudden onset fever, severe headache, pain behind the eyes, muscle and joint pain, rash, easy bruising, and nose or gum bleeding. These symptoms usually manifest 5-7 days after being bitten, but the incubation period can extend up to 10 days. In severe cases, dengue fever can progress to a more life-threatening condition known as dengue hemorrhagic fever (DHF) if not promptly diagnosed and treated. DHF can lead to fatal outcomes, making early medical intervention crucial.
As the dengue fever outbreak intensifies in Mexico, health authorities are urging residents to take preventive measures seriously. There is a dengue fever vaccine available, but it is recommended only for individuals with a history of dengue infection and in areas with high dengue transmission rates. Preventive actions include avoiding mosquito bites, eliminating mosquito breeding sites by removing standing water, and seeking immediate medical attention if symptoms develop within two weeks of being in affected areas. Importantly, aspirin or ibuprofen should not be used if dengue fever is suspected, as they can worsen bleeding tendencies associated with the disease.
The Dengue Fever Crisis Deepens in the Yucatan Peninsula
The Yucatan Peninsula, comprising the states of Yucatan, Quintana Roo, and parts of Campeche and Tabasco, is currently facing the brunt of the dengue fever crisis in Mexico. Yucatan and Quintana Roo, in particular, have seen a fourfold increase in dengue cases compared to the previous year, with Yucatan reporting 5,780 confirmed cases and Quintana Roo recording 3,076 confirmed cases as of the latest reports.
The alarming rise in cases has also been accompanied by an increase in dengue-related fatalities. Across Mexico, 48 people have succumbed to the disease in 2023, nearly triple the number of deaths reported during the same period in 2022, which stood at 14. Among the hardest-hit states in terms of fatalities are Morelos with eleven deaths, Quintana Roo and Yucatan with seven death s each, and Veracruz with four deaths.
The situation in Quintana Roo is particularly concerning, as the state has witnessed the highest incidence of dengue fever in the past 11 years. In response to this crisis, the Quintana Roo government has allocated a historic investment of 168 million pesos to bolster dengue prevention efforts. This investment includes funding for improved fumigation and larval control tools, as well as the acquisition of specialized equipment and vehicles.
In Yucatan, where more than half of the cases are classified as severe dengue with warning signs, efforts to combat the outbreak are also underway, with extensive fumigation and mosquito breeding site inspections being conducted by health authorities. Despite these efforts, the dengue fever situation remains critical in the Yucatan Peninsula, requiring a multi-pronged approach to mitigate its impact.
Puebla's Battle Against Dengue
Puebla, a state in central Mexico, has not been spared from the dengue fever onslaught. As of September 23, 2023, Puebla has reported a total of 1,646 accumulated cases of dengue, spread across 80 municipalities. The majority of these cases are concentrated in municipalities such as Izúcar de Matamoros, Tehuacán, Acatlán, Tepexco, and Tepexi de Rodríguez, where 50.6 percent of the infections are clustered.
In the past 24 hours alone, Puebla has recorded an additional 24 new cases of dengue infections, with one patient requiring hospitalization and one new death.
The state currently has 220 active COVID-19 cases, with nine individuals hospitalized, including one requiring assisted mechanical ventilation.
Health officials in Puebla are urging residents to promptly seek medical attention if they experience symptoms like nausea, fever, or skin rashes.
The government of Puebla is emphasizing the importance of continued adherence to preventive measures and hygiene practices to curb the spread of both dengue and COVID-19.
Tabasco's Dengue Resurgence Amidst Budget Cuts
In Tabasco, the resurgence of dengue fever has raised concerns, with 740 cases already reported in the first nine months of 2023, a figure representing approximately 77 percent of the total cases reported in the previous year.
Tabasco has experienced four dengue-related deaths this year, and 76 individuals are currently hospitalized due to dengue infections, further underscoring the gravity of the situation.
While budget cuts for dengue prevention programs were not directly addressed, health authorities are urging citizens to take preventive actions, such as covering water containers to prevent mosquito breeding sites. In 2022, Tabasco recorded 966 dengue cases, surpassing its 2021 figure of 939, and it is expected that the state may surpass these numbers again in 2023, maintaining its position as one of the most affected regions in the country.
The resurgence of dengue in Tabasco serves as a stark reminder of the importance of sustained efforts to combat the disease, particularly in the face of budgetary constraints.
Conclusion
Mexico is facing a growing health crisis as dengue fever infections continue to surge, with the Yucatan Peninsula, Puebla, and Tabasco being the hardest-hit regions. The rapid increase in cases and deaths underscores the urgency of implementing effective prevention measures, including mosquito control and public awareness campaigns.
For the latest
Dengue News
, keep on logging to Thailand Medical News.