H5N1 Avian Flu News: Unknown To Many, Studies Have Shown That H5N1 Bird Flu Virus Can Be Transmitted By Houseflies, Mosquitoes And Other Insects!
H5N1 Avian Flu News
: While current safety guidelines issued by the WHO and U.S. CDC are warning that people should not directly touch any dead wild birds, chickens or any other animals as a result of the H5N1 Avian Flu virus that is currently circulating around in many countries, many are unaware that houseflies and other insects such as mosquitoes, blow flies and beetles can also act as vectors for the H5N1 Avian Flu virus!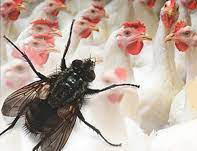 Studies have showed that common houseflies are able to help spread the H5N1 bird flu virus across long distances, infecting other wild birds and poultry.
https://www.ncbi.nlm.nih.gov/pmc/articles/PMC7194295/
https://www.canadianpoultrymag.com/flies-and-avian-influenza-1187/
https://www.thepoultrysite.com/news/2007/07/houseflies-can-spread-bird-flu-virus-study
https://english.fleischwirtschaft.de/economy/news/Houseflies-can-transmit-bird-flu-9569
In fact, houseflies can also act as reservoirs and vectors of numerous other Avian Flu viruses such as H5N7 and H7N1 as well as shown in a previous study.
https://pubmed.ncbi.nlm.nih.gov/21661322/
Studies have also confirmed that mosquitoes can also act as vectors to transmit the virus.
https://pubmed.ncbi.nlm.nih.gov/18279078/
During the 2004 H5N1 outbreak, Asian scientists identified the H5N1 Bird Flu virus in blowflies caught near a poultry farm in Kyoto in western Japan, which had experienced a disease outbreak in the preceding months.
https://www.ajtmh.org/view/journals/tpmd/75/2/article-p327.xml
In fact, some past
H5N1 Avian Flu News
coverages in the past have been warning about insects such as houseflies being able to spread the virus to bird, chickens and also humans!
https://www.positiveaction.info/pdfs/articles/pp14.2p7.pdf
https://www.wattagnet.com/articles/656-another-good-reason-to-control-houseflies-they-carry-bird-flu-virus
Besides insects, past studies have shown that Avian flu viruses can also use mice and rats as reservoir, multiplying in them without causing any harm to them while these animals can serve as vectors to help spread the virus!
37">https://www.tandfonline.com/doi/full/10.1080/01652176.2017.1325537
While we have not seen real evidence of human-to-human transmissions of the H5N1 Avian Flu virus yet, people should be warned that not only dead birds, chickens and other mammals or live infected ones can spread the virus to humans but that insects carrying the virus can also do so!
With the current situation where millions of birds, poultry and mammals being infected and insects also acting as vectors or reservoirs, we can expect to see more humans getting infected before a strain finally emerges that is capable of causing effective human-to-human transmissions.
People should take more precautions about the maintaining cleanliness in their surroundings and homes to deal with insects such as houseflies and mosquitoes etc. The same precautions should also be maintained in chicken farms etc.
For the latest
H5N1 Avian Flu News
, keep on logging to Thailand Medical News.