Interstitial Cystitis (IC) is a medical disorder where patients experience urgent and frequent urination and bladder pain in absence of a bladder infection. IC symptoms can result in poor quality of life with depression, sexual dysfunction, anxiety, sleep dysfunction, and stress.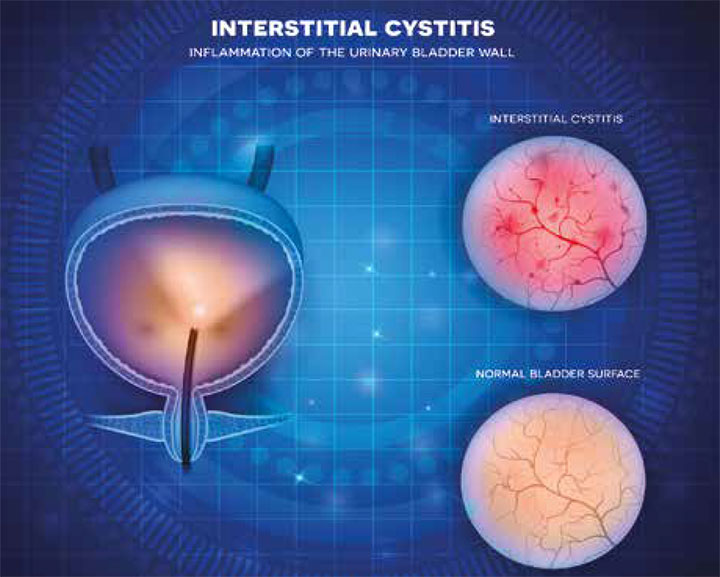 Typically, patients will suffer with painful urination, bladder pain, urgent or frequent urination and even after multiple antibiotics will sometimes have no relief. Symptoms frequently appear to be like those of a bladder infection but the urine analysis is usually negative. Some patients will make a number of trips to urgent care facilities through thinking that they are experiencing a urinary tract infection.
Patients would often suffer from IC flares in the form of frequent urination and increased pain, which can be extreme enough to cause them to visit the Emergency Room a number of times and sometimes imaging and lab studies which all show normal limits. On average, before the correct diagnosis is made, an IC patient sees six different healthcare professionals. Patients with IC are frequently misdiagnosed as having recurring UTIs.
Epidemiology and Diagnosis
The frequency of IC in women was 18.1 per 100,000. The annual incidence of new female cases was 1.2 per 100,000. It is three times more common in females than males. The prevalence in both sexes was 10.6 cases per 100,000.
The median age of onset is 40 years. Sometimes IC can be a diagnosis of exclusion. Interstitial Cystitis is usually diagnosed clinically by history, physical examination. Symptoms questionnaires and possibly a Potassium sensitivity test. Cystoscopy with hydrodistension and Urodynamics are other tools that can be utilized in difficult cases.
To diagnose IC, the Pain, Urgency Frequency (PUF) Questionnaire is one of the most common questionnaires utilized. Positive potassium sensitivity tests have been associated with High PUF Questionnaire scores.
Treatment
Along with diet and education, to improve coping strategies and manage stress-induced symptom exacerbations it is a clinical principle that patients should implement stress management methods. Oral and intravesical agents are second-line treatments included in American Urology Association AUA guidelines.
To treat the tenderness and tightness in the pelvic floor muscles, physical therapy may be used. This will also indirectly improve the associated sexual, urinary, and bowel symptoms. It is a further second-line recommendation by the AUA guidelines in treating Interstitial Cystitis.
Some patients with IC/BPS experience such extreme pain/tenderness or tightness of the pelvic floor that the muscles are resistant to manual therapy with a therapist. For these patients, some clinicians may advise injecting the specific muscle trigger points and the pelvic floor generally, with a combination of a long-acting local anesthetic and steroid in a systematic fashion.
Sacral neuromodulation has been discovered to be an efficacious and safe choice in more advanced cases, if the other treatments fail. It has been observed to reduce the narcotic medication needs in these patients. Results have been durable, with a reported success rate of 72% at a median follow up of 61.5 months.
References:
Acknowledgements
This article has been adapted from content authored by Dr. Mohamed Akl and Dr. Ahmed Akl at the AZ Urogynecology and Pelvic Health Center.
About AZ Urogynecology and Pelvic Health Center
The AZ Urogynecology and Pelvic Health Center is devoted exclusively to the diagnosis and treatment of all urogynecologic, pelvic floor disorders and complex gynecologic problems.
They offer a wide array of advanced diagnostic tools and specialized treatment options.
Visit their website for more details:
https://azurogyn.com/