Gut Microbiota
: According to Chinese researchers from Westlake University in Hangzhou, the composition of the gut microbiome could partially explain the difference in susceptibility of COVID-19 patients. As more evidence gathers on the gut microbiota's role in this disease, it could lead to effective diagnostic, prognostic and therapeutic options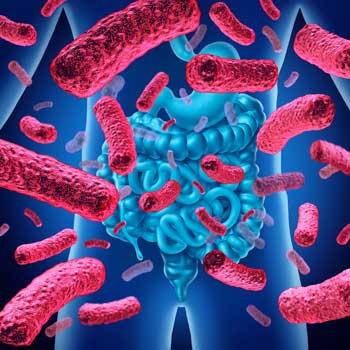 The study published on the preprint server medRxiv in April 2020 suggests that the composition of the gut microbiome could partially explain the difference in susceptibility. This adds a new dimension to what is currently known about the disease. It explains the role of gut microbiota in influencing lung diseases.
https://www.medrxiv.org/content/10.1101/2020.04.22.20076091v1
Dr Debojyoti Dhar
,
Co-founder and Director, Leucine Rich Bio, Institute of Science, Karnataka,had been studying the gut microbiota in detail for the past few years. his studies on this field led his team to important insights on the role of the gut microflora in various diseases.
Dr Dhar studied the possible role probiotics and prebiotics might play in health and disease and also with regards to COVID-19 and has published a research paper on the subject in the journal Virus Research.
https://www.sciencedirect.com/science/article/pii/S0168170220304603
He and his team looked at the so-called "gut-lung axis," role of gut microbiota in immunity and role of functional food including prebiotics and probiotics in infection and immunity.
Dr Dhar explains, "The most vulnerable group of the society to COVID-19 has been the elderly, immune-compromised people and patients with co-morbidities like type 2 diabetes, hypertension etc. It is quite established that the gut microflora of these individuals has a different profile as compared to the healthy.
This occurrence of microbial imbalance or dysbiosis has been studied in depth in many such conditions.
Furthermore, it is also known that with age, gut diversity is decreased. This, along with gut dysbiosis, can tilt the balance of the gut microflora towards a "non-healthy" state which might affect the vulnerability of such patients to various infections including Covid-19."
Past studies confirm that the gut microbiota plays a key role in health through its protective, trophic and metabolic actions.
Dr Dhar added, "To my knowledge, no major study has been published which profiles gut microbiota of COVID-19 patients as this is a novel virus-mediated disease. However, a small case series from China revealed that some patients with COVID-19 showed microbial dysbiosis."
Significantly, there are few factors that suggested a possible gut microbiota link to COVID-19:
-The presence of the SARS-Cov2 viral RNA or even live virus in the faeces of many of the affected patients.
-The various gastrointestinal symptoms in many patients.
-The fact that the most vulnerab le were the elderly, immune-compromised patients and patients with other co-morbidities. In all such people, gut dysbiosis and decreased gut diversity (especially in the elderly) have been observed.
-Earlier research had suggested gut microbiota link to lung infections.
Dr Dhar added, "There is now ample evidence that COVID-19 has some connection to the gastrointestinal tract as many patients show gastrointestinal symptoms and viral RNA or even live virus has been found in the faeces of many such patients. In fact, the Chinese research that is still under review suggests that COVID-19 severity may be linked to the gut microbiota."
According to the Chinese study, the composition of the gut microbiome could partially explain the difference in susceptibility of COVID-19 patients.
The researchers defined a set of blood-based proteomic markers that might predict the severability of COVID-19 in patients and they called it a Proteomic Risk Score (PRS). They found that as the PRS increased by 10 per cent, the risk of severe disease went up by 57 per cent.
The researchers further analyzed the gut microflora and found a superior correlation between the gut microflora and the PRS predicting severe COVID-19.
Dr Dhar shares that many researchers are now investigating the possible link of the gut microbiota in COVID-19. In fact, leading British scientists have urged the UK Government to examine the gut microbiota's role in COVID-19.
Hopefully with more research on the gut microbiota's role in COVID-19 disease, it will lead to effective diagnostic, prognostic and therapeutic options.
Dr Dhar also advocates gut microbiota-based personalized supplements that might aid in quicker recovery of patients.
For more research on
Gut-Microbiota
and COVID-19, keep logging to Thailand Medical News.
We Desperately Need Your Help
. Please Help To Sustain This Website And All Our Initiatives To Propel Research By Donating.
https://www.thailandmedical.news/p/sponsorship