COVID-19 Drugs: Repurposing Ensifentrine, A Chronic Obstructive Pulmonary Disease (COPD) Medication For Treating COVID-19
COVID-19 Drugs
: Ensifentrine a drug originally developed by UK based pharmaceutical cum biotech company Verona Pharma to treat chronic obstructive pulmonary disease or COPD could be a new treatment option for hospitalized COVID-19 patients. According to research this dual bronchodilator and anti-inflammatory drug be safe and effective in COVID-19 patients experiencing the debilitating effects of severe inflammation.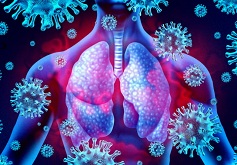 Ensifentrine as a novel dual inhibitor of PD3 and PD4 enzymes, acts as both a bronchodilator and an anti-inflammatory product. The drug also has an excellent safety profile that avoids the gastrointestinal challenges facing other COPD drugs.
To date, Ensifentrine has performed well so far in clinical trials. In May, Verona announced it was initiating the Phase III ENHANCE trial programme in COPD patients; the drug is being administered in a nebulised formulation in these trials. However, Verona is also establishing ensifentrine's efficacy and safety in dry powder inhaler and pressurized metered dose inhaler formats in Phase II studies.
In the context of the ongoing Covid-19 pandemic, Verona has decided to investigate in a pilot study whether ensifentrine could also help to treat patients hospitalized with Covid-19.
Verona CEO and President David Zaccardelli told Thailand Medical News, "We believe that ensifentrine, with its novel mechanism of action, will help patients to recover from the SARS-CoV-2 virus by improving patients' breathing and by reducing viral-induced inflammation and potentially delaying or avoiding progression to mechanical ventilation"
One of the key reasons as to why Verona believes that ensifentrine could be effective in improving outcomes for hospitalized COVID-19 patients is because the drug has "demonstrated pronounced bronchodilator effects in healthy subjects and in patients with COPD or asthma".
Ensifentrine has been shown to cause meaningful improvements in lung function, as well as helped to "decrease lung inflammation via reduction in local inflammatory cell numbers such as macrophages, neutrophils, eosinophils and lymphocytes". An excessive inflammatory response, often known as a cytokine storm, has been found to be a leading cause of disease severity and death from Covid-19.
Patients hospitalized with severe or critical Covid-19 have been shown in studies, including one published in May 2020 in Nature Medicine, to have higher levels of both macrophages and neutrophils in their bronchoalveolar lavage fluid, compared to moderate Covid-19 patients.
https://www.nature.com/articles/s41591-020-0901-
9
Zaccardelli added, "This means it is possible that resolving this inflammatory response might help prevent patient's worsening to respiratory failure, shock or multi-organ failure."
In addition, Zaccardelli notes that as it is an inhibitor of PDE4, ensifentrine is known to "reduce pro-inflammatory mediators, such as TNFa and IL-6", which also contribute to the cytokine storm and COVID-19 severity.
Besides dealing with infla mmation, ensifentrine activates the Cystic Fibrosis (CF) Transmembrane Conductance Regulator, which helps to improve mucociliary clearance. Research supported by the CF Trust and published in the
European Respiratory Journal
found that Covid-19 disrupted the ciliated epithelium and ciliary dyskinesia, which is likely to impair mucociliary clearance.
In order to determine ensifentrine's ability to reduce inflammation and improve mucociliary clearance in hospitalized COVID-19 patients, Verona is launching a US-based pilot study of 45 patients.
For the pilot trial, Verona will combine ensifentrine with standard of care treatments ie dexamethasone.
Zaccardelli explained, "This is because "ensifentrine is differentiated from other therapies by its novel dual mechanism of action and therefore could be complementary to anti-viral therapy and other systemic steroid therapy patients may be receiving as part of their standard of care, furthering the patient's ability to control the inflammation, acute symptoms and ultimately clear the virus."
A specially designed pressurized metered dose inhaler formulation of ensifentrine will be used in the pilot study.
Zaccardelli added, "Inhaled delivery ensures that ensifentrine will be delivered directly to the site of viral-induced inflammation in the lungs."
Upon this study trial being completed, and if it is successful, Verona will "discuss the study outcome and potential next steps with regulatory agencies". This would most likely to lead to further and larger, studies in hospitalized COVID-19 patients before Verona could consider applying for marketing approval.
For more on
COVID-19 Drugs
, keep on logging to Thailand Medical News.