The president of the Nursing Union of Thailand (NUOT) led a delegation to meet with the Thai Parliament's Extraordinary Commission on the Draft Amendment of Compensation Fund Act .NUOT's President, Ms Mullika Lunnajak, provided information on the actual experiences of nurses and other workers employed at state hospitals and workplaces across Thailand. Civil servants and other types of employees working at state hospitals, public schools, state universities, government ministries and other state agencies are excluded from the Compensation Fund Act and their grievances have not been taken seriously by their respective government agencies.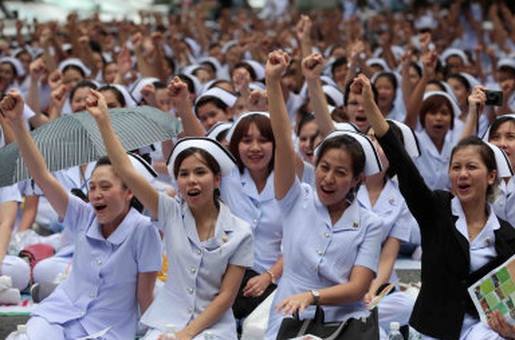 Ms Mullika also presented before the Commission cases studies collected by the NUOT explaining in details how hospital workers, civil servant nurses, nurse assistants employed on temporary contracts and ambulances drivers who had lost their lives in ambulances' crashes while rushing to save patients' lives, have not been compensated. This and the loss of daughters and sons give workers' families an immense grief. Some nurses were also killed and injured during violent incidents at the hospitals while doing their jobs caring for patients.
In addition, there are numerous cases of young nurses who fell victims of ambulances' accidents and became permanently incapacitated without getting proper compensation.
According to Ms Mullika, being excluded from protection of the Compensation Fund Act, has not only demoralized hundred thousand nurses and public hospital workers who work day and night, often on rolling shifts without sleep or adequate rest time to provide the needed
medical care
to the people, but has also left many of these care workers in poverty following the accidents.
NUOT also alert the Commission on the tragic suicide of Kanaphan Pantrakoon who was employed as temporary worker at a
public hospital
for 17 years.
The Commissioners admitted that they were shocked by the reports on the situation of nurses and workers employed at state hospitals and promised to take into consideration the inputs provided by the NUOT in the process of reviewing the Draft Amendment of Compensation Fund Act.